Travelling is innate to humans. People wish to connect, explore and travel more than ever before. Unfortunately, the COVID-19 pandemic checked in as an uninvited guest, and the hospitality industry, which is a significant contributor to the economy's growth, was severely hit. Hoteliers have to become more innovative & tech-savvy to gain customers. They need to use emerging technologies & data analytics to boost & leverage business operations, create unique marketing strategies, understand occupancy rates to stay ahead of the competition. Data Analytics can assist the hospitality industry hotels in analyzing demand, customer behavioral patterns and effectively handle the customer base.
Impact of the Outbreak in India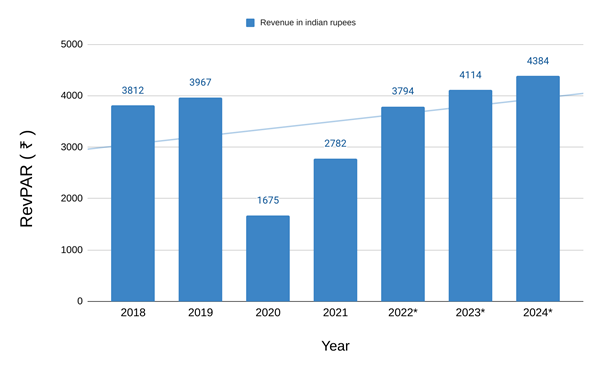 The COVID-19 pandemic hit India in 2020, where nationwide lockdowns and travel restrictions were imposed in March 2020, resulting in the drop in Revenue per Available Room (RevPAR) to ₹1,675 INR per day in 2020. There was a fall of nearly 60 % compared to the year 2019.
After the first pandemic wave, the industry observed a recovery of ₹4000 per day RevPAR in hotels across India. However, again RevPAR was down by 53.9% due to imposed restrictions of the second wave of Pandemic. Thus 2019-2021 are considered the worst years ever for the tourism industry. This is expected to play out for another two quarters due to a new variant – Omicron. Nevertheless, hoteliers have been optimistic about emerging stronger and have predicted to reach the pre-pandemic level by 2022 or 2023. (Source). According to Ritesh Agarwal, Founder, and CEO of OYO Hotels and Homes, "We strongly believe that the use of data science, big data, and artificial intelligence will be crucial to the travel, tourism and hospitality sector."
This may sound not very easy, but using a high-quality data integration strategy will facilitate the process.
How Can Data Analytics Benefit the Hospitality Industry?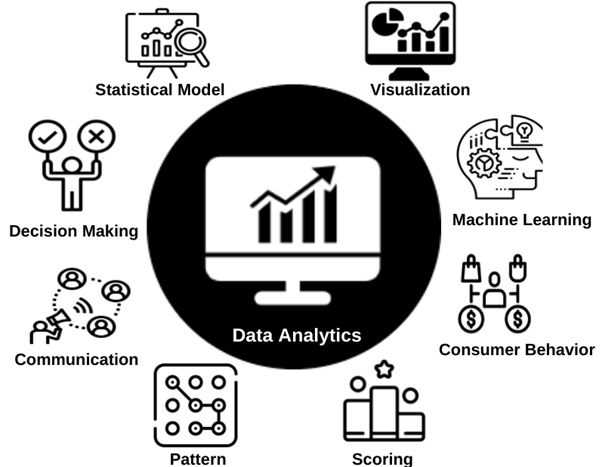 The above image gives a good idea of how data analytics gives a hand to the hospitality industry.
Let's discuss some of the recommended techniques below:
Revenue management (RM): RM involves using analytics and performance data of customers to help those in the hotel industry predict their customers' behavior. Analytics includes Machine learning techniques such as demand forecasting, customer segmentation using clustering algorithms, and various classifier models. This data aids in optimizing product price and distribution strategies.
Below are some performance metrics that help make calculated decisions instead of guesswork.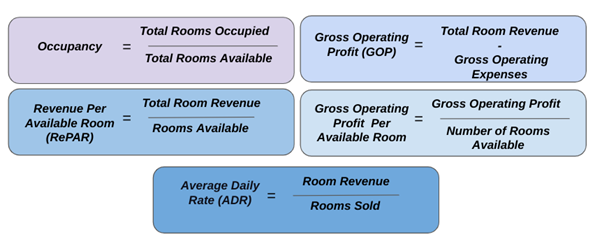 The main aim of RM is to have the right room for the right person at the right time and place. When this occurs, hoteliers are more likely to maximize their revenue and make a profit.
Companies that rely on RM :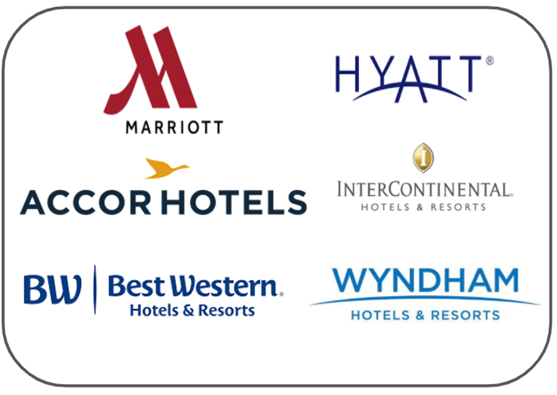 These hotel chains use Revenue Optimising System (ROS), which integrates real-time data such as historical and current reservations, cancellation and occupancy, reservation behavior, room type, and daily rates to forecast demand and suggest optimal rates. Additionally, it predicts climate and weather data, booking patterns on other sources, competitor pricing, and the presence of music or sports events held in property areas.
Predictive Analytics: Hotels' robust data repository and predictive modeling provide consumer intelligence and data science solutions to help businesses acquire, understand, and retain their most valuable customers. Predictive Analysis includes a collection of techniques from data mining, predictive modeling, and machine learning to predict demand trends and tendencies based on current or historical data patterns.
Parameters in the Hospitality industry that benefit from Predictive Analytics
Recommendation Systems for upselling and cross-selling
Dynamic Pricing strategies
Sentimental Analysis on Social media posts
Constructing Traveller Experience
Customizing packages seasonally
Avoid Customer Churn
Use case: For instance, many destinations have renewed interest in attracting auto travelers. In May 2021, analysts considered auto travel fully fixed, but 68% of travelers don't plan to fly domestically. Device location data, fed into a predictive algorithm, efficiently classified visitors as auto travelers, locals, or flight passengers. This enabled analysts to deep dive into auto traveler demographics and build target audience segments based on these features. Source
Business Intelligence (BI) and Data visualization tools: Understanding what your competitors propose to customers is crucial. Business intelligence is a handy tool for gathering all the nuggets of information. It gives hoteliers a comprehensive view of many things, from their supplies and electricity expenses to overviewing annual yields.
Features of BI and Visualization tools
Customer bookings and stay reports and forecasts
Revenue and Margin Visibility
Multi-property management
Data integration and storing
Harmonization of siloed data sources
BI tools exclusively used in the hospitality sector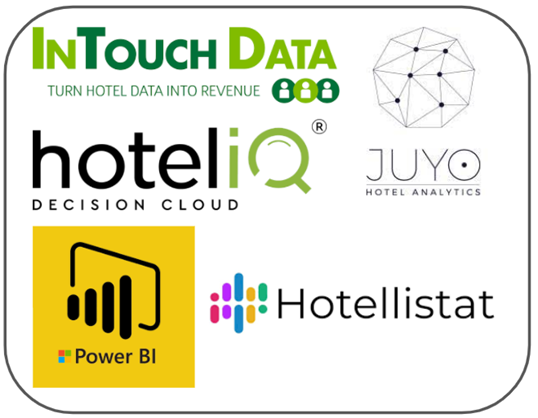 Use cases:
InterContinental Hotel Group surveys customers' in-stay experience and then integrates these insights with economic and industry performance data to foresee a better picture of their business administration. This approach benefits InterContinental to understand both internal and external factors affecting the quality of their service.
Texas Hotel group uses iDashboard to attain organizational transparency, specifically the company representative shares.
Key ROI benefits of implementing new technologies in the hospitality industry

Hotels implementing data science and emerging technologies see a 135% increase in online revenue. (PwC, 2019). For example, best Western Hotel has reaped substantial benefits that include a 71% decrease in guest complaints and 19% up in customer service ratings, and reduced onboarding time. (PwC, 2019).
You may also like reading – How to predict a travel recovery in the Hospitality sectory with Data Analytics
Conclusion
Lately, hoteliers have realized that data analytics is changing the face of the hospitality industry and enables them to make data-based, evidence-backed-up decisions. However, the use cases discussed in this article are only the tip of the iceberg. With an enormous variety of solutions offered by Data-science, travel businesses can learn their clients' needs and preferences to provide them with the best possible services and offers.
At LatentView Analytics, we help companies drive digital transformation by combining digital and traditional data to gain a competitive advantage. We provide a 360-degree view of the digital consumer, enabling companies to identify new revenue streams, anticipate hospitality trends and popularity, improve customer retention rates, and optimize their property expenses. According to Kaushik Boruah, CPG and Hospitality Practice Lead at LatentView Analytics, "We have helped our clients capitalize on the pent-up demand by identifying their loyal customers who are searching for Bleisure, domestic and green travel."
Resources :
COVID-19, government measures and hospitality industry performance
Smart ways data analytics facilitate hotel revenue management
How the Hospitality Industry Uses Performance-enhancing Artificial Intelligence and Data Science
For hospitality and tourism sector, 2021 is all about survival, recovery