In October 2021, Facebook announced that they would be rebranding their holding company as 'Meta', signaling their intentions to garner a strong presence in the 'Metaverse', a digital platform that would help connect people across the world, like nothing before.
However, the term 'Metaverse' has existed for almost three decades, originating in a science fiction novel by Neal Stephenson. The author coined the term to describe a virtual 3D world where people could interact with others through 'avatars' or digital representations of themselves. Thirty years later, 'Metaverse' is a buzzword describing space with virtual and augmented reality elements. It is a limitless digital universe that connects to our real physical world.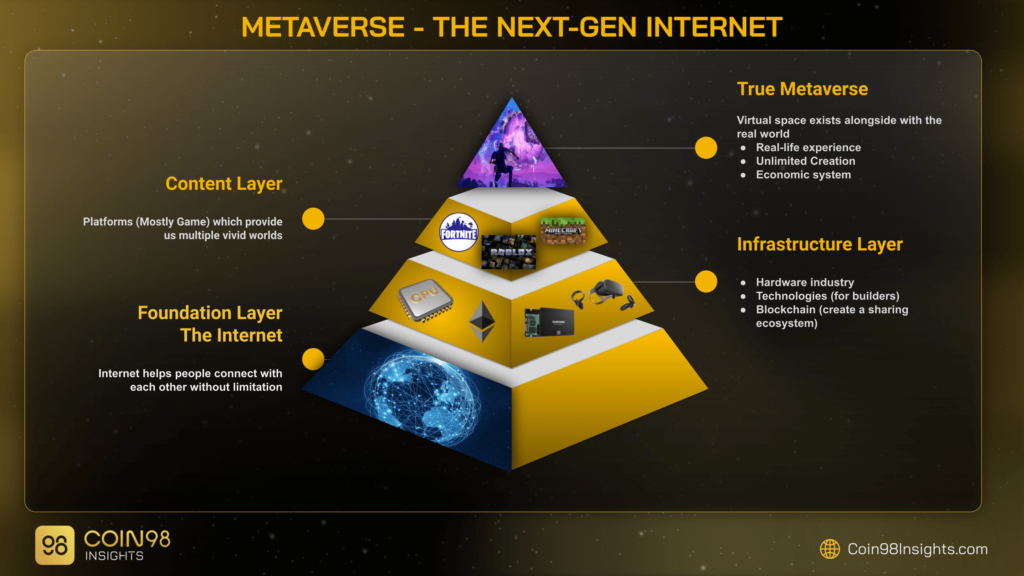 Image Source: Coin98Insights.com
What can we do in Metaverse?
Metaverse is a virtual space developed using Virtual Reality, Augmented Reality, and Blockchain Technology, where we could experience whatever we imagine and beyond. For instance, we can go to a virtual concert or events, interact with colleagues in a virtual workplace, digitally try and buy new clothing or accessories, try out an experiment virtually in a simulated environment, and so on.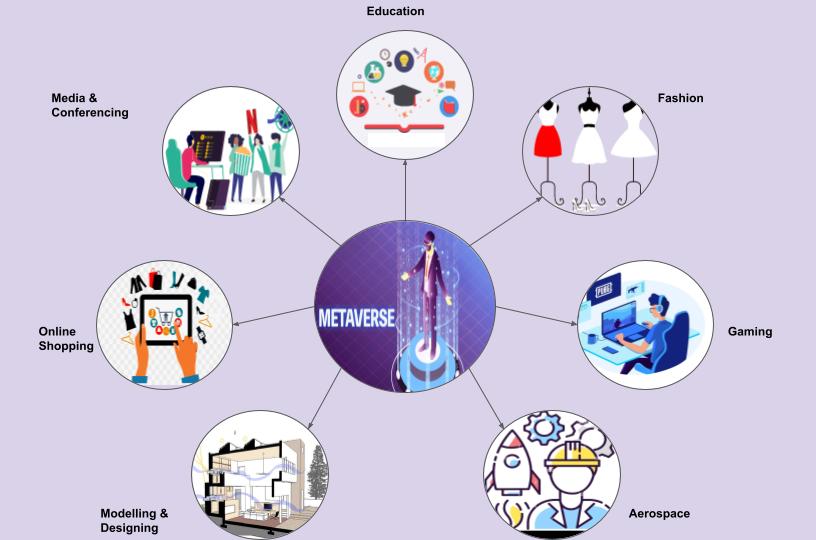 Image Source: Infographic created using Icons
Companies Investing in Metaverse
The rapid improvement in IoT and 5G infrastructure increased the general public's accessibility to Metaverse. Understanding the growth, companies across different verticals have started investing in Metaverse, including Meta Technologies Inc., Microsoft Corp., Unity Software Inc., Roblox Corp., Niantic, Amazon.com Inc., Autodesk Inc., Nvidia Corp, and Nike.
Let's take a look at the companies which focuses on Video Conferencing in Metaverse
Video Conferencing in Metaverse: A better remote work experience
The pandemic has changed the way we work since 2020. Remote work has reduced interaction with colleagues to a great extent. The lack of opportunities to interact during remote work, in turn, led to fewer discussion and brainstorming sessions, which affected the productivity of teams.

Virtual platforms connected teams and helped conduct various sessions, but this was neither realistic nor engaging due to a lack of physical presence.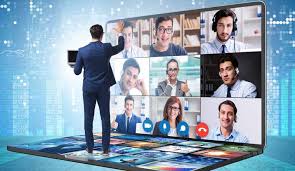 Could Metaverse help solve the above problems and provide a better experience? Tech giants Meta Technologies and Microsoft have invested heavily in the space of Metaverse Video Conferencing.
1. Meta Technologies
Meta Technologies has developed Horizon Workrooms to connect office workers virtually, enable sharing of thoughts, and exhibit ideas and products. According to the latest report, Meta Technologies have created a room with a conference table to accommodate 16 individuals' realistic digital avatars, resulting from 2.5 years of effort.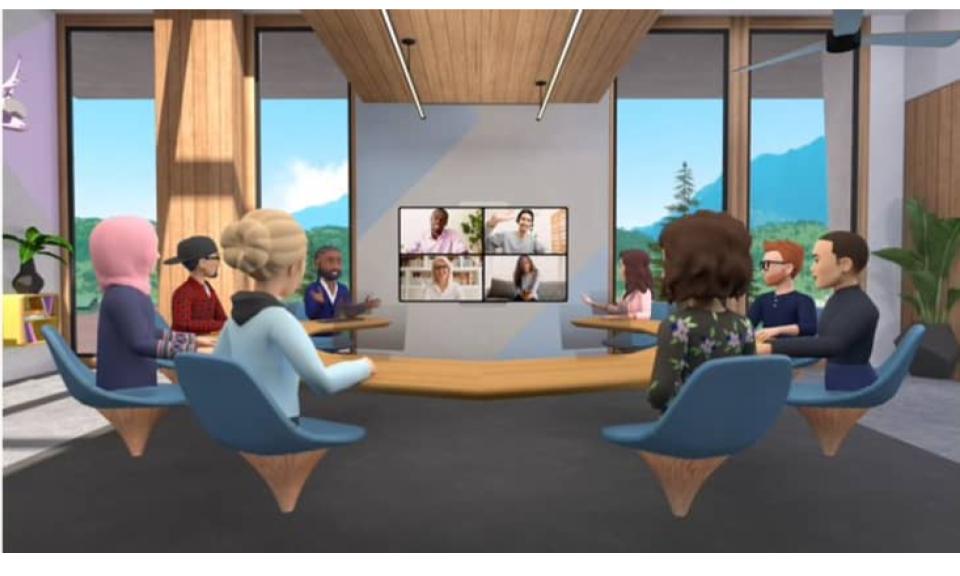 Meta stated, "this isn't the metaverse, which is a digital world where people may take one day all meet to work and play, but that it's a step toward it." Having started with Horizon rooms, they aim at building a virtual reality meeting space which is accessible at any point of time – which can almost bring in anything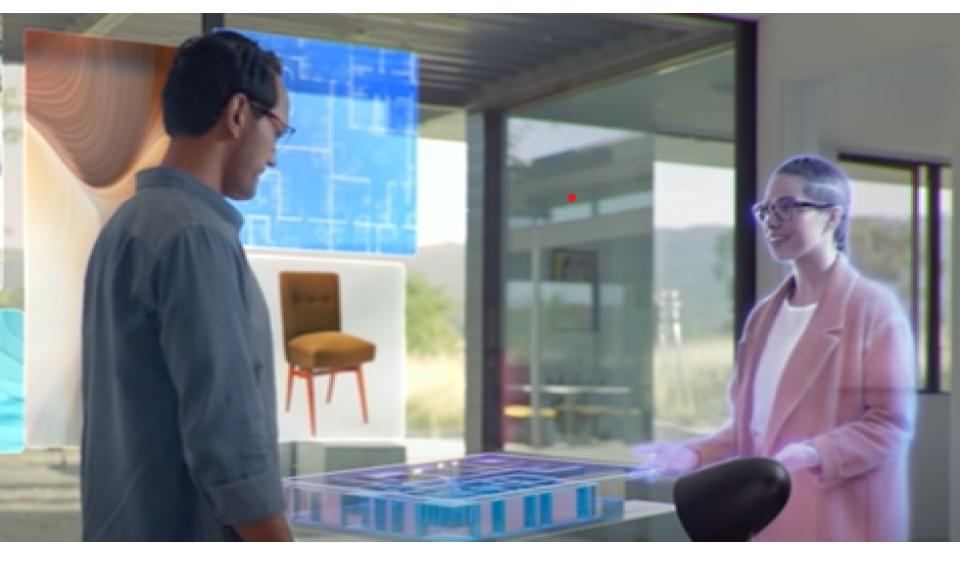 The avatars, which interact through Horizon Workrooms, can choose a room and virtual cabin as required.
Meta's workroom supports an entirely different VR experience; the Avatars have hand and head movement, unlike those which bounce around without any motion. This provides the immersive feeling of being in a conference room and aids in understanding others' body language and gestures. Meta's workroom enables connection to the computer with a floating desktop in front of the user and a pass-through feature allowing the user to handle the keyboard and mouse of the desk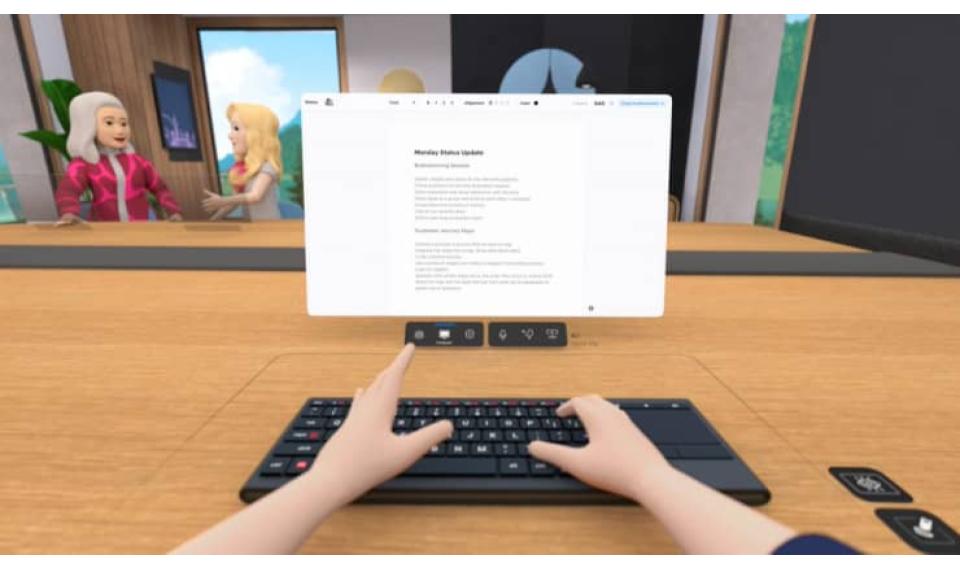 Source: Screenshot from The Metaverse and How We'll Build It Together — Connect 2021
Features available include:
Horizon workspace provides an option to join/drop off the meeting in virtual reality
Room customization option to be introduced soon, which gives opportunities to include personalized logos/posters in the rooms
New office space in Horizon Homes to focus on work – a private virtual space created to work alone
Devices: We require Oculus Lens – VR Headset and Haptic Gloves developed in Meta Labs to experience video conferencing in Metaverse.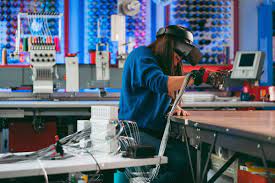 Oculus Quest Headset
Oculus Quest, which will be soon renamed 'Meta Quest', is a virtual reality device that enables users to have an immersive workplace and gaming experience.

It could be used as a discrete unit and tethered with PCs to enhance the VR experience. The latest version of it comes with improved optics and on-board power compared to its predecessors, designed specifically for the advent of Metaverse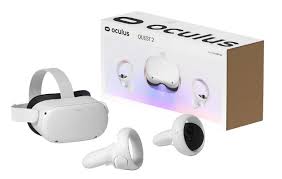 Haptic Gloves
The next incredible innovation is the haptic gloves, which Meta has been working on for the past seven years in the Meta reality labs. They've shared a sneak peek of the gloves' prototype, as shown here

In simple words, the haptics prototype has 15 rigid and inflatable pads called actuators. They are designed to fit on the user's palm, the backside of their fingers, and their fingertips. Haptic gloves also serve as a VR Controller. It has small white markers on the rear for the camera to capture the movement and internal sensors to track how the fingers bend.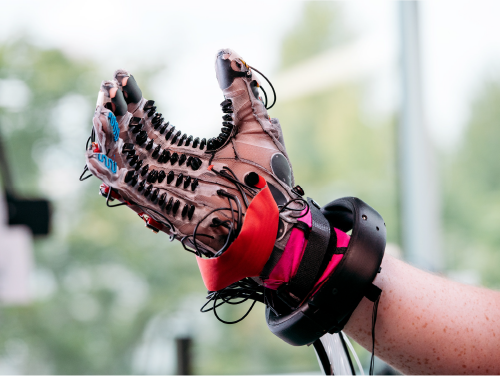 2. Microsoft
After Facebook rebranded the company as Meta Technologies, we could see another Technology Giant, Microsoft, jumping into the competition.

They have created Microsoft Mesh, the future of Microsoft Teams meeting, which is expected to go live by the first half of 2022.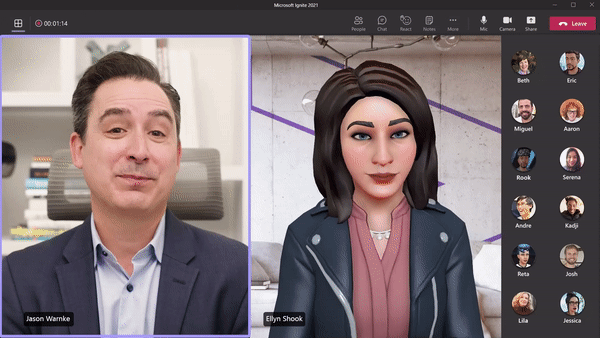 Image Source: theverge.com
Microsoft has planned to include 3D Avatars in Microsoft Teams as an initiative towards Metaverse Environment. We can see the 2D and 3D versions of the avatar in the meeting when we are not using our webcams. This feature doesn't require a VR headset
"It's not binary, so I can choose how I want to show up, whether it's video or an avatar, and there's a variety of customized options to choose how you want to be present in a meeting," says Katie Kelly, principal product manager for Microsoft Mesh, in an interview with The Verge. "We are able to interpret your vocal cues to animate that avatar, so it does feel present and it does feel like it's there with you."
Microsoft leverages AI to animate the avatars in the meetings. For example, more immersive 3D meetings allow our avatars to raise hands or float an emoji around the avatar when we choose the raise hand or emoji option. The advancement of these ideas will reflect in the Microsoft Mesh, which is still in development.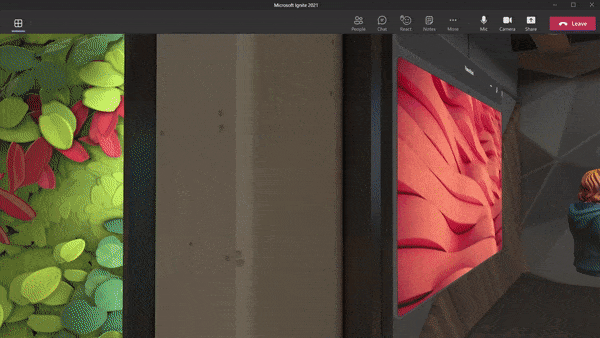 Fig 11: Microsoft Mesh's Virtual Lobby – which allows to meet and interact with the coworker

Image Source: theverge.com
The mission of Microsoft Mesh is to provide an immersive space for business users and conferences. The Microsoft Mesh workspace will be developed to provide a shared space for teammates to interact, socialize with games and collaborate using Microsoft apps.
Features available include:
Avatar form of the self to interact with others over a team meeting – where we have a choice to show up as our real selves or avatar
Mesh for Teams provides users with immersive spaces like the virtual lobby
Microsoft is building translation and transcription support to connect virtually with colleagues across the globe with minimal language barriers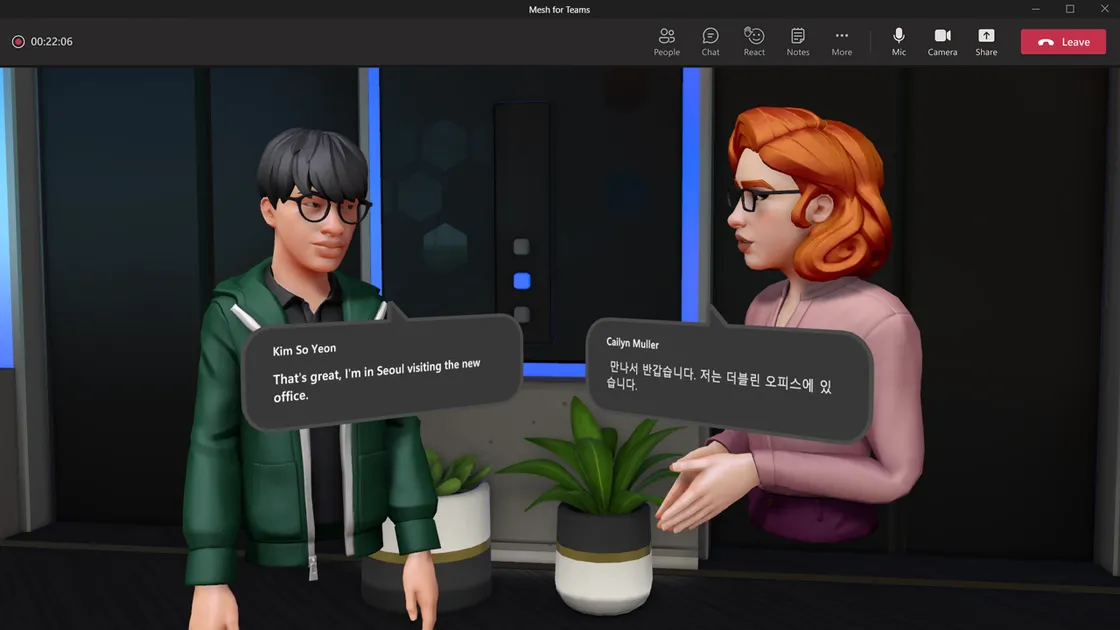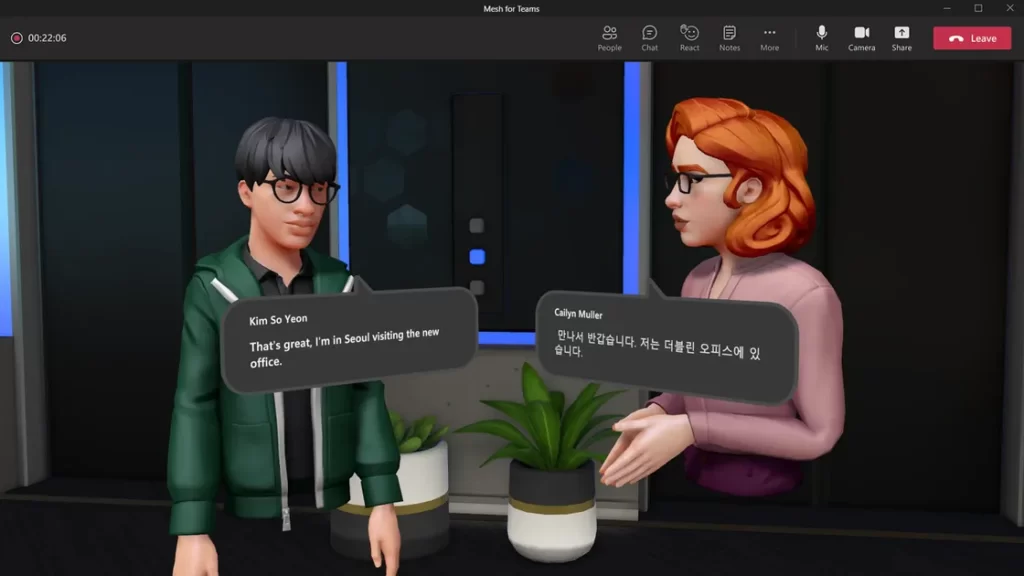 Let's look at the AR and VR devices that work best with Microsoft Mesh features.
Devices:
Though the animated avatar shall not require any external device for Mesh, the complete immersive experience is achievable with Hololens and VR Headsets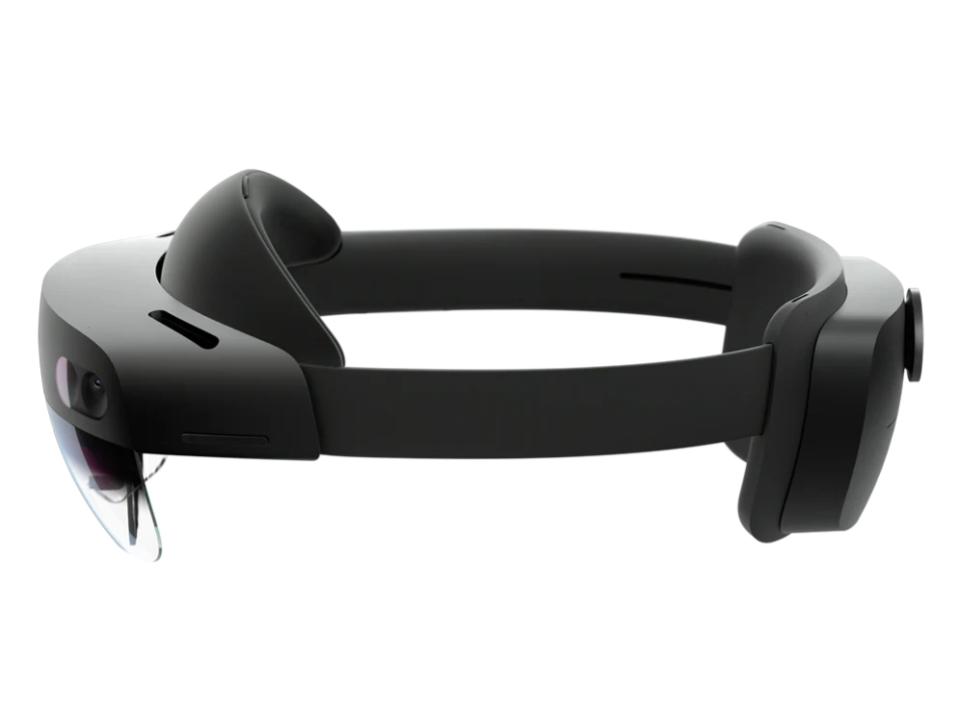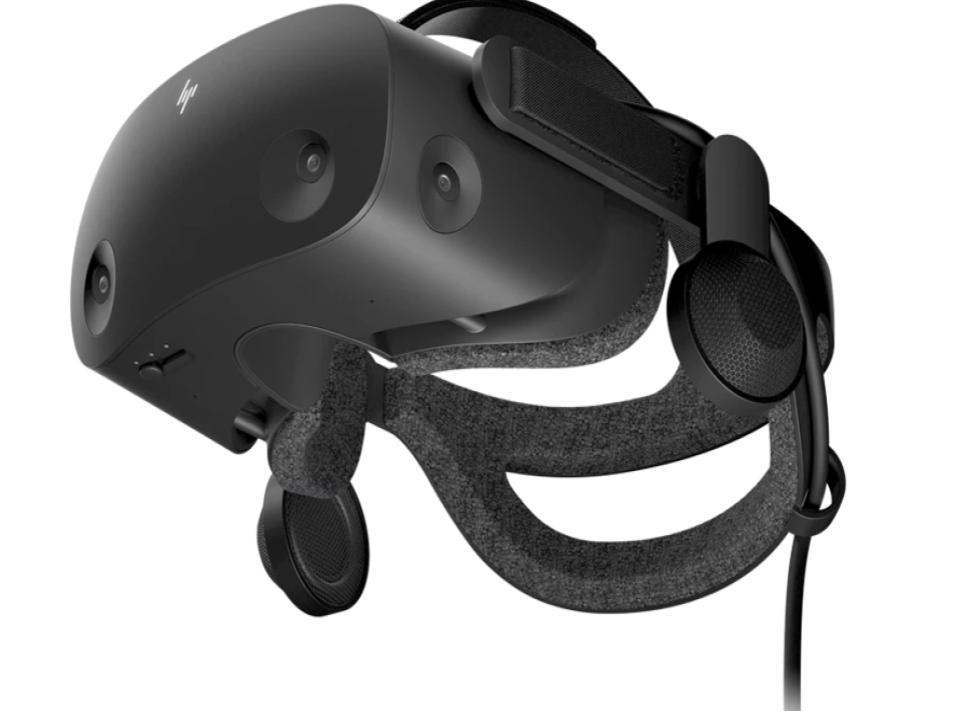 Hololens -With its immersive mixed reality capabilities, you can connect and co-create with others from the comfort of wherever you're working.
VR Headset is used to meet, share, and work with others in virtual spaces with Mesh.
We are waiting to witness the wholly immersive and realistic video conferencing capabilities in the next few years.
Metaverse is also used in other spaces such as:
Training/ Simulation
Gaming
Modeling/Designing
A few of our upcoming articles will explore these spaces and how Metaverse is used in them.
For a better understanding, here are links to a few informative videos:
And here are links to a few training materials on Metaverse:
Start Augmented Reality and Virtual Reality Metaverse Business