The travel industry, valued at $3 trillion in 2019, was one of the worst-hit in 2020. But the good news is that with global vaccination rollouts, there's been a significant resurgence in travel in 2021, with some calling it Revenge Travel. Forecasting a travel recovery in the coming months is possible by leveraging powerful Data Analytics & Machine Learning models. This also helps to understand the renewed demand of travelers and their changing preferences.
The Travel Recovery Surge & the Safety Conscious Traveller
Countries like the US, Israel, Canada, UK, and Germany (where the population who have received at least one dose of COVID-19 vaccine > 50%) are already witnessing people resume their missed travel plans of 2020. A popular global hotel and resort chain, IHG Group of Hotels, recently conducted a travel survey among 6000 people worldwide. The survey revealed that the desire to travel was still on top of everyone's wishlist, and people were raring to go as soon as international leisure and tourist travel was permitted.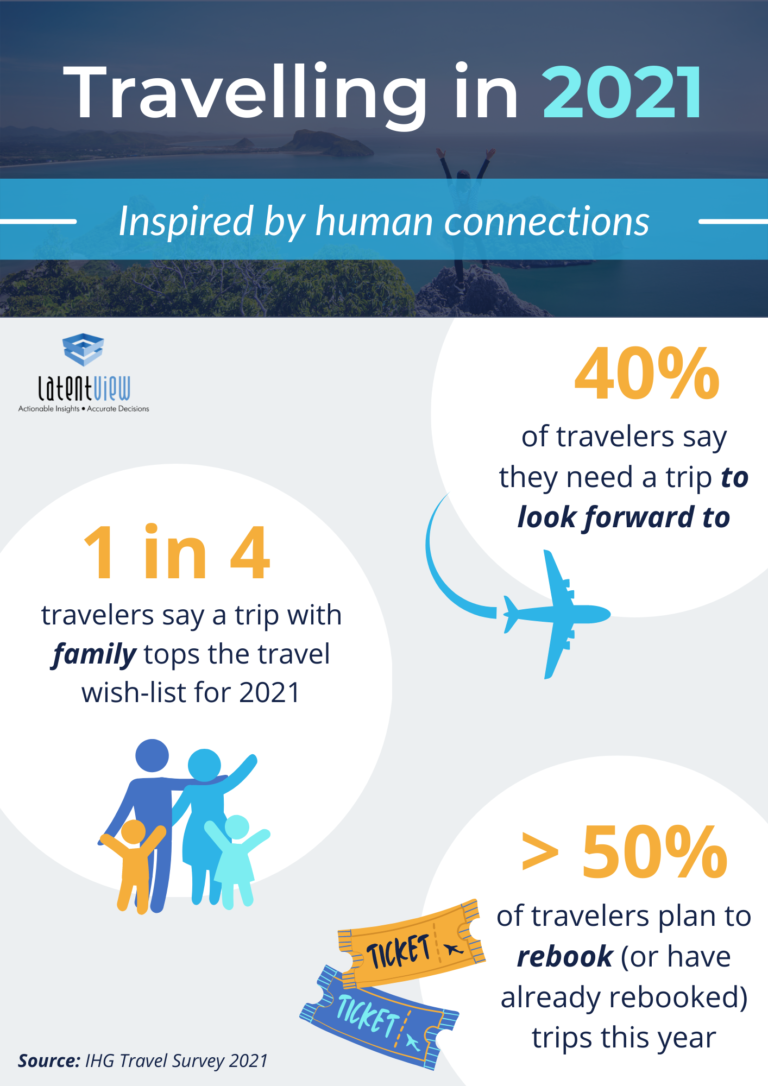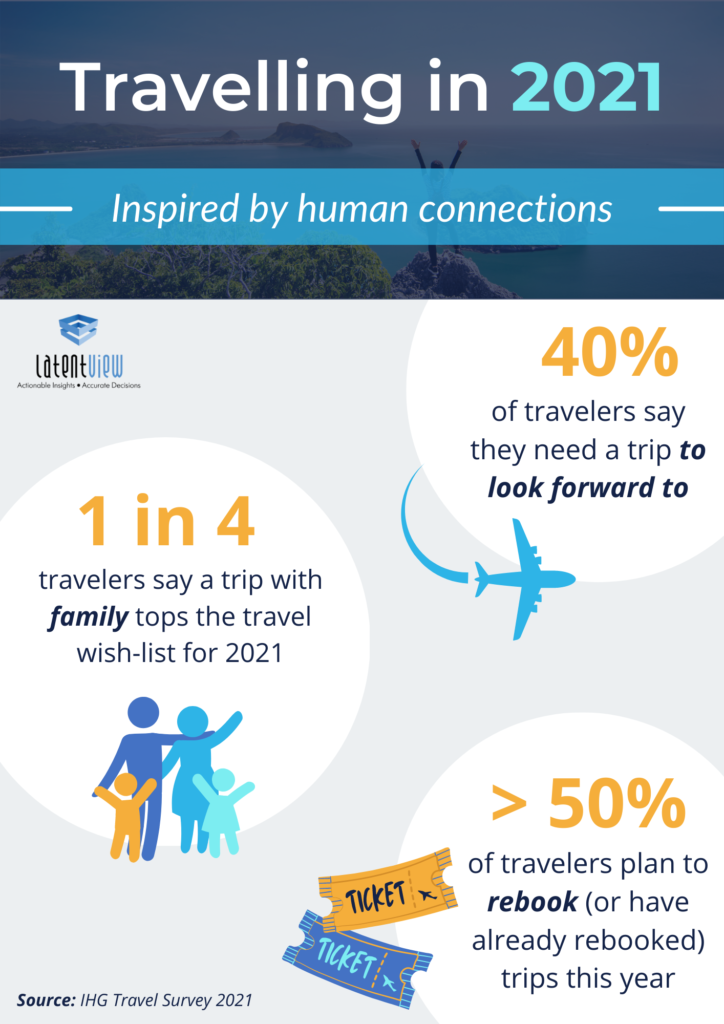 Leveraging Big Data for a Travel Recovery Analysis
Hotels and Airlines comprising more than 60% of the travel industry revenue sit on massive piles of untapped big data, archived since the past decade. Past data gives us valuable information into booking patterns and preferred destinations.
From where is the data sourced?
Incoming Search & Booking queries in their respective portal
Payment Transaction Data (Including Domestic and Cross Border Payments Data
Internet search trends From Google/ Bing Search queries from each destination
Interest Over Time


Related Search Queries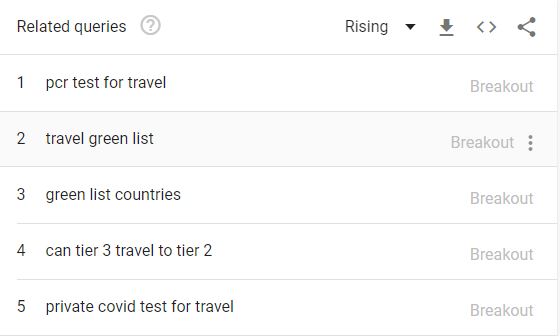 Tracking a Travel Bounce Back with Custom Metrics
LatentView Analytics has identified a set of custom metrics that can be used to track the recovery in demand for a travel firm. These metrics can be used for all forms of travel-related data, including Hotel Bookings, Airline Bookings, Foreign Exchange Transactions, and Credit/Debit Card Transactions. Some of the top KPI metrics identified by us are given below
Moving Average Convergence Divergence (MACD)
MACD, a metric used in stock trading, can be leveraged in travel demand forecasting. The metric tracks if there's a significant increase in the bookings based on the last week's average against the previous month's moving average. A big difference between these two averages strongly indicates a clear rise in demand.
The MACD trend provides us with a "signal" of recovery (Growth) and the acceleration of the recovery (Momentum).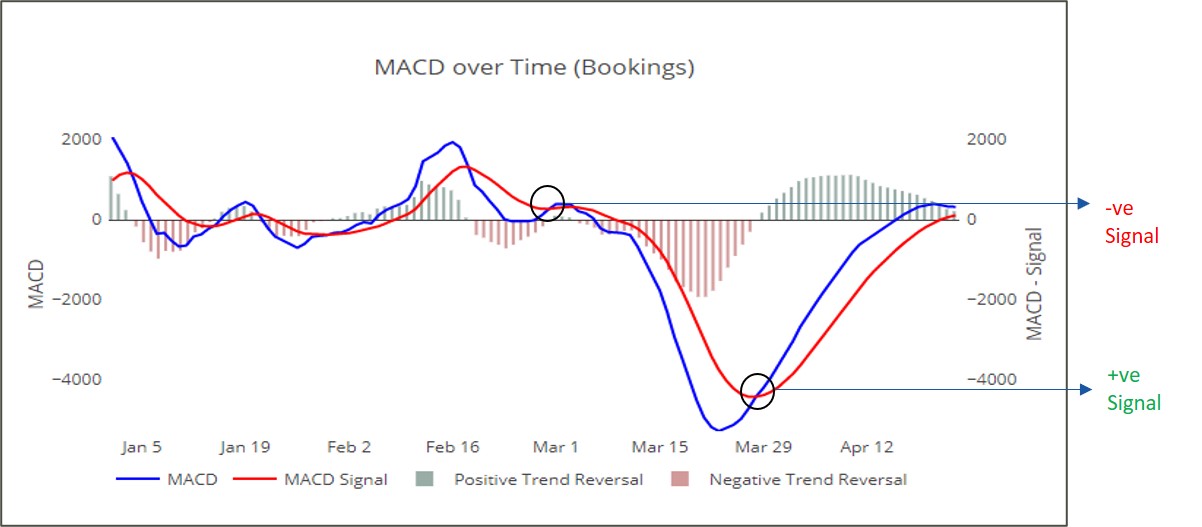 Relative Strength Index (RSI)
RSI is a metric that goes hand in hand with MACD. As per its name, the Relative Strength Index measures the magnitude of change in bookings while measuring the highs and lows in a given period. This essentially translates to the momentum of travel recovery in a country.
Higher the ratio of RSI, the higher the strength of the recovery.
An 'Intent to Travel' score is calculated for each country using a seven-day average booking volume and week on week change %, and this is plotted on the world Travel Recovery Matrix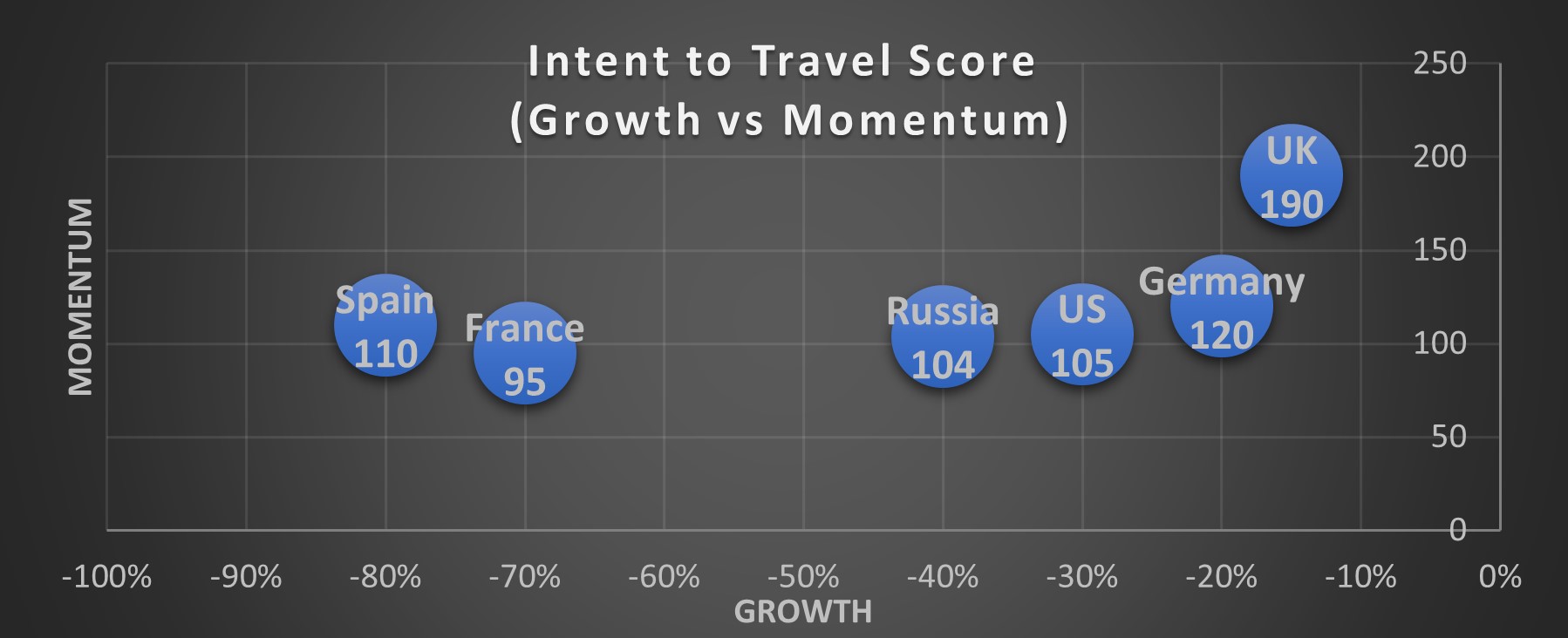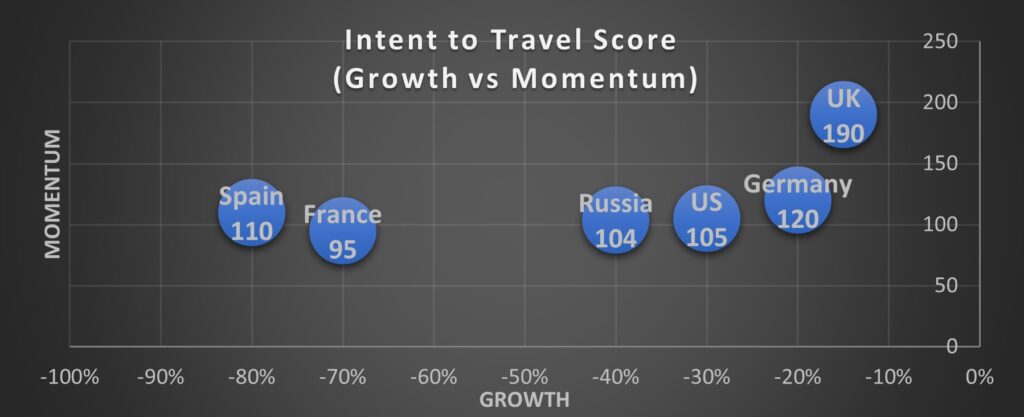 Insights from the Travel Recovery Decision Board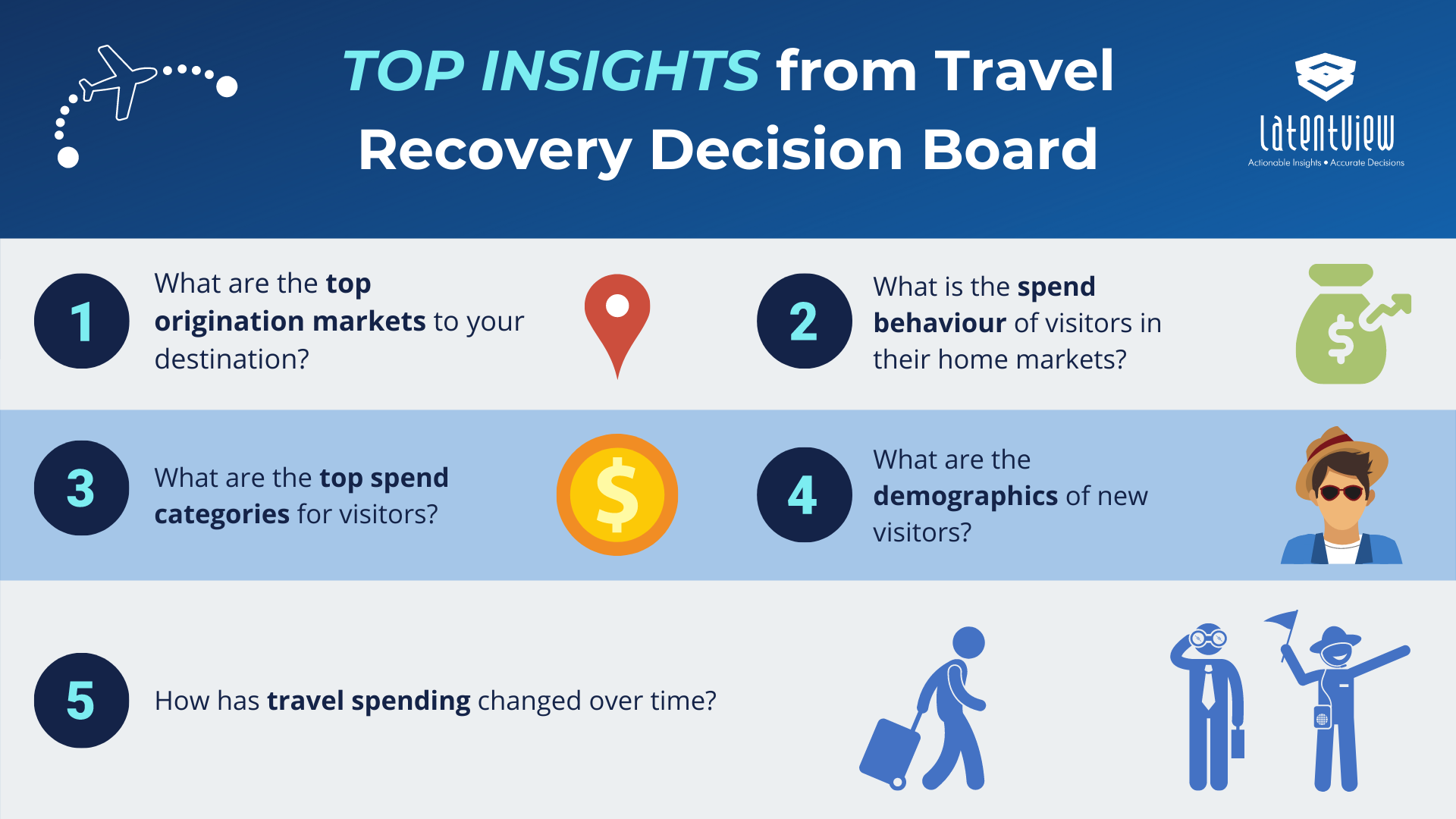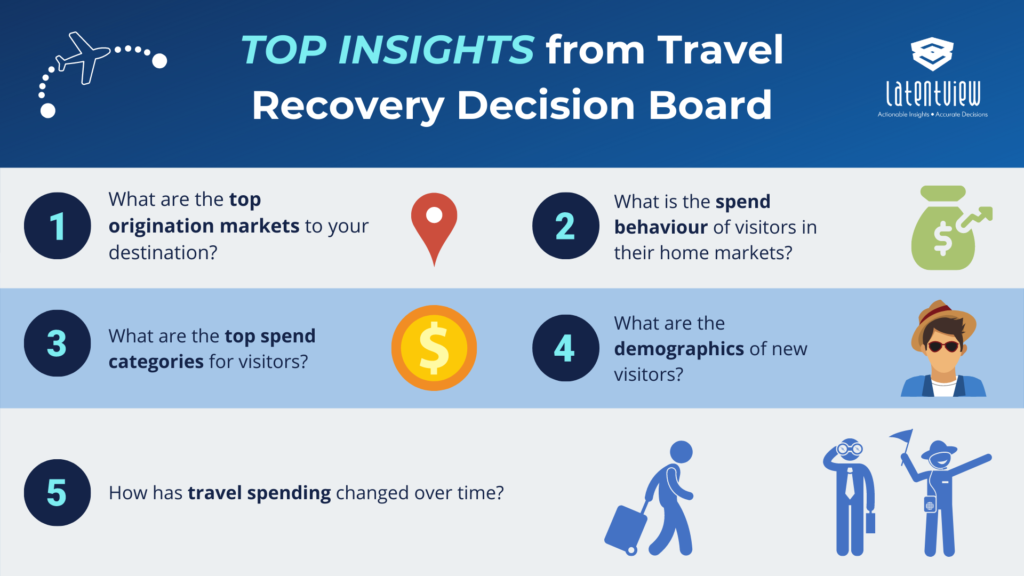 How can Analytics help Airline, Travel, and Hospitality Firms?
Advanced analytics can be deployed in the travel domain in some of the following areas :
Travel Demand Forecasting for future months by destination & category
Real-time Insight Dashboard of Payments / Bookings along with an assessment of Paid & Organic Reach in social channels
Pricing Analytics to identify what's the optimum pricing range for higher profits vs. occupancy
Statistics based allocation of Marketing spends in various channels
Identifying the Profitable Traveller

Analytics helps uncover several key insights on the new varying demands of travelers and identifying destinations that gain more traction. From seasonality, pricing, demand, regional preferences to gaining a competitive edge at all times, Analytics equips firms with the necessary insights to stay ahead of the curve.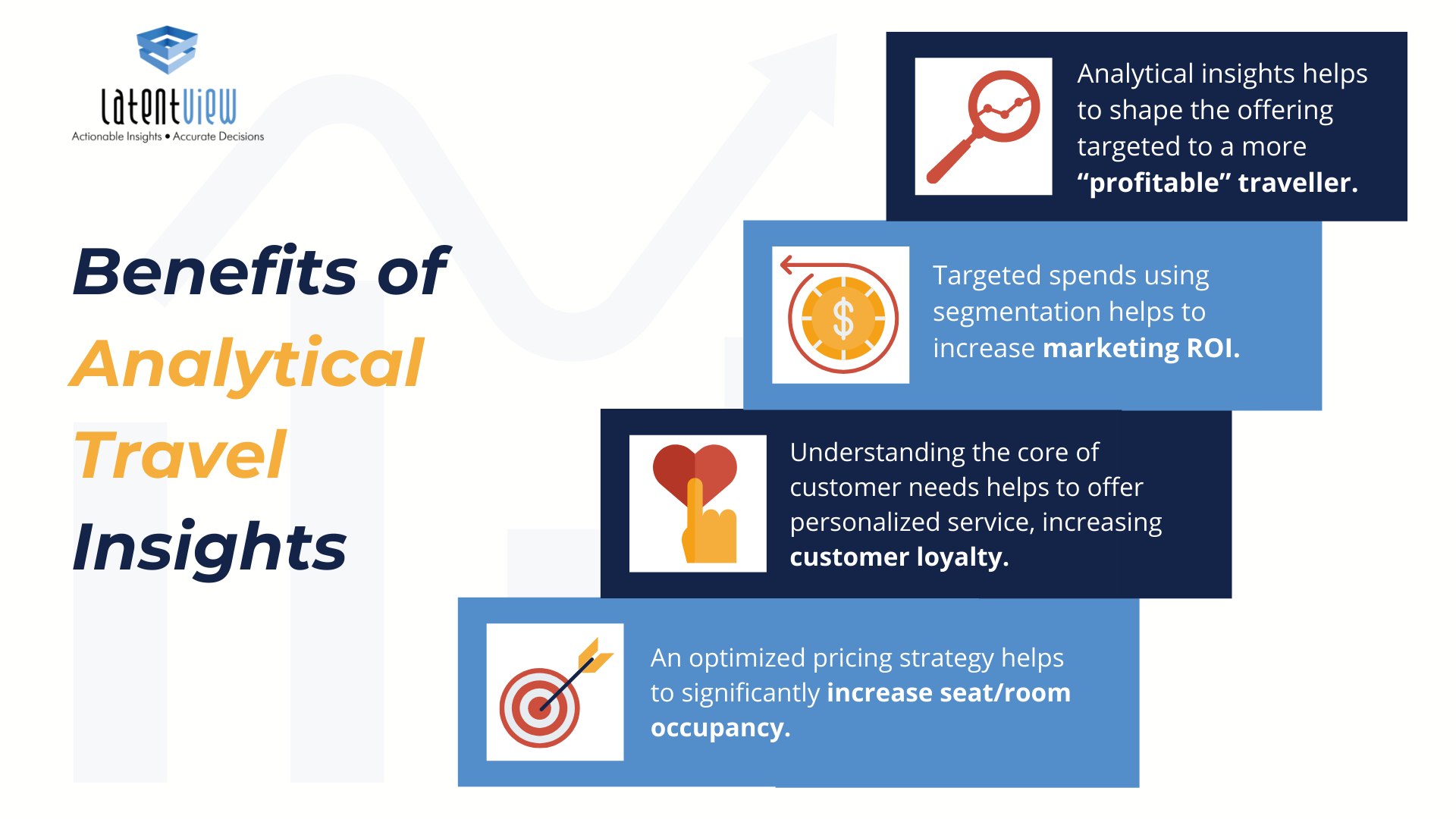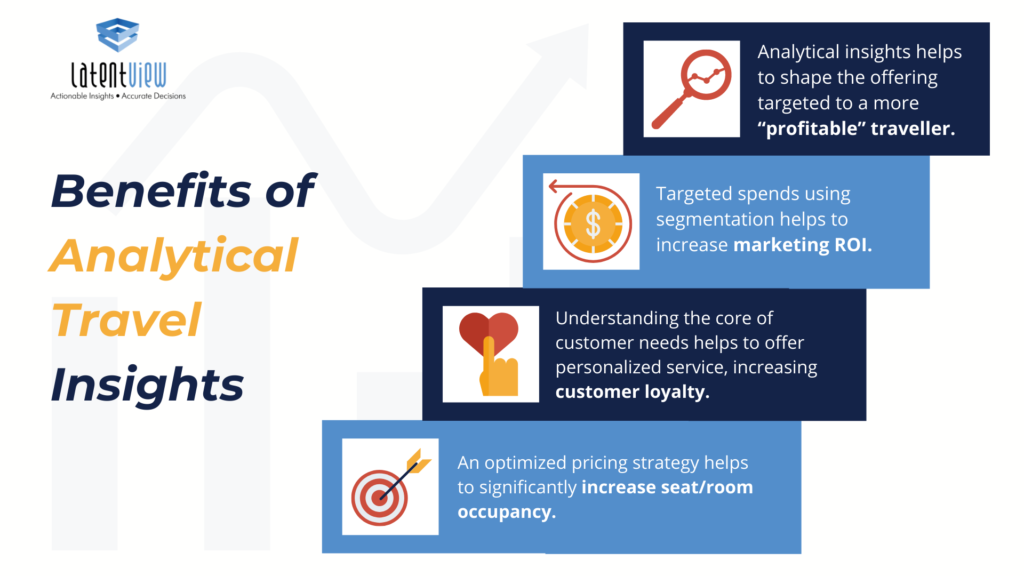 An Opportunity to Rebuild
Despite a complete standstill in 2020, there was a staggering recovery in 2021, indicating a tremendous opportunity for a travel surge in the near future. As the CMO or the CTO of a Tourism Board, Airline, or Hospitality firm, looking for an opportunity to rebuild and drive a far superior guest experience, analytics will help you make decisions backed by data and insights.
About LatentView Analytics
LatentView Analytics is a global digital analytics firm that inspires and transforms businesses to excel in the digital world by harnessing the power of data and analytics. The company is a trusted partner to some of the top Fortune 500 Global Payment Firms & Hotel Chains to track Travel Recovery on a real-time basis. If you are looking to build a Travel Analytics dashboard or assess travel recovery your firm, do reach out to us at marketing@latentview.com