2020 marks an era of transformation in all aspects of life. The Coronavirus outbreak has shaken and molded the world into a new place. Ever since the outbreak of covid, organizations have drastically scaled-down, and working from home is now a reality for large sections of their workforce. Cloud computing, known for its flexibility, reliability, and scalability, has emerged as one of the top growth drivers for businesses during this pandemic. Cloud computing has helped restore normalcy across various services – including servers, storage, databases, networking, software, analytics, and intelligence. As per the "Flexera 2020 State of the Cloud Report," all the organizations have slightly or significantly increased their usage of cloud services during Covid.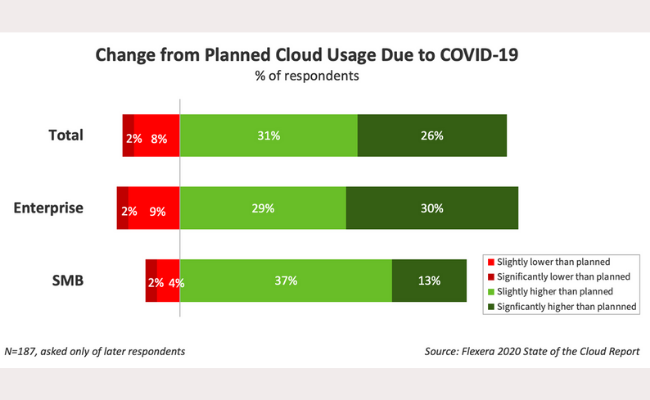 The growing need for disaster recovery and security to eliminate high network downtime costs have further fueled the demand for cloud managed services across the vertical globally. A recent report highlights that the global cloud computing market size is expected to shoot up from USD 371.4 billion in 2020 to USD 832.1 billion by 2025, at a Compound Annual Growth Rate (CAGR) of 17.5% during the forecast period (Source). The dire need for cloud services has immunized various top cloud providers with the adverse economic impact of coronavirus and have motivated others to adopt cloud services. AWS, Microsoft, and Google continue to be on the top.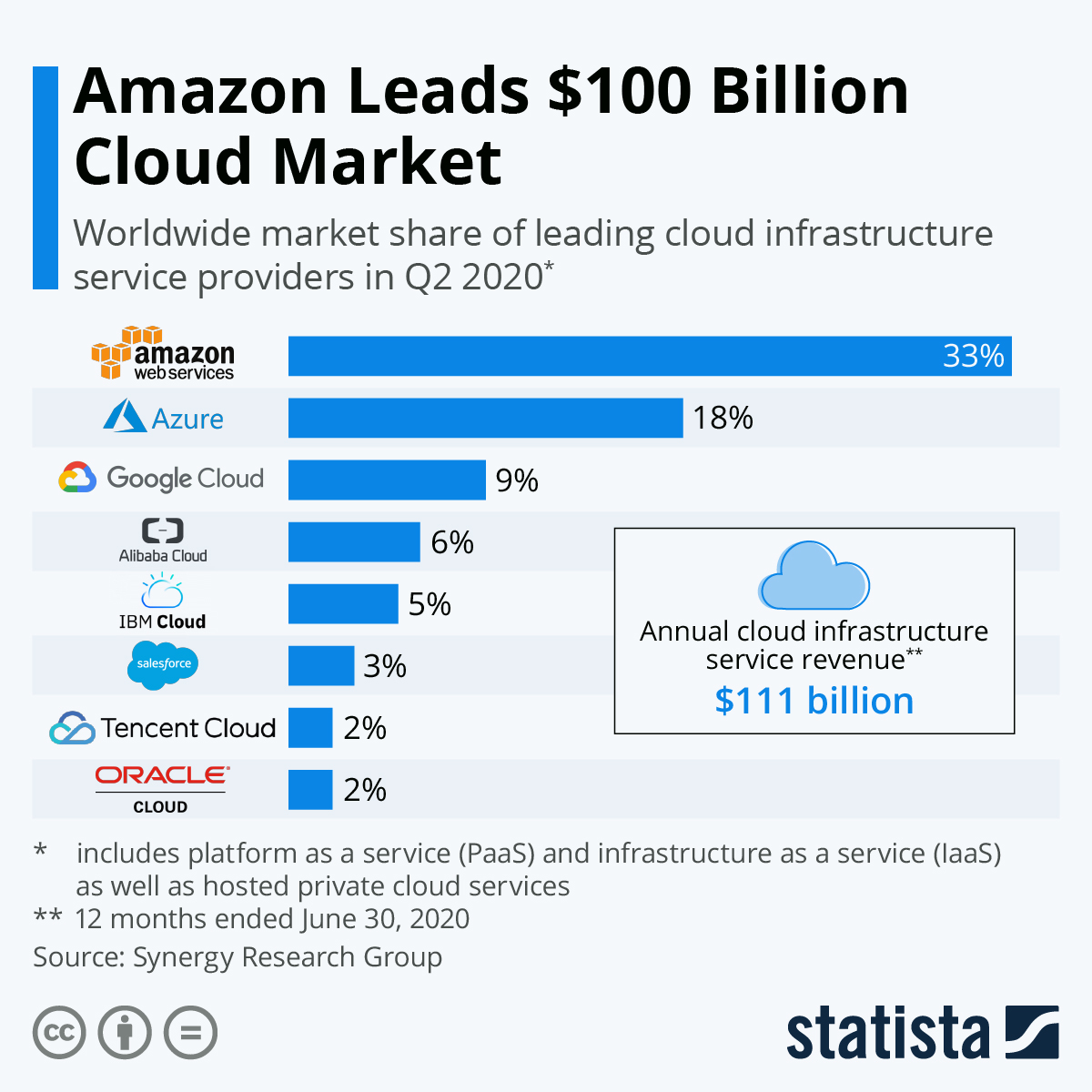 This future growth for cloud is encouraging but needs to be kneaded well to meet consumer requirements. Listed below a few areas which have enhanced the growth in cloud services :
Transmission to Telecommuting: The remote models of working have encouraged cloud services to an extent never before. Nobody knows how long this requirement will continue, but due to the benefits provided by the cloud-based services, this looks to be an increasing demand in the future.

Collaboration products and tools have come to the forefront during Covid 19. Major providers such as Microsoft, Google, and Zoom are witnessing massive upticks in monthly usage of about 775% across China, Italy, and the US. (source)
The E-Commerce Boom: As per Salesforce's Shopping Index, Global revenue from online sales in the Q2-2020 skyrocketed to 71% YOY. According to Nielsen's survey, consumers will move their shopping online as they attempt to distance themselves voluntarily.

During Covid, a considerable shift has been observed in consumers' behaviors. In order to abide by the norms of social distancing to avoid large gatherings, online shopping is of great help to people in overcoming their day-to-day needs.
Amplification in the Healthcare Segment: The market for healthcare cloud computing is expected to grow from USD 28.1 billion in 2020 to USD 64.7 billion by 2025, at a CAGR of 18.1% during the forecast period. Growth in the healthcare cloud computing market can be accredited to technological up-gradation in the healthcare industry, increasing focus on healthcare digitization, and increasing deployment of cloud-based HCIT(Healthcare Information Technology) solutions by healthcare providers to improve the care process. (Source)

Numerous amount of covid cases and decreasing healthcare facilities have given rise to remote healthcare monitoring solutions. Tele-health companies like Twistle, Xealth, Spry Health, and LifeSignals are pioneers in helping patients with mild symptoms of COVID-19 to be treated remotely. This eliminates the risk of exposure to the virus for healthcare staff and will free-up hospital beds for those who need immediate and critical care.
OTT Platforms Enjoying a Bliss: Binge Watching has been the best thing during lockdowns and quarantine period. Video-streaming service Netflix reported a strong surge in new subscriptions :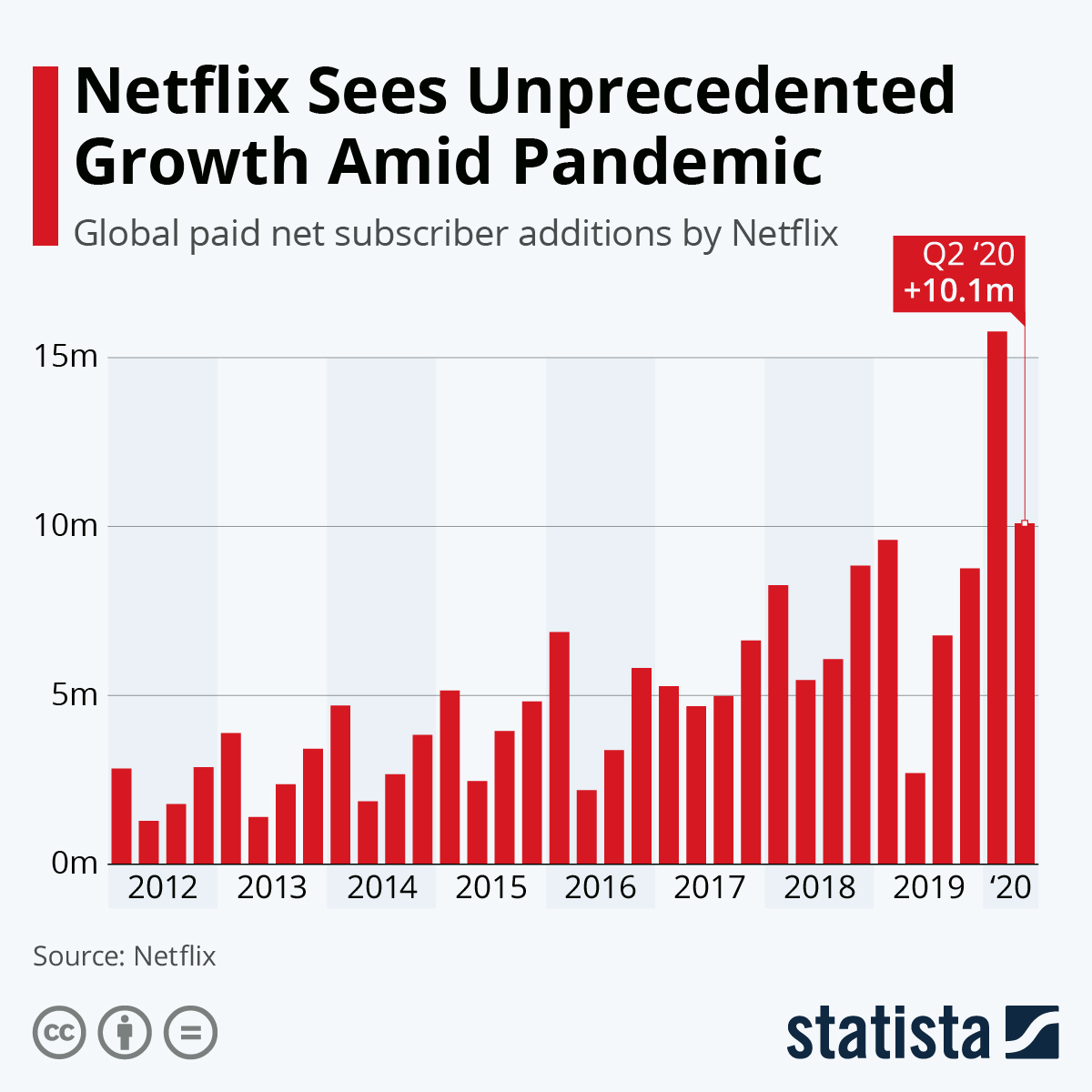 Not to be outdone, music service and many podcasts, audiobook & Gaming services have reported huge jumps in membership and usage. Associated services such as mobile networks and internet service providers have gained from these behavior changes. According to a recent survey by mobile marketing platform InMobi, 46% of viewers are watching more content online. Another consumer survey conducted by Hammerkopf has found that OTT consumption primetime has moved from 7 pm onwards instead of 10 pm-12 am before.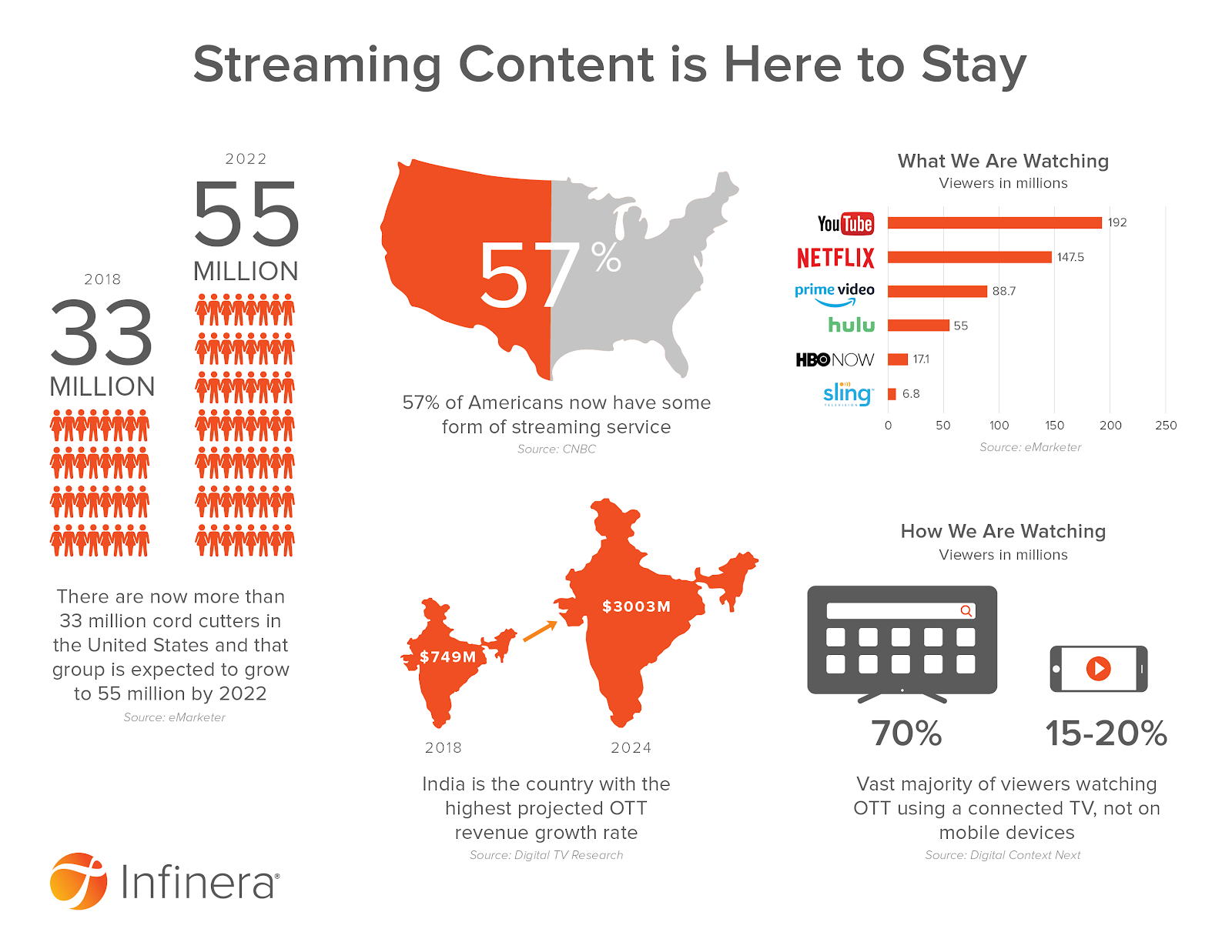 Not only this, we have seen announcements of collaboration and partnerships by top cloud providers to help enterprises take advantage of Google Cloud's technologies and capabilities.
Listed a few of them below :
In March, Google Cloud partnered with AT&T to release several 5G edge computing solutions based on AT&T's network and Google Cloud (Source).
In March 2020, Microsoft introduced Azure Edge Zones and Azure Private Edge Zones to provide consistent Azure services and application platform and management at the edge. (Source)
This May, IBM announced edge services designed for enterprises and telecommunications providers. (Source)
Though the cloud has been a major growth driver during this pandemic, there are significant concerns to keep up with the quality and efficiency of the services. Below are a few concerns :
Cloud Cost Management: RightScale, now owned by Flexera, recently launched its State of the Cloud report and stated that cost optimization was a huge priority for enterprises. The major finding of the report stated that many respondents in its survey weren't doing basic cost-optimization
Skill Gap: As the demand for Cloud services rises, it also increases the need for organizations to upskill their employees with the expertise of this subject area.
Cloud Migration: According to a survey conducted by Velostrata, over 95% of companies are making migration to the cloud, and more than 50% of them find it more difficult than the expectation.
Cloud Security: The "Cloud Security Spotlight Report" showed that "90 percent of organizations are very or moderately concerned about public cloud security." This is one of the major concerns after major market players like Google; DropBox has suffered security breaches in the past.
Conclusion
Adopting cloud computing strategies to cope with the challenges has converted the covid crisis into opportunities for the cloud industry. Organizations worldwide have now started realizing the potential and benefits of cloud computing, even beyond the need for remote work generated by Covid this year. Companies have accelerated transformation towards digitization, leveraging the power of cloud computing even more than before. As a result, Cloud spendings have risen by 37% to $29 billion during the first quarter of 2020. This trend is likely to persist, as the exodus to virtual work underscores the urgency for scalable, secure, reliable, cost-effective off-premises technology services. In fact, despite the inevitable economic downturn in the wake of the pandemic, cloud spending is estimated to rise by 19%, even as IT spending as a whole is forecast to fall 8%, according to industry analyst Gartner. Though Cloud has proved to be a good fit for business continuity and resilience, cloud providers will have to set the right balance between providing customers with increased flexibility versus offering opportunistic solutions.