Current Landscape of Streaming Platforms:
The pandemic has been the forerunner of unprecedented growth in the global OTT market. Time spent in video streaming apps hit nearly 1 trillion hours in 2020. The total number of users for OTT services is set to increase to 3.7 billion (approximately 45% of the world's population) by 2025. With the increased consumption of streaming services, the launch and expansion of new streaming platforms continued, leading to intense competition between incumbents and new entrants. The key focus of streaming platforms now would be to engage and retain their existing subscribers amidst such heavy competition.
We have plotted the top streaming platforms in the US across the following dimensions and compared the streaming landscape in the span of a year to understand where they stand in terms of competition.
Content Diversity Index based on the diversity of content currently available on the streaming platform. (e.g. superhero content, family-oriented content, restricted content, original content, reality TV & documentaries)
Market Performance Index based on the current performance of streaming platforms that include subscription share of the market, streaming (hours) share of the market, subscriber count, and revenue.
User Engagement Index based on customer engagement in the streaming platforms that include page weight, load time, average session duration, and customer satisfaction index. Better the size of the bubble, better the customer engagement.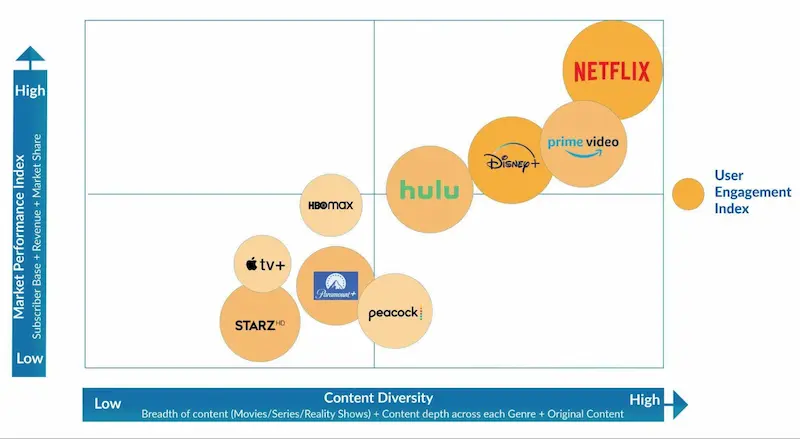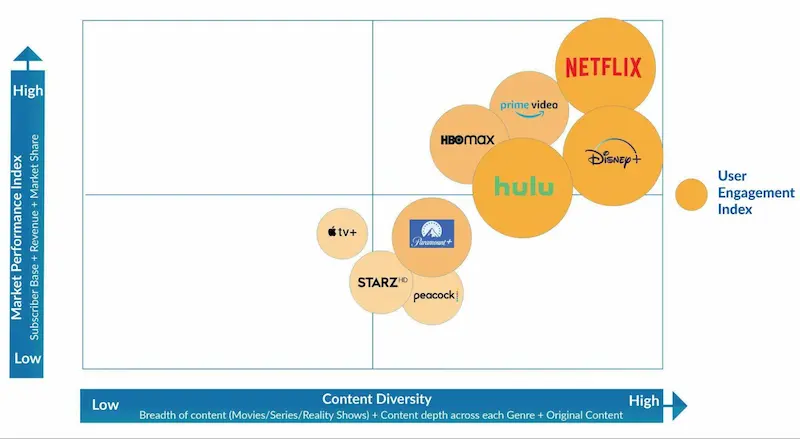 Amidst heavy competition, HBO Max seems to have an edge over Netflix in the past year
In the last quarter, HBO & HBO max added around 3 million subscribers, and the company reported a YoY increase of 12.8 million subscribers. On the other hand, Netflix lost 200,000 subscribers for the first time in Q1 2022 and went on to lose another 970,00 paid subscribers by the end of Q2 2022. Netflix blames password sharing and conflict between Russia and Ukraine to be the reason for its loss of subscribers, while consistent execution of original movies and series well planned throughout the four quarters drove the subscriber growth of HBO Max. HBO Max and Discovery Plus will soon combine their libraries and this will fuel their future growth. In a recent US streaming satisfaction report published by Whip Media, HBO Max cements its lead as the most satisfying SVOD service. However, Netflix is still perceived as an indispensable service and as a leader in user experience (mainly because of its recommendation engine) by most subscribers. In a bid to stay ahead of its competition, the company is trying to add more value to its service by venturing into new revenue streams. The sudden shift in the streaming landscape witnessed the rise of a few trends in the space.
Trend: Focus Shift from Binge-watch to Long-term Retention
Netflix brought forth a binge-watching trend in OTT by dropping an entire season at once, leaving the pacing to the viewers rather than being dependent on the weekly TV schedule. With binge-watching, a customer who is interested in a particular show can create a new account (probably free/trial), complete the show, and leave the platform as opposed to a weekly TV schedule, where a customer needs to stay a subscriber for a period. While releasing episodes weekly, streaming platforms can understand the subscriber viewing pattern in detail and enhance analytical efforts to focus more on retention.
The decision to release the final season of Ozark in two parts (with a gap of 3 months) and hold the final two episodes of Stranger Things for a month after the release of the first seven episodes represented a deviation from the company's recent signature innovation: the binge-watch. Netflix could have carried out this experiment mainly because of the following reasons:
Fight back from the competitors such as HBO, Apple, Disney, Amazon Prime, and Hulu dropping episodes of their streaming shows on a weekly basis.
Downfall in binge-watching: In 2020, 35 of the 50 top new streaming series were bingeable releases, according to Parrot data. Whereas last year, that number fell to 14 in 2021.
While significant investments are required to create new content, tapping into the existing content library, and increasing the existing content viewership with personalized recommendations can be a clear winning strategy for streaming platforms to engage and retain subscribers.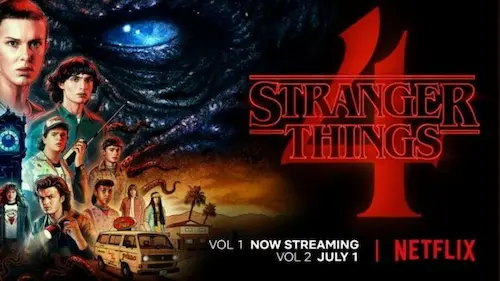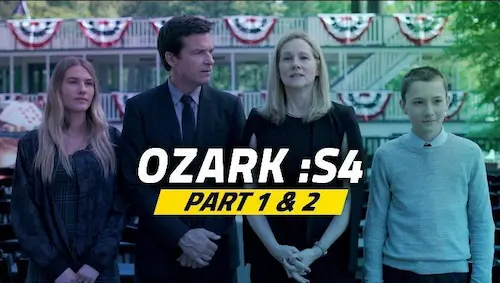 Fig 1.3: Netflix releasing Ozark S4 and Stranger Things S4 in 2 parts
Trend: Consolidation of Production Studios and Streaming Platforms
Setting aside a few blockbusters such as Spider-Man: No Way Home, Top Gun: Maverick, Doctor Strange in the Multiverse of Madness, and Jurassic World: Dominion, US theatrical revenues have been shrinking over the past few years mainly due to the pandemic. US box office revenues hit a 40-year-low in 2020 and are expected to decline in 2022, compared with pre-pandemic levels. During the same period, streaming revenues have increased steadily, showing the power shift in the industry. Major production studios already have exclusive deals with streaming platforms to release their movies and TV shows. For example, Warner Brothers studios recently said they would make ten movies exclusively for HBO Max streaming service. The worldwide consolidation of independent production companies and streaming platforms is a very recent trend that is emerging.
Amazon's $8.45 billion deal to buy MGM studios will give Prime Video access to a deep library of film and TV content, including the James Bond franchise
Blackstone-backed media company headed by Tom Staggs and Kevin Meyer recently announced the acquisition of Hello Sunshine (Producer of "Morning Show" and "Big Little Lies") and Faraway Road Productions (Producer of "Fauda")
CJ Entertainment's tie up with Endeavor Content will give them access to Endeavor's content library which includes "Killing Eve" and "Normal People"
The size of the content library and the availability of exclusive content are among the main drivers of consumers purchasing streaming services. Hence this consolidation trend is expected to continue through 2022 as streaming platforms are looking to acquire new content to keep subscribers engaged in the platform. Meanwhile, this consolidation also serves as an additional revenue stream for individual production companies.
In order to stay competitive, streaming platforms need to prioritize engaging and retaining subscribers. Watch this space to understand more about the rise of AVOD and how streaming platforms can differentiate themselves while offering ad-supported services.
At LatentView Analytics, our data science experts seize the opportunity to make sense of big data and turn it into insights for our clients to make data-driven business decisions. Get in touch with us at consultingservices@latentview.com.