The pandemic has fueled remarkable growth in the gaming industry. Global games market revenue is expected to reach $219 billion by 2024, with mobile games contributing more than 25% of the projected revenue. Mirroring the success of other Media & Entertainment sectors, gaming has increasingly shifted towards a subscription-based economy that gives gamers access to a variety of game titles for a fixed monthly price. Almost 52% of global gamers already have a gaming subscription, with 71% considering multiple subscriptions.
There are three ways in which gamers can subscribe to gaming services:
A subscription to a gaming console's online game titles (e.g., PlayStation Plus)
A subscription to a single game (e.g., massively multiplayer online role-playing game such as World of Warcraft)
A subscription to a platform that offers gaming titles from different publishers (e.g., Apple Arcade or Microsoft Xbox Game Pass)
Popular gaming subscription analytic services like PlayStation Plus, Xbox Game Pass, Nintendo Switch Online, and Apple Arcade offer a sizable library of games for a monthly fee. These subscription services face strong competition to acquire more gaming titles in their offering to engage and retain their subscriber base. We have plotted the major subscription offerings from top gaming companies across the following dimensions to understand where they stand in competition:
Game Diversity Index: Index based on the diversity of gaming titles currently available on the platform and the depth across each category (e.g., Shooter, Sandbox & Open World, Action-Adventure, Horror)
Market Performance Index: Index based on the current performance of gaming companies that includes subscriber count, the global presence of the subscription offering, and revenue.
User Engagement Index: Index based on customer engagement in the gaming platforms that include total visits/month, pages per visit, and load time. Bigger the size of the bubble, better the customer engagement.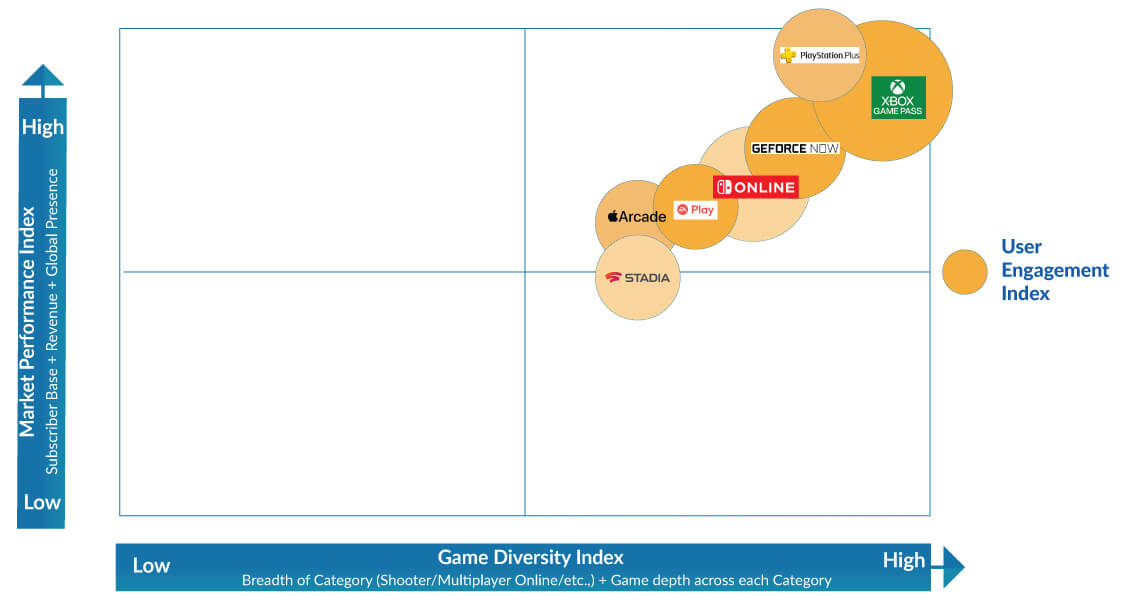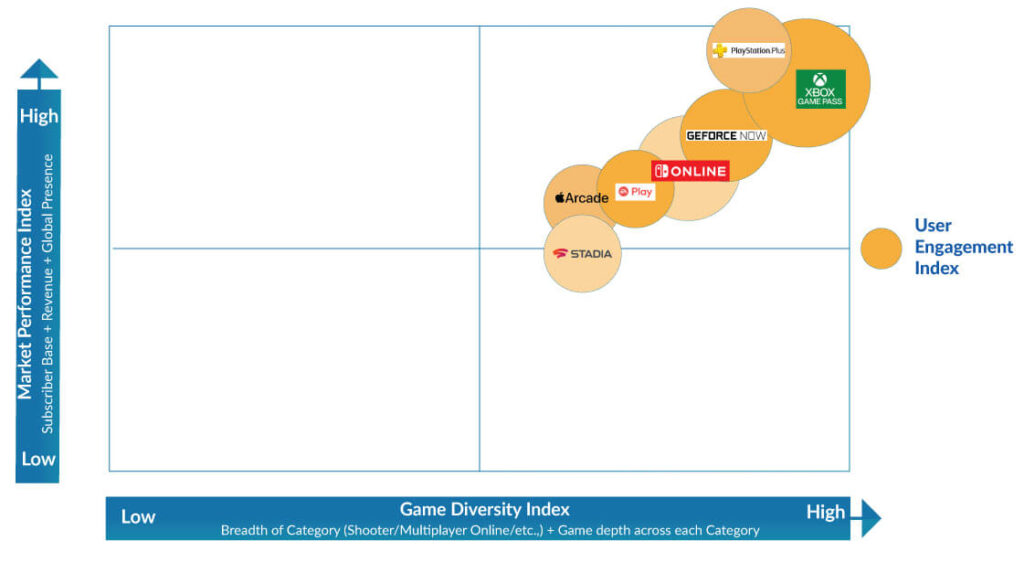 Xbox Game Pass leads the race, but competitors are catching up
According to analysts, Microsoft is said to hold 60% of the market share with its 25 million Xbox Game Pass subscribers. The recent acquisition of Activision-Blizzard (portfolio that includes "Call of Duty") is further set to expand Microsoft's subscription offering with popular game titles and position it as one of the dominant forces in the subscription landscape. To take on this acquisition, Sony is merging PlayStation Plus and PlayStation Now into one service with three tiers (Essential, Extra & Premium). Nvidia, one of the leading entities in the cloud gaming space, lets subscribers play the games they already own on platforms like Steam, GOG, and Ubisoft Play through the cloud, eliminating the need for downloads and updates.
While we assess the key players in the gaming subscription landscape, let us look at some of the questions gaming companies need to get right to sustain competitive advantage.
Should gaming companies offer all titles on subscription?
Gaming companies must carefully decide the variety and depth of titles that can be offered in a subscription service. A triple-A game can cost around $50 million to $100 million to develop, excluding the marketing costs. Adding to the uncertainty of success, it would not be rational to release AAA games on subscription at current budget levels.
Are Subscription revenues substantial in gaming?
Subscription revenues currently amount to 4% of total revenue generated by gaming in key markets such as North America and Europe, and are projected to reach 8.4% by 2027 (according to industry analyst Pierce Harding-Rolls). Video games generally make money after they are purchased, with 79% of game spending coming from in-game transactions (cosmetics, skins, season passes, DLC content), according to Ampere data. Hence, in-game transactions will continue to be an essential part of gaming revenue than subscription fee.
While predictable revenue is a key driver for subscriptions in gaming, we need to explore the other drivers that influence gaming companies to enter the subscription business model. The subscription model reduces the cost of producing and shipping physical games by offering titles online, making it a faster and more convenient way to reach gamers. Subscriptions also help improve customer loyalty by building a better connect with gamers. Though subscription revenues are set to experience slower growth, cost reduction in game development and the need for better customer engagement will act in the favor of gaming companies adopting the subscription business model.
Can live service games and subscription models coexist?
Live service games are designed with the major purpose to keep gamers engaged and retained for a longer period. Live service games have been around for a while. Some of the live service games that gained huge popularity in the early 2000s are World of Warcraft and League of Legends. Live service games offer gamers a chance to play with their friends and family. They are mostly free to download and play, and they make most of their money from in-game transactions. An average Fortnite gamer (who has spent money on the game) has spent $84.67 and approximately 58.9% of these gamers spent money on outfits and their avatars. Sony's acquisition of Bungie has confirmed its plans to release ten live service games by 2026.
The subscription business model is not new to Live Service games. World of Warcraft is a subscription-based live service game. Since successful live service franchises lay a solid foundation for gamer loyalty and can be iterated repeatedly, offering them as titles under subscriptions will only help increase the subscriber count for gaming companies.
To stay ahead of the competition and fully utilize the benefits of the subscription economy, gaming companies need to:
Effectively identify customers who are more likely to convert to subscribers
Hyper segment the gamers and map them to the right set of games (from the wide variety of titles available) to improve customer engagement
Retain the existing subscribers with hyper-personalized in-game recommendations for live service games
Our extensive experience in understanding digital customers coupled with our expertise in Machine Learning and NLP techniques can help gaming companies excel in these efforts. If this is of interest, kindly reach out to consultingservices@latentview.com.