Service Validation GameDay League
Organization: LatentView Analytics, Chennai, India
Team Name: RT90LT45, Team Members: Vijay, Reena, Sangavi, Nerlie
"Well, it's going be a tough race to the finish line!" Those were our first thoughts on AWS GameDay! We were putting hours of preparation on network stack, service stacks, and the integration piece to develop and deploy microservices in the AWS ecosystem. We had ready to go AWS CloudFormation templates for almost all the services that we could think of! And here comes the surprise! Well, the game was the other way around.
AWS GameDay was all about fun-filled hands-on learning. This GameDay was unique in that validated AWS Service Delivery and AWS Service Ready Partners competed against each other. We were invited because we recently secured our Amazon Redshift Delivery validation. Each team was allowed to have a maximum of 4 participants and were expected to build and run microservices. But the best and trickiest part is to keep them running despite the odds you face in the game. What's in a game without a challenge! We must acknowledge that the game-day geared us to be light on our foot and ensure the show goes on for Unicorn. Rentals!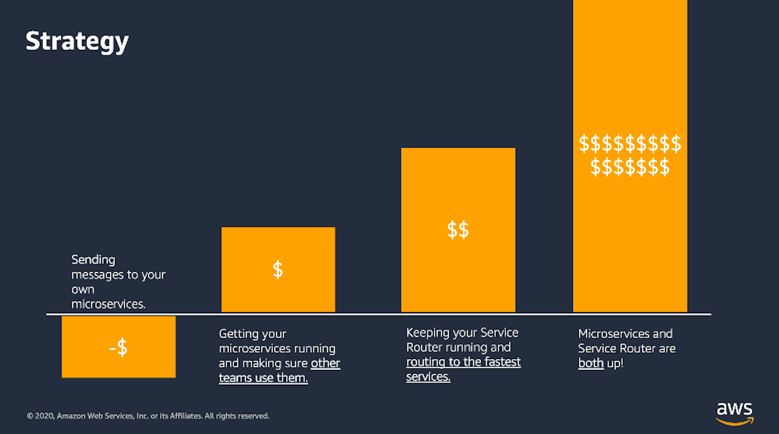 The GameDay setting was a famous fictitious unicorn narrative, but the problems that we was thrown were pretty real. The participants were assumed to be new hires at Unicorn. Rentals and this is supposed to be their first day on the job. Professionals all over the world participated, and it was an exciting experience to collaborate. A total of 22 teams, 3 hosts, 80+ people were high on AWS & microservices for straight 3 hours.
We were supposed to host three microservices, namely swap case– the AWS Lambda module, leeter – the elastic beanstalk module, and reverser – the fargate setup. With 3 microservices to host, we were clueless about where to start. As if our minds were read, we got the necessary help coming from the AWS team. Well, what else could be a new hire's delight than to see all microservices up & running for their dream company!
Once the services were up and running, we were supposed to publish the service endpoints so that others can use it. This will benefit both the teams that are using and consuming. We saw ourselves climbing up the spot with a little twist at the end. While we thought all was well, we were surprised to see a negative score for us. Well, the troublemakers were at play and the real game was on. Our VPN ran out of IPs, and we quickly had to create a new VPC and roll the stacks in the new VPC. We were losing the points due to downtime and we started to notice that all the services that were started were failing due to one or another reason.
Swapcase, the AWS Lambda module was failing due to a timeout issue, and we were able to spot a small code tweak to fix it. Leeter couldn't handle the load, and we promptly changed the instance type change/increasing scale did the trick. As we thought all was back on track, the AWS red team came in to pull out the internet gateway. Well, that was a mess. It took us quite a while to fix it, and we were pushed down a few slots in the race. It got very interesting when we were allowed to collaborate across teams to support each other. We finally finished off at the 12th position, and we had a good night out with no excuses given at work!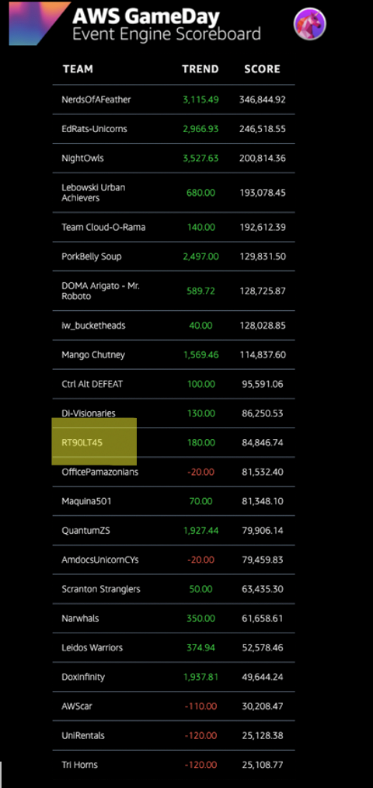 Well, I believe all production issues make you stay awake late at night! Don't they? To sum up, it was a wonderful experience to participate and have fun while learning.
Thanks to the AWS Partner team for roping us in and LatentView Analytics for this wonderful opportunity to collaborate with teams across the world. BTW, we hear that Unicorn. Rentals would be going public soon.