The process automation industry, especially RPA, has gained tremendous traction and investment across enterprises over the last few years. This is evidenced in the unicorn valuations of multiple RPA vendors [1], Microsoft's entry into this space [2], and Gartner forecasting the annual spending on RPA software to continue to grow double digits annually and become $2.4 Billion in 2022 [3]. As we look to the future, the industry is undergoing transformation through the addition of "intelligence" and increasingly being called Hyper or Cognitive or Intelligent Process Automation.
Claims Analytics: Managing Claims in an Intelligent Manner
This trend is playing out in our analytics solution space as our clients engage us in adding intelligence to their automation efforts. A leading player in the insurance space has automated multiple steps in the claims process by combining bots and decision boards. Their current process had inefficient utilization of resources and a lot of scrutiny involved in processing the claims. These activities were costing the company, delaying the settlement process, and leading to low customer satisfaction as evident from C-SAT scores. Let us look at the manual process in their claims management.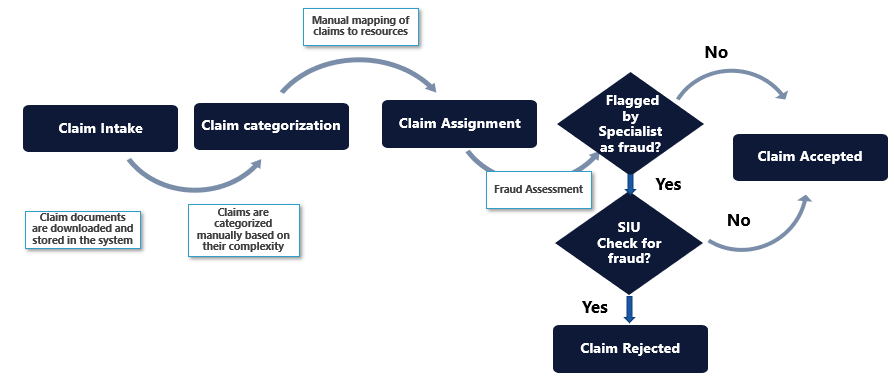 We have identified the processes involved in the use case, and all its variants leading to the end state from start and determined the bottleneck activities in each process. Repetitive activities such as data extraction from digitized documents were automated with the help of robotic process automation tools, while activities such as workforce optimization were automated with custom-built python codes. We also added ML/DL techniques on top of the automated process for decision-making areas such as claims segmentation and fraud detection. This resulted in reducing the decision-making time of the assessor by 75%, which is an improvement in the existing fraud detection system by 50% and incurred a savings of around $18 Million. The current 'intelligent automated' process looks like this: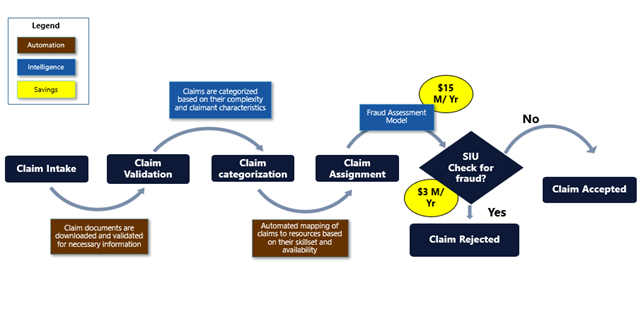 Impact across industries
The key industries impacted by intelligent process automation are Financial Services [4] and Healthcare [5[ while the major impacted business units are Service Operations, HR, and R&D. By automating customer segmentation and core administrative functions using robotic process automation tools, both Healthcare Insurers and Financial services firms see a rise in cross-selling efforts and improved customer satisfaction which in turn leads to additional revenue.
We understand companies even after spending a huge amount of resources in automating processes, have manual intervention in areas such as:
Determining C-SAT scores based on customer service calls and segmenting them into different buckets. With customer experience and loyalty being the two key focus areas, Telecom companies had automated the speech-to-text conversion process. However, C-SAT score determination is a tedious procedure that may take days of manual effort
Enriched resume screening process using public data sources for an interview is one of the challenging use cases across the industry. Extraction of information from candidate's social media profiles or online portfolios is automated but determining the order of relevance of candidate for a job requires enough time and effort as around 70-80% of the resumes received for a role are not relevant.
Benefits of Intelligent Automation
We believe these issues can be addressed effectively by integrating robotic process automation and artificial intelligence. There are several benefits of intelligent process automation such as:
Transform Business Process: IA helps in reengineering a business process with cutting-edge ML/DL techniques making it more efficient. We assisted an Oil & Gas firm in transforming its research assistance process which was highly cost ineffective and time intensive thereby reducing the processing time by 85%
Cost Reduction: IA helps in cutting down labour costs thereby letting the company focus on spending their human talent in areas of strategic importance. We helped a Technology giant automate its collection process which resulted in savings of $28 Million
Greater Accuracy: By automating manual processes that are subjected to human error, IA offers increased levels of accuracy leading to efficient operation and better customer experience. Application of intelligent automation helped a pharma giant in streamlining processes and increasing accuracy by 50%
In summary, our extensive experience in developing analytics and AI solutions when combined with automation and process mining capabilities in improving outcomes for our clients. We have developed a set of solution approaches and accelerators that can be customized for specific process automation requirements. We will be discussing some of our solutions in detail over the coming weeks. Watch this space to understand more about our methodology and offerings.
References