Long before grapes were being crushed into wine, monks were brewing beer in their cellars. Fast forward several centuries later, the COVID-19 pandemic came along and wreaked havoc on the beer industry. Yet, despite the crushing blows to brewers and breweries, data indicates that the beer industry will continue to play a big part in the global economy. To put things in perspective, here are some eye-popping statistics about the industry.
The global beer market is valued at $623 billion.
Beer is the most consumed alcoholic drink and the third-most consumed drink after water and tea.
One in every 110 jobs in the world is linked — through direct, indirect, or induced impact channels — to the beer sector.
The industry supported an estimated 23.1 million jobs and generated $262 billion in tax revenue in 70 countries.
Draft beer accounts for 6% of the total beer volume.
Craft beer has a retail value of $22.2 billion.
Market Fluctuations in the Industry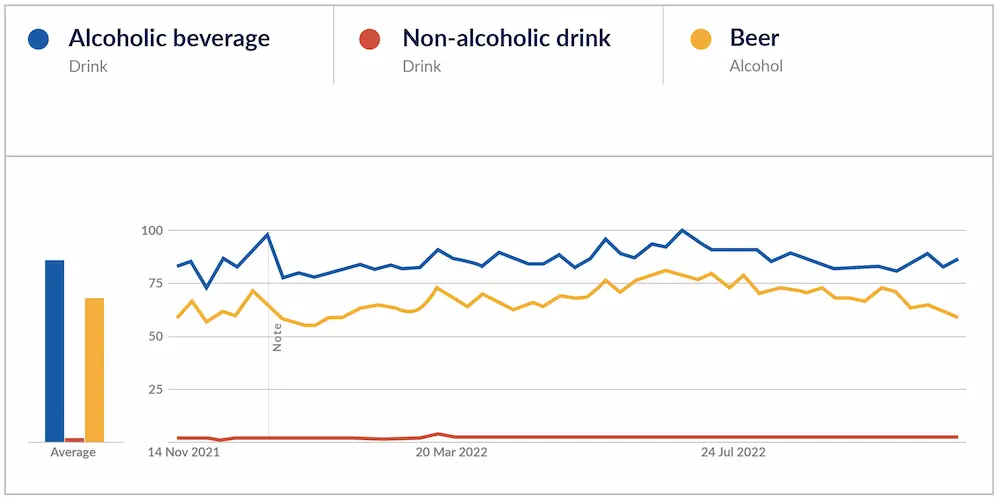 Beer is the most critical segment in the global alcoholic drinks market by volume and value. Compared with other segments, this segment is already quite concentrated, with the top 5 players accounting for roughly 60% of global volume — half of which is attributable to market leader AB InBev alone. The beer market size is estimated to reach $962 billion by 2027, growing at a CAGR of 2.9% during the 2022–2027 forecast period. Beer is delineated as a drink that falls under alcoholic beverages. It is prepared by brewing cereal grains and marinating them in water. Barley is the most common and extensively used cereal grain in beer production.
The beer market outlook is exceedingly captivating as the demand for beverages with lower alcoholic content increases. To handle this steep demand rise, market players focus on wide-scale production, resulting in an increasing number of breweries. Moreover, innovative flavor options are the best thing for firms in their respective market. In addition, elevating purchasing power and westernization in developing countries like India and China are factors set to drive the growth of the beer market for 2022–2027.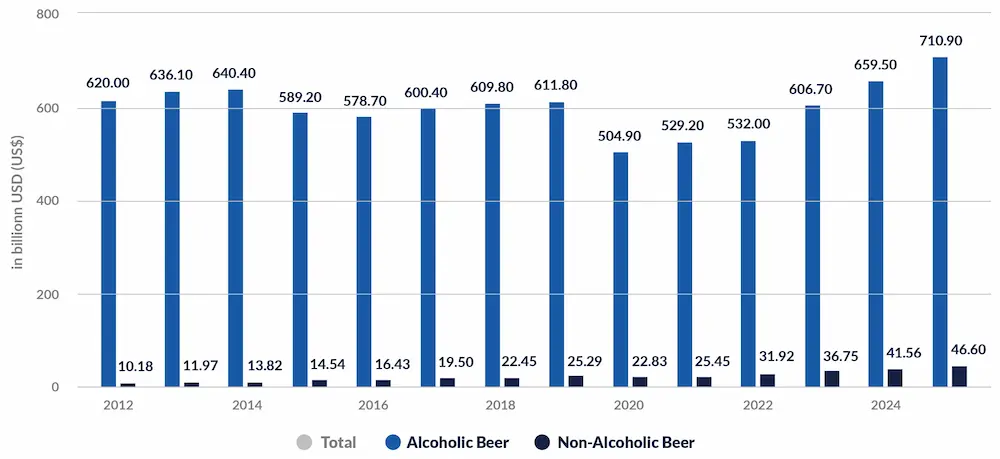 In terms of interest and revenue generation, the demand for non-alcoholic beverages is rising steadily. Regarding the market capture among the key global players, Ab InBev is the market leader in the beer industry. The beer market is ever evolving, with new players and changes happening quickly.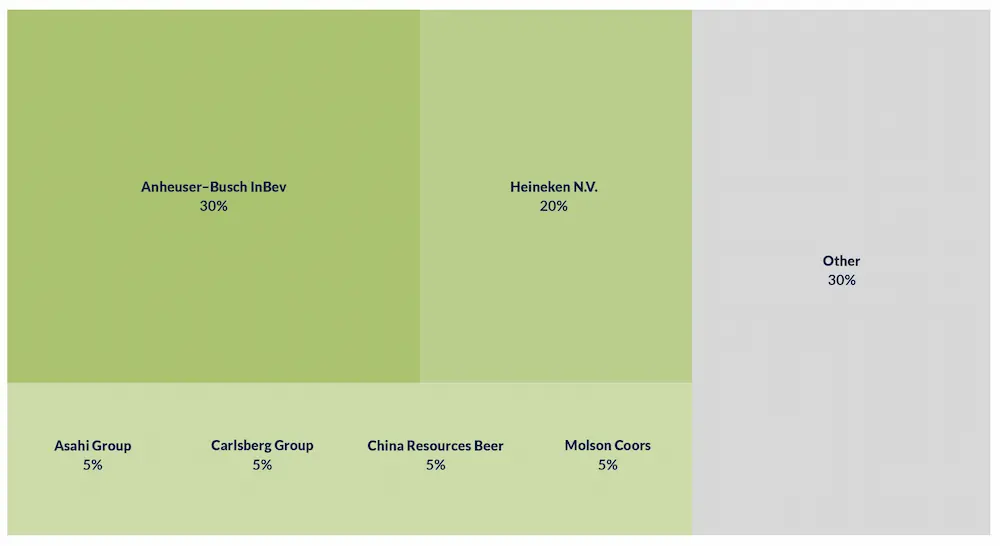 Supply Chain Disconnect
Changing consumer behavior has naturally impacted the beer industry's supply chain. As a result, potential sales channels have fragmented, creating different sales needs to help meet the growing demand of a diverse customer base. As a result, businesses face many challenges, such as:
• Lack of visibility: The consumer market needs to be more eclectic, significantly impacting the supply chain. For example, while bars and restaurants may require kegs or barrels, beer must be bottled appropriately, packaged, and labeled to fit on retail shelves. This difference in distribution can significantly complicate the process and make the overall visibility of the goods more accessible.
• Information gaps: Data accuracy is critical to any robust supply chain, but without the proper infrastructure, there is always the risk of system gaps. This may be due to outdated systems or manual processes leading to input errors. Again, using the right technology is critical to filling these gaps, allowing information to flow seamlessly from start to finish.
• Increased competition: The prevalence of new-age products such as microbreweries, craft beer, and non-alcoholic beer has created a different and more diverse set of business requirements. This can make it challenging to integrate logistics processes in a competitive market, leading to inefficiencies in the overall setup and, at the same time, increasing costs at all stages of the supply chain.
• Capturing diverse markets: In this disruptive digital age, agility and precision are more important than ever. Businesses must ensure they explore all the global opportunities available to them. But more importantly, they must be able to design more specialized and targeted strategies and business models to take full advantage of these opportunities and strike while the iron is hot.
Leveraging the Supply Chain Framework
Throughout the beer industry, there is great potential for both distributors and suppliers to capitalize on efficiency gains and cost savings through an increased focus on beer sales forecasting. Both sides benefit immensely by increasing collaboration between distributors and suppliers, establishing best practices, and dedicating the appropriate systems and personnel to the forecasting process.
The distributor's job of accurately forecasting sales is an ever-increasing challenge, with rapid growth in total stock-keeping units (SKUs) and product demand constantly influenced by a broad spectrum of variables, including weather, economy, seasonal changes, holidays, and displays and promotional activities.
By streamlining forecasting and ordering processes, demand planning accuracy can be increased consistently. This will optimize inventory, improve service levels, and bring dollars directly to the bottom line by enhancing cash flow, sales volume, and company profitability — making this a high priority across our industry.
• Minimizing out-of-stocks: Out-of-stocks equal lost sales, which will never be recovered. Not having an inventory can create delivery and service disruptions as customers expect placed orders to be filled. In addition, out-of-stocks due to poor forecasting and ordering can negatively impact brand equity, customer rapport, sales, and profitability. The consistent use of a sales forecasting model can help eliminate out-of-stocks.
• Improving product freshness and warehouse efficiency: Too much inventory can result in an out-of-code beer that must be destroyed or close-to-code beer that must be liquidated at or below cost. It also drains the cash flow and impedes proper investment to grow the business. In addition, a close-to-code product disrupts customer service, as salespeople must focus on moving close-coded products around instead of selling and merchandising fresh products and gaining new placements.
• Maximizing warehouse space utilization: As distributor consolidation and SKU proliferation continue, warehouse space is at a premium. Making the best use of a sales forecasting tool can help a distributor maximize the use of existing space and reduce the possible need for a costly expansion.
• Providing cash flow efficiencies: Most distributors' most significant ongoing cash flow use is funding inventory. Whether a distributor finances their inventory through a third party or pays for it from internal working capital, there is a cost for using those funds while the inventory is in the warehouse waiting to be sold. Effective sales forecasting can help a distributor maintain optimum inventory levels, maximizing cash flow.
• Capitalizing on peak sales weeks: These special weeks add up over the year and provide a premium on gross margin. Inaccurate forecasting jeopardizes many of these sales periods for any given year. Because there is only a tiny window of opportunity to maximize these critical weeks, accurate forecasting ensures that the distributor has the proper product mix to take full advantage of their operational capacity.
• Shifting consumer behavior: It is essential to deliver what the consumers need and be a part of the change process. With the increasing demand for craft beer and non-alcoholic beverages, companies with better visibility can work with their R&D team to keep pace with the market and focus on increasing sales on online channels.
References:
https://www.statista.com/outlook/cmo/alcoholic-drinks/beer/worldwide#revenue
https://www.fortunebusinessinsights.com/industry-reports/non-alcoholic-beverages-market-101927
https://finance.yahoo.com/news/supply-chain-disruption-beer-market-145210306.html