The Internet revolutionized the way people gain information, share information, make purchases, and manage their lives. Now, we are well into a new and even more profound shift from the Internet Economy to what we call the Digital Consumer Economy. In the era of the consumer, it is crucial for businesses to cater to them any time, any place if they are to survive the brutal competition. In a survey of the on-demand economy conducted by The Street, it found that 42 percent of the total adult population in the US is engaged with at least one on-demand service. The survey report was compiled by Burson-Marsteller, the Aspen Institute, and Time.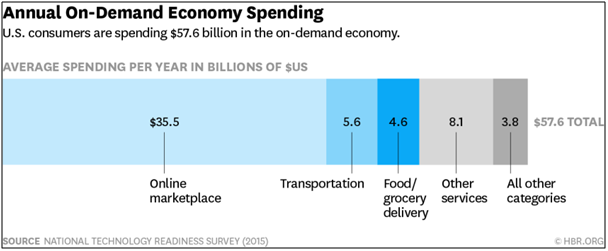 Sustaining businesses through social media analytics
The rise of the on-demand economy is changing consumer habits, supply chains, and competition. To keep up with the pace of the evolving trends, apart from the traditional review system on the apps, one can leverage data from social media as well. Almost half the on-demand app users are millennials (ages 18 – 34) and social media thus serves as a major source of data for app creators.
Social media has become a powerful marketing communication platform for most businesses. It acts as a two-way communication channel for both companies and consumers. Consumers provide their views on products and services through social media, thereby giving businesses an opportunity to gain insights into their perception about their brand. Social media is also emerging as a digital commerce platform through which users can buy or sell their products. Users of a product post or tweet about their experience and this drives other consumers' purchase decisions. Product reviews significantly influence buying patterns of potential customers. Social media enables businesses to reach out to a large pool of potential customers which proves to be more productive than attracting customers to the business site.
Social media has the power to either make or break businesses. Any viral post or tweet can drastically bring down an app's ratings or it can attract huge numbers in a single day. Further, the dynamism of social media platforms makes it necessary for businesses to keep up with the evolving trends.
Leveraging Social Media to Sustain Businesses
Text mining helps uncover insights from consumers' digital footprints – otherwise lost because regular key performance indicators or customer reviews are mostly product-specific. Customers on social media talk about many aspects of their experience while providing their feedback or their opinions on the business' competitors. Businesses need to tap into the potential of such vast amount of data from their customers. Many customers also tend to give ideas on how businesses can improve their products and services and their follower base also serves as a potential customer pool.
This is exactly where social media analytics comes in handy. We can classify customer posts and tweets under different themes and attach a sentiment value to each post/tweet. We can also monitor the growth of brand engagement or social media presence of a business over time and identify trends and patterns.
Social media analytics usually involves the following steps:
Monitor customer journey through the buyer funnel
Improve brand reach
Recommend products/services
Understand consumer pain points
Forecast demand
Map customer preferences
Know your competitors
Large amount of data for these strategies can be obtained from various sources such as a company's internal database, surveys, and reviews on dedicated websites/business websites, app reviews on Playstore, blogs, and news articles. What do each of the strategies listed above entail? We provide an overview in the following paragraphs.
Monitor customer journey through the buyer funnel
Understand the trajectory of customers starting from the time when they gained awareness about the business or the product. The journey would include various stages such as those of considering the product purchase, buying the product eventually and then recommending it to others. Customers start out as prospective buyers and finally become brand ambassadors. Text mining helps estimate how much of a customer's product-related social media content falls into each of these stages. The analysis might lead to new marketing ideas about engaging prospective buyers and/or retaining the existing buyers.
How many customers do the marketing messages ideally reach and how many of these subscribers actually read these messages? To understand the metrics related to user activity including the number of times content gets posted or retweeted and the potential impressions it creates, analytics is key. These analytics may also involve understanding key influencers (ones with the most number of followers) to tap into a larger customer base.
Recommend products/services
When customers talk about their preferences on social media, be it their favorite cuisine or their favorite hangout spot in the city, they generate relevant data for business to tap into. This also helps in gaining insights into the trending topics which enables business to tailor their services in those specific areas – by suggesting similar products that customers can try out. In case of restaurants, a deep dive into the various locations through social media footprints can help businesses map demand patterns in a given region.
Understand consumer pain points
Customers who have had a negative experience with a service/product tend to be more sensitive and vocal about it on social media than someone who is satisfied with the product. Since social media users are more attracted to sensitive content, it becomes imperative for businesses to handle such social media interactions with care. Some customers pay more attention to the responsiveness of a business' customer support than to getting their issue resolved. Analytics help us map such content and its popularity by identifying posts or tweets with negative sentiments and monitoring the frequency of retweets and shares.
Although there are existing analytical methods to predict customer demand, there are certain drawbacks such as unaccountability for small episodes of changes and trends in the purchase patterns of the consumers. But social media helps us identify even the emerging patterns in consumer preferences and guides new business strategies accordingly. Occurrence of any event that might cause a small disturbance in the regular purchase behavior can be effectively captured through social media and business can analyse their impact through sentiment analysis. Influencers also can play a role in shaping customers' opinions.
Any new demand or requirement that the customer puts forth can also provide businesses with ideas for expanding the ambit of their products/services. Theme analysis focusses on the content that talks about needs and demands especially around sensitive topics. Analytics help businesses deliver better – giving the customers what they want is ideally the primary goal for all businesses.
Social media analysis can help us come up with new marketing strategies based on the behavioral patterns we observe. Any customer pain points that we come across can serve as a potential marketing idea. Marketing can also be customized based on each customer's purchasing pattern and the products that the customer discusses on social media. Some customers also help market products by recommending them to others. A business' marketing team can also collaborate with such customers and provide them with customized referral or recommendation banners or any interface of that kind. Businesses can also give rewards to loyal customers and promote them on social media to incentivise their engagement with the brand.
The growth in competition has led to customers meticulously comparing products or services and their prices. There are aggregator apps that also help them make this comparison and share the same online. Businesses can tap into this area and see how customer preferences vary for them and their competitors. They can also compare their own brand reach with their competitors' to analyse the patterns in growth of their respective customer bases. Customer opinions vary over time as they switch between brands consistently. Business can identify the relevant features that give their competitors leverage over them and strategize accordingly to retain their customers.
Social media analytics can be an effective tool for companies in this burgeoning on-demand economy. It can help brands not only sustain, but thrive by creating new products and solutions, improving existing products, all through direct consumer feedback. Through social media analytics, businesses can build brands that their customers continuously engage with, thus cementing brand loyalty. With cutting-edge solutions being developed for social media analytics, businesses have highly capable platforms at their disposal to do this effectively.
Get a 360-degree view of the consumer
Analytics can help deliver more deep-dive insights and provide an understanding of the customer journey at a more granular level. Capturing such detailed information at this level has been possible due to the digital transformation in the past few years which was not possible before. LatentView helps you gain an advantage when it comes to the customer journey. To know more about LatentView's end-to-end custom analytics solutions, please write into: marketing@latentview.com