The COVID-19 pandemic is unlike anything we have witnessed in the past century. It is a human tragedy of untold proportions, not only in terms of loss in human life but also in terms of the disruptions it has created in the economy. The imposition of social distancing, travel restrictions and other measures have resulted in supply chains being thrown into disarray and livelihoods being lost. COVID-19 has been bad for most businesses, save a few.
Effect of COVID on Various Sectors
Contrary to popular belief – in the immediate wake of COVID several technology-backed businesses – such as digital health, ed-tech, digital marketing and digital content have seen a noticeable increase in demand even during these difficult times.
The support and telecom industry, among others, are expected to come out of the pandemic unscathed. As people are increasingly working from home, there is bound to be a surge in data usage, as well as in the need for remote assistance.
The Emergence of Remote Conferencing Tools to The Forefront
Many enterprises globally have taken innovative approaches to ensure business continuity, by rapidly adopting virtual collaboration tools and moving towards remote working. With social distancing norms keeping people away from their offices & classrooms, building and strengthening remote capabilities have become imperative in ensuring survival.
Hanging out on Social Platforms is the "new normal"
In this crisis, people are increasingly looking to Social Media, to not only make sense of what is happening but to also try and experience a sense of community. A large number of people are using it as a means to vent out their frustrations, while also finding solace by sharing funny situations/stories with fellow netizens.

Social Media Listening of Remote Working Tools
Keeping the above-mentioned trends in mind, a Social Media listening analysis was performed to understand consumer perceptions of four popular conferencing tools, namely, Zoom, Teams, Hangouts, and Slack. LatentView collected data from Social Media for the period of Jan – March 2020. Natural Language Processing techniques like sentiment extraction and topic modeling were used to process ~1 Million conversations, to identify key discussions around each of the collaborative tools.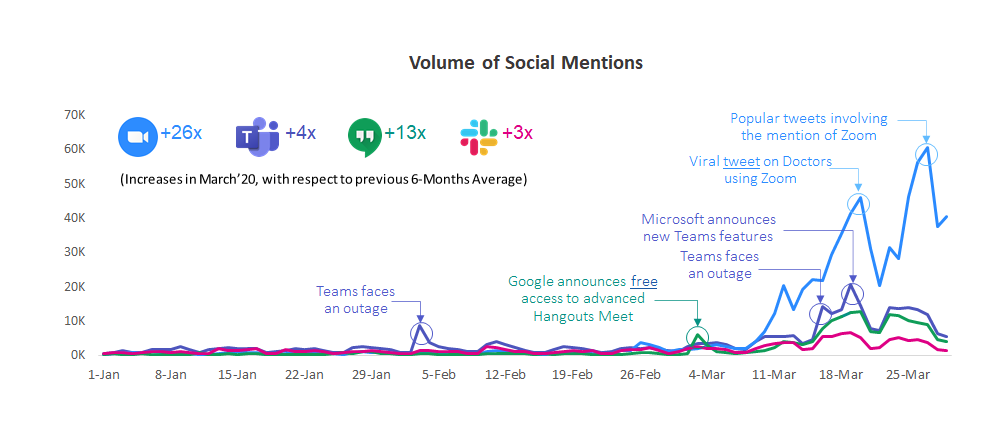 All remote conferencing tools were found to have increased in popularity, as evidenced by the increase in social mentions during March 2020.
A greater share of conversations was from the Education sector, as opposed to the Corporate/Work from Home setting, reflecting a greater shift of education into the online domain. This share was notably higher in Google Hangouts, in comparison to other brands like Zoom and Teams.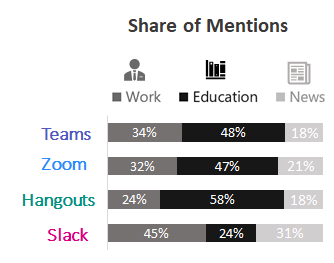 Current Market Leader
Below are the key findings from the social listening exercise performed by LatentView:
Zoom has by far emerged as the most popular video conferencing tool, witnessing a 26 fold increase in conversations in March 2020 compared to the previous 6-month average.
Zoom also captured the highest Share of Voice in Social Media, displacing Teams as the leader.
57% of all conversations about remote conferencing tools were regarding Zoom, reflecting a +37ppts increase from 6 months prior.
This significant increase is a consequence of Zoom's abundant use in daily conversations, even being used as a verb. The spikes in Zoom conversations were primarily user-driven, as opposed to Hangouts and Teams, which were prompted by official announcements and updates.
This sudden and phenomenal increase in Zoom's popularity is because it has established itself as a quick and easy-to-use tool. Users need not have a prior account or subscription with the platform, unlike its competitors. In addition to its low entry-barrier, several unique features of Zoom have aided in its popularity and growth.
The ability to have virtual backgrounds in video calls has been a major hit with users. Apart from finding practical resonance, this feature has also led to fun background experiments among users – with this often finding its way into viral tweets.
Furthermore, the capability to view all participants is another widely appreciated feature among users, particularly among Educational institutions, where the need to track individual students is imperative. The early presence of such popular features has helped Zoom differentiate itself from its competitors.
Brand Perception
Correspondence analysis was performed to identify user perceptions of these selected brands of Zoom, Teams, Hangouts, and Slack. The size of the circle represents the number of Social Media conversations concerning the particular category, while the distance between the circles corresponds to the degree of association between the different categories. In this case, we are trying to identify the association between the brands (Zoom, Teams, Hangouts & Slack) and the brand feature perceptions (Conferencing capabilities, Audio/Video quality, etc.) Red indicated negative sentiment, while green corresponds to positive sentiment.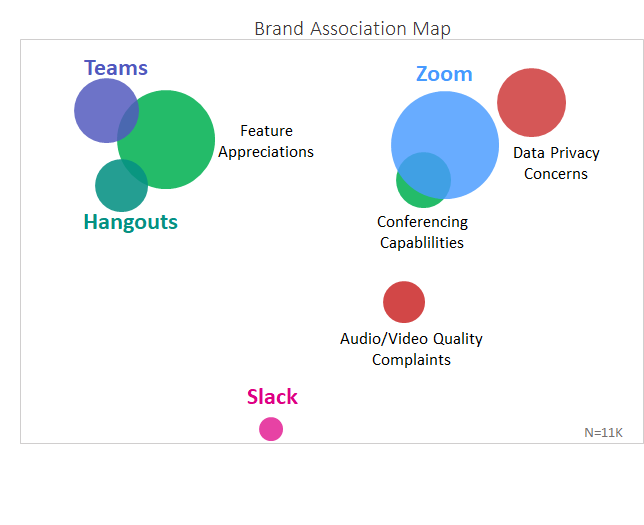 Audio and video issues have emerged as recurring complaints among all observed tools, as platforms have struggled to cope with the sudden increase in server loads. Zoom, while appreciated for its many user-friendly features, has also come under scrutiny for its security lapses and data trading allegations. Incidents of hacking by trolls have led to users raising privacy concerns.
How Are Other Brands Catching Up?
Despite user privacy concerns, Zoom remains a popular app amongst the wider public. In an effort to catch up to this growing competition brands like Microsoft and Google have released a host of new updates to their remote-working applications. Microsoft Teams has been constantly introducing product enhancements over the past few months. It's feature updates like "Hand Raise", "Background Blur" and "Noise Suppression" were appreciated by users. It also caught up with Zoom's popular features, by releasing custom backgrounds and increasing participant display. On top of rebranding Hangouts to "Meet", Google has also stepped up its game, by making its service free for all.
Notwithstanding Zoom's popularity, Teams and Hangouts users have a vastly positive perception of their respective tool's features. These tools are viewed as all-comprehensive collaboration platforms, enabling diverse functions while facilitating integration with other professional services. Zoom, in comparison, is primarily viewed as a video-conferencing tool, while also being versatile enough to support basic collaborative functions like messaging and file-sharing.
Zoom's popularity also derives from its flexibility of use in both professional and personal contexts. Hence, it finds social mentions in both settings. On the contrary, brands like Microsoft Teams and Slack have traditionally had a corporate/professional emphasis, thereby, limiting their user-base. However, Microsoft has envisioned greater potential in the future for Teams in the consumer domain.
Conclusion
COVID-19 has changed the way businesses work, in response businesses need to rethink their strategy and play catch up to stay relevant. This pandemic, despite all its disruptions, has catalyzed growth in the remote-conferencing sector as businesses change the way they operate. Teams and Hangouts have retained and grown in their traditional market – as leaders in collaboration and messaging platforms. Zoom, however, as a new entrant targeting both personal and professional segments with a single product has managed to make massive strides in video-conferencing, despite user concerns in privacy. The intense competition has also spurred innovation causing traditional platforms to match features offered by their younger competitors.