The football industry has constantly faced several unique challenges. Recently, scouting has been one such challenge that has come to the forefront. The football industry is a very competitive circle where numerous clubs and agencies face challenges in creating effective strategies to acquire their target. Scouting is the primary means by which teams collect intelligence about opposition players' performance. A scout who collects players' performance information is known as a Player Scout.
Data analytics has been used extensively in the football industry for over a decade and plays a significant role in scouting. Big Data enables clubs to extract insights that help increase player performance, prevent injuries based on fatigue, and improve a player's commercial efficiency to gain a competitive edge on and off the pitch. But extracting these insights and contextualizing the resulting information has always been a barrier.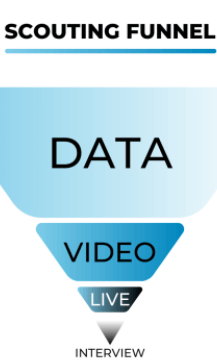 Source:https://soccerment.com/the-importance-of-football-analytics/
Usually, the traditional method would include the scout traveling to see the prospective player, making notes of his performance, and presenting it to the club's manager. But today, the process followed when it comes to recruitment starts with analyzing player data. By utilizing the power of player data, data analysts create a shortlist of players to select. Professional scouts then watch tons of videos that showcase the ability and talent of shortlisted players. And finally, it's time to witness the prospective player in action. If the scouts are impressed, they come up with an offer to recruit the player for the team.
Two clubs, Brentford and Liverpool, have used the philosophy of 'Quest for Rationality' in their recruitment process. Brentford had a salary budget that was 60% lower than the League average (when they were playing in the Championship). But the 12 players that they recruited for 12.5 Million Euros grew in value over time. When those 12 were transferred out, Brentford received 109.2 million Euros, a gross capital gain of 96.7 Million Euros. Liverpool wasn't afraid of selling their star players like Suarez and Sterling because they reinvested that resulting money in undervalued players or talents that better suited the club's playing style.
Some of the KPIs that scouts frequently use to base their analysis are:
Wrong and successful crosses
Number of Yellow and Red cards
Recovered and lost balls
Fouls committed
Effectiveness of the shot
Assists and goals
Kilometers and sprints
Total Injuries and recovery time
Machine Learning (ML) has been deployed in scouting to make more accurate decisions. First, a tool called Keypoint Skeletons is used to label data. Then, once the data of required players are collected, the model is trained, which will allow us to track and predict the player's movements.
This level of prediction can enable a team to be successful by recruiting untapped players for a lesser price and then developing them for a few seasons before transferring them for a profit in the future. For the last few years, such methods have been in practice since teams started accumulating terabytes of data to gain insights.
Rise of Analytics in Recruiting Players
A football performance data company known as Ubitrack uses data extraction technologies to help football clubs identify best-performing players. They extract millions of data points by installing cameras around a football pitch which is then processed to be used for Computer Vision and Machine Learning algorithms. Teams like Ludogorets and CSKA1948 invest in obtaining performance information to track talented players. Using performance information, a coach can validate if the process to increase player potential is effective or not.
In the scouting world, data and statistics are much more reliable than the results of football matches. Football clubs in the Balkan countries like Croatia and Bulgaria are still in the developing stages and are not financially equipped like western European clubs. But with new tools such as Performance Information, teams can identify talents and mold them to their requirements.
FC Barcelona has been at the forefront of using Data Analytics to track players. While scouting, the most important KPI is Expected Goals (xG), which ideally measures the quality of chances to score goals that players create. These data points are presented in a player radar or a spider chart, along with other statistics. This player radar is then compared with other players' charts in the league. Such diagrams are extremely useful to club scouts. Data Analysts at FC Barcelona work on understanding how players react in different contexts. For example, a winger might dribble well in a counter-attacking situation, but his performance when there's an organized defense is also analyzed. This context-based analysis is performed to understand how a player might perform in situations while playing for the club.
The Future Beyond Traditional Scouting
Objective data is the need of the day during a transfer market. There might be a 25-year-old winger scoring every game and making assists which will project him as the next big player in the world. But the chances of him playing at that level consistently need to be observed when completing a transfer. It is important to understand the patterns associated with high performance.
Major companies who collect football-related data, such as OptaStats, have immense depth in its reach as it covers lower leagues around Europe. This in-depth data is seen as huge savings as it does not have to invest in a range of scouts to find hidden gems in the lower leagues. By placing sensors on players' shin guards, an array of data such as passes, crosses, shots attempted is collected.
21st Club is making waves in the recruitment arena. They help visualize to see if there's a correlation between a player's action and reaction on the pitch and the team's performance. For example, the in-house team used the power of smart data to evaluate their client's roster to understand each player's valuation. This resulted in pinpointing a footballer who was valued way better than 18 other footballers on the roster but was earning 25% lesser than the average player.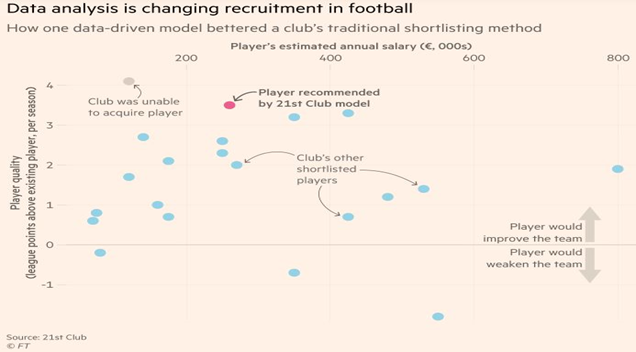 Source: https://www.ft.com/content/84aa8b5e-c1a9-11e8-84cd-9e601db069b8
The increased usage of data and player statistics will be a part of the recruitment space for years to come. Extremely talented scouts will be challenging to find hence are of great value to any club. Understandably, both statistics and traditional scouting will have to go hand in hand to identify the best player. Scouting Biases are common but must be eradicated so that talented players are given a chance to prove themselves. This can be done by analyzing data and gaining accurate insights.
Predictive Analytics in sports has always been important to gain the upper hand over an opponent. Using Machine Learning and Artificial Intelligence for predictive analysis and creating new applications has increased recently. The future of recruiting footballers will get more competitive and advanced with improved accuracy due to the power of predictive analytics.