What is an international remittance?
The remittance or money transfer refers to the money usually sent from international migrants to their native country. International remittances play a very important role as a source of external finance for several developing countries. In the 19th Century, certain countries like Spain, Italy, Ireland had over 20% of account income sent from their citizens living abroad.
The estimated number of Global migrants is estimated to be 272 million, and ~75% are of an employable age group of 20-64. The global international Remittance amount sent in 2019 is estimated to be $550 billion. According to the World Bank, inward remittance is the largest source of foreign exchange earnings in low- and middle-income countries, excluding China.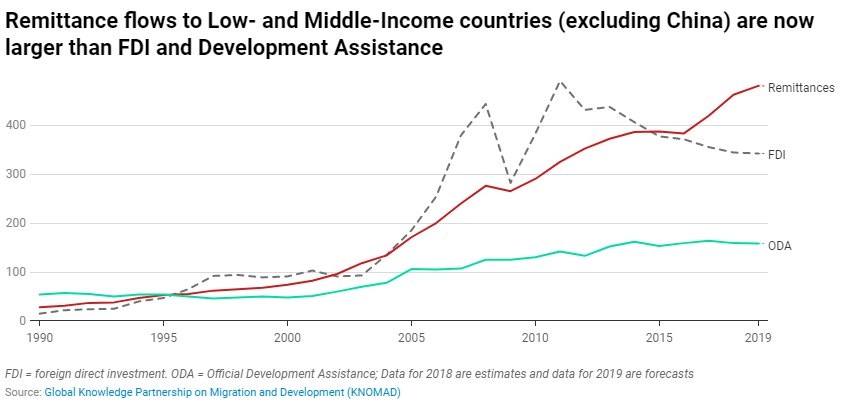 Why do customers prefer remittance?
International remittance was introduced as a service to provide "banking for the unbanked". In the current scenario, these transfers can easily be carried out through banks. Moreover, customers have always trusted their bank and have used them for years — why should they change? Here are several reasons why customers prefer to opt for remittance and money transfer services.
Currency exchange rates:
Banks are not specialists in currency exchange. They end up overcharging and do not provide the best deal on exchange rates compared to money transfer services.
These exchange rates may be outdated and the bank ends up pocketing the difference. But this is however not the case for money transfer companies, who compete to give the best exchange rates possible.

Maintaining an account:
Most banks require you to be an existing customer to transfer money. Besides, they would transfer only to select banks in the receive location, which means the receiver needs to create a bank account as well, which might often not be an option.

Transaction cost:
In addition to currency exchange rates, banks often charge a wire transfer fee which can range between $20-40 per transaction. There might also be a percentage of the total fee for services (~3-5%). This will result in a huge loss for recurring transactions. One of the advantages of remittance services is that they usually charge a flat fee for transactions based on the send and receive country.

Multiple delivery options:
When you opt for a bank wire transfer, you are restricted from the mode of money transfer. With money transfer, there are multiple channels and delivery modes using online services. Most companies offering remittance services have options to pick up cash, instant clearance, transfer to card, e-wallet, account transfer, and many more.
What are the factors which will influence remittance trends?
An initial study predicts the impact of remittance in the US to drop by 7% due to COVID – Link
Impact of the pandemic on the customer – Agent locations may not function or draw customers due to lockdown
Limited customer support from call centers
No options for older demographic which prefers traditional agent-based money transfer
Lack of digitization or delivery option constraint on certain corridors
The increasing number of refunds if a customer is unable to collect the transaction
Real-time pricing and discounting changes to enable transactions
COVID-related impact:

Increase in digital traffic: 70% of US customers are spending more time on the phone. Strategies to improve web conversion and reduce drop off
Unemployment trends – Inward remittances will have a direct impact due to job loss of migrants
There are numerous ways to tackle these challenges. Understanding the impact of the Covid-19 pandemic on the industry will depend on interactions of multiple factors. It helps to have a complete understanding of the remittance industry, key drivers of trends, innovations, and emerging trends.