Introduction
The Healthcare industry across the US comprises hospitals, medical devices, clinical trials, telemedicine, medical tourism, insurance, and medical equipment. The industry was developing at a splendid pace due to its bolster coverage, services, and increasing expenditure by public and private players. With the outbreak of the Covid-19 pandemic in Dec-2019, the dependency on the healthcare industry for normal well being increased several-fold. In this blog, we will access and understand the impact of Covid-19 on the healthcare sector and how emerging technology like Artificial Intelligence can aid in combating Covid-19.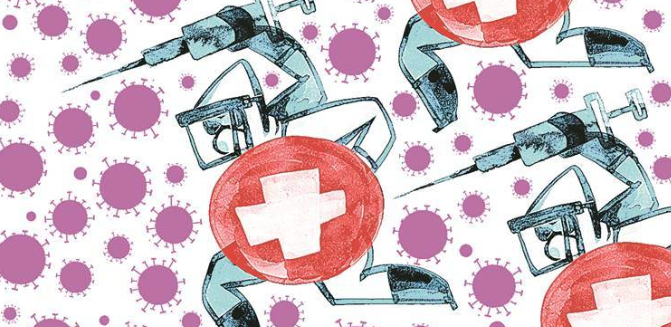 Healthcare Sector Outlook Before COVID-19
In 2019, the US recorded a Gross Domestic Product (GDP) of $21.4 Trillion. As a share of the US GDP, health spending accounted for 17.7 percent. The US federal government individually spent about $1.2 trillion on healthcare in 2019, and the overall expenditure circled around $3.9 trillion and was forecasted to reach $5.7 Trillion by 2026.
US Healthcare Spending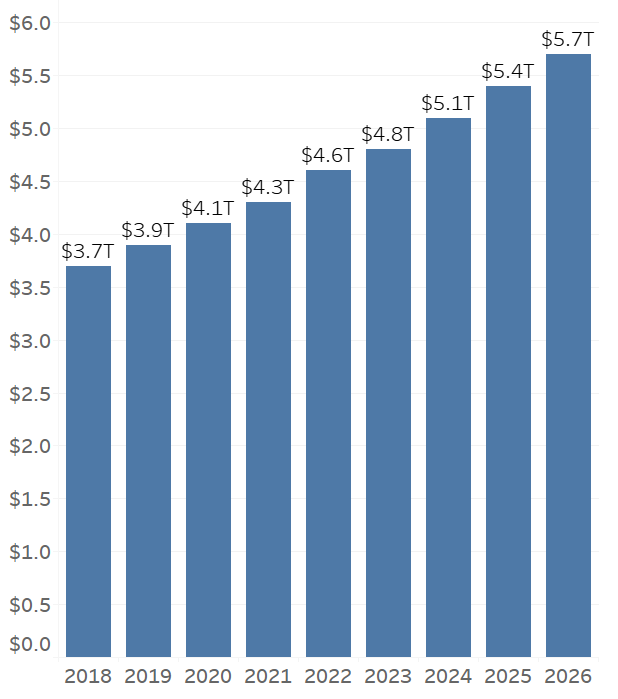 In 2019, the estimated revenue of the US Healthcare industry was $2.4 Trillion, and ~45% of the revenue was generated by the sub-industry patient care that includes hospitals, surgeries followed by patient care and Dental Services.
US Healthcare Revenue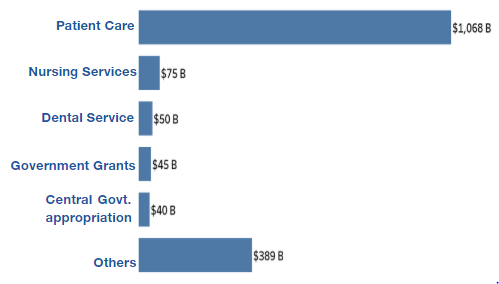 Interestingly, the top 5 healthcare firms in the US i.e., McKesson, United Health Group, CVS Health, AmerisourceBergen, and Cardinal Health, contribute to 37% of the total revenue. Mckesson and United Health Group are the biggest revenue generators among private firms with $208.3 Billion and $201 Billion, respectively.
Digital Marketing outlook before Covid-19
We have observed how much is spent on healthcare in the US and the total revenue. Another interesting piece to take a look is how much of the revenue is spent in digitization and digital marketing.
Advertisement Spending in US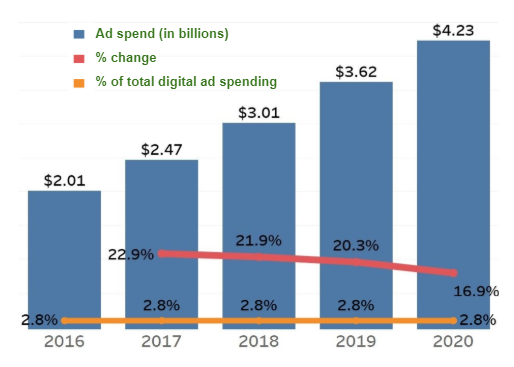 It's no surprise that medical marketing spend is increasing year on year, and it has now reached the level of around $4.23 billion. The marketing mostly revolves around medical professionals and doctors and not retail consumers. Marketing to healthcare professionals continues to consume 70% (marketer) of that spend, direct-to-consumer marketing is still catching up. While marketing budgets continue to increase, only 2.8% of the total marketing budget is being spent on the digital marketing front. However, we can notice a clear shift towards patient marketing. Pharma companies are still not taking full advantage of digital marketing, and that is the reason why we see low investment in digital marketing in the healthcare sector.
State of Healthcare Sector During Covid-19
The US healthcare system is considered to be the best in the world. It is under enormous pressure due to the Covid-19 outbreak with medical professionals and healthcare services, expecting thousands of patients in need of critical care. As the number of cases is rising, so are testing and containment efforts. This includes establishing new testing facilities, Intensive Care Units (ICUs)for critical patients and general wards for less critical patients, building isolated units to treat patients with the Covid-19 while safeguarding the health of other patients and hospital staff.
The above challenges have created financial pressures for the healthcare sector in the US. The key impacts are:
Hospitals have canceled non-emergency procedures
Increase in demand for COVID-19 related medical equipment and supplies
Increasing the costs of treatment of COVID-19 patients
COVID-19 has led to a huge number of job losses, that lead to an increase in the number of uninsured individuals
American Hospital Association(AHA) estimates an impact of $202 Billion in losses to American hospitals, averaging ~ $50 billion per month.
Financial Impact of Covid-19 on US Healthcare Sector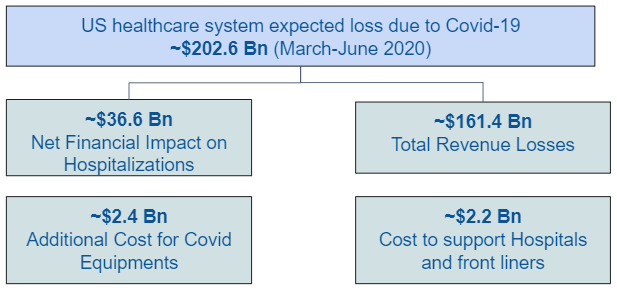 The revenue losses were broadly divided into 4 major categories
Net Financial Impact of COVID-19 on Hospitalizations

The nation's hospitals and health systems will collectively lose $36.6 billion
The Losses were attributed to the total number of COVID-19 hospitalizations in the US, the incremental cost of a COVID-19 hospitalization and expected insurance reimbursement from private and government payers for COVID-19 hospitalizations
Revenue Losses from Cancelled Surgeries and Services

US non-federal hospitals stand to lose approximately $161.4 billion in revenue over four months, from March to June 2020
This includes surgeries that were canceled, various levels non-elective canceled surgeries, outpatient treatment, and reduced emergency department services
Additional Costs Associated with Purchasing Needed equipment such as ventilators, PPE, masks, etc.

The AHA estimates the non-treatment costs for hospitals and health systems to be $2.4 billion over four months, from March to June 2020
Hospitals have incurred additional costs as they struggle to acquire additional supplies to meet the needs of their patients and staff
Costs of Additional Support Some Hospitals are providing to their Front-line Workers

The AHA estimates the cost of support for front-line hospital workers in COVID-19 hotspots to be $2.2 billion through the end of June
This includes providing housing, child care, transportation and COVID screening and treatment for COVID-19 for medical staff and front line workers
The Healthcare sector is playing a crucial role in tackling the global pandemic; the losses in terms of revenue are expected to increase as the duration of the pandemic increases. As the population in the US is restricted to their houses due to COVID -19 the online traffic related to the healthcare sector observed an increase of 15% between February-March,2020 moreover healthcare providers at a leading hospital chain in the US have recorder 21x increase in e-visits with the introduction of telemedicine and online consultation. Given the scenario of social distancing and restricted people's movement, the healthcare and pharma companies have started to divert their attention towards marketing to the consumers through social media and digital advertising.
Online Web Traffic Activities during COVID-19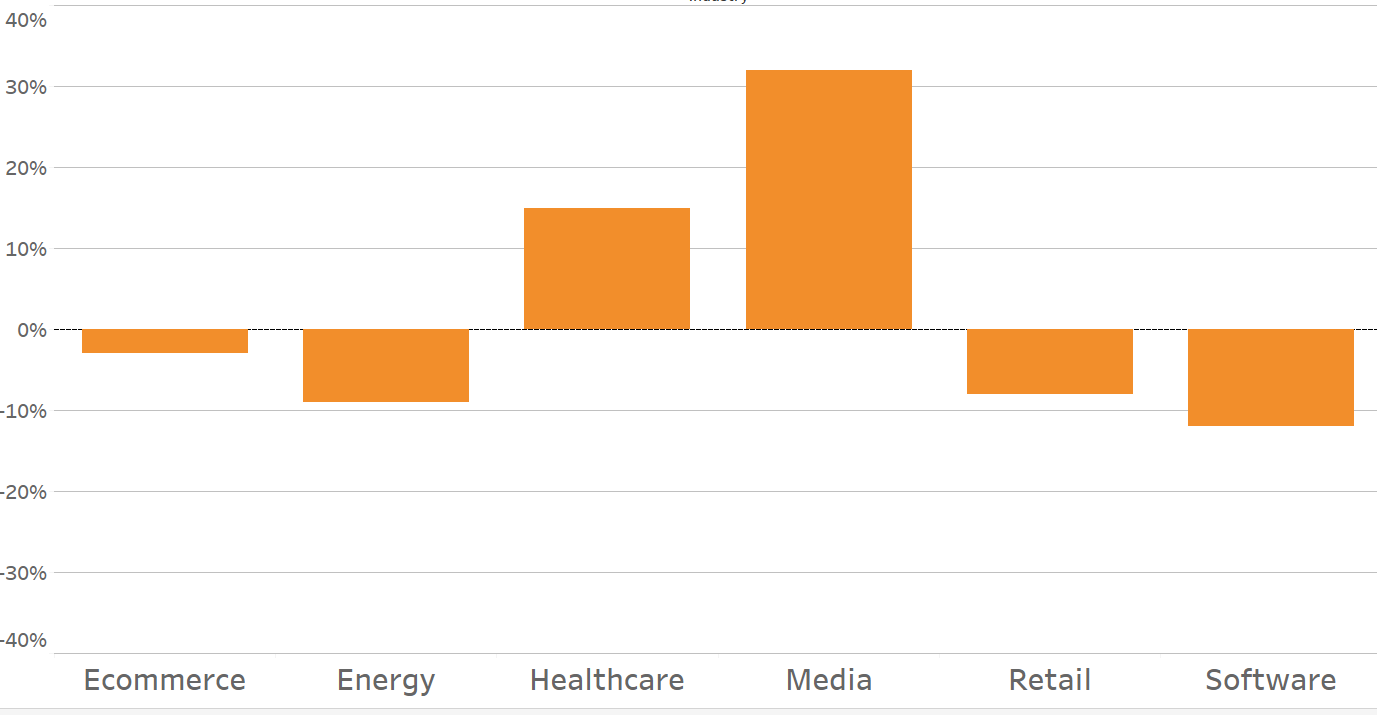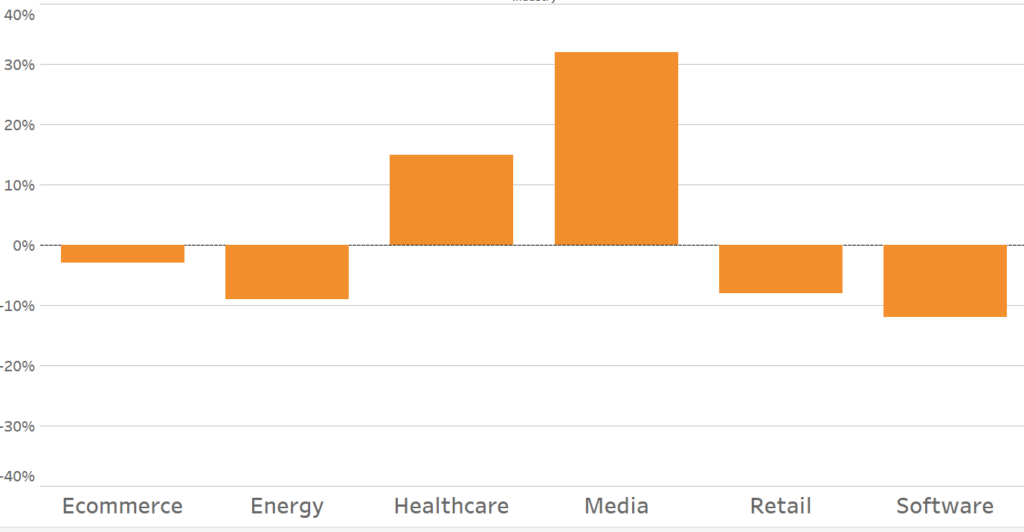 Digital technologies like automation and robotics, artificial intelligence, Real World Evidence (RWE) has seen enormous implementation in the healthcare sector, and emerging technology like Artificial intelligence along with RWE is playing a crucial role in combating COVID-19.
Artificial intelligence in Healthcare and Opportunities
Artificial intelligence is not just one technology, but a collection of them. Most of these technologies have high relevance to the healthcare sector, specific processes, and tasks they support vary widely.
Tractica's forecasts says that global software revenue will grow from $511.7 Million in 2018 to $8.6 Billion annually by 2025. The implementation of AI-based software will also drive the AI hardware and services revenue, and they anticipate that the total revenue opportunity for the healthcare AI market will surpass $34 billion by 2025
The key use cases and opportunities are:
Medical Image Analysis:

Medical imaging refers to technologies and types of equipment that are used to view and examine the human body in order to diagnose, monitor, or treat medical conditions. Medical imaging includes MRI, X-Ray, etc. AI is already being implemented to process these medical images analysis, computer vision for image detection. Few of the cases are

– Detecting Diabetic retinopathy
– Screening for cancerous cell
– Detecting Musculoskeletal injuries

Virtual Assistants for Patients

A virtual assistant or digital assistant is an application program that understands natural language or Human voice commands/instructions and completes tasks for the user.
In many healthcare organizations, virtual assistants are actively used to streamline appointments and patient engagement. Technologies like chatbots and sentiment analysis are actively being used to create digital assistants.

Patient Data Processing:

Patient data processing system like Clinical Decision Support (CDS) includes a variety of tools and interventions computerized as well as non-computerized. Clinical Decision Support Systems (CDSS), computerized CDS, are vital to achieving the full benefits of electronic health records and computerized physician order entry

– Develop dashboards & KPI's
– Fraud Analysis

Computational Drug Discovery

Computational drug discovery is an effective action plan for accelerating, advancing and economizing drug discovery and development process

Develop frameworks for Data Organization, Quality, Security, Discoverability, and Governance

Converting Paperwork into Digital Data

Deep learning is proactively used in converting paperwork into digital data

Building data lakes
Create and maintain large scale centralized
Conclusion:
The Healthcare sector forms the backbone of any economy. Prior to the global pandemic, the US healthcare sector was considered to be the best across the global and was it adding to the GDP of the nation. Due to the pandemic, the sector is playing a key role in combating Covid-19. Proactive measures like the CARES act have been taken by the government to support and minimize the losses due to COVID. AI is playing a crucial role in streamlining the current healthcare system. As the number of opportunity/use-cases of implementing AI in healthcare is increasing, we are going to see a huge surge in demand for AI in healthcare