In our previous blog, we discussed why CPG brands should ride the DTC wave and its challenges. We will continue to explore the CPG eCommerce space in this blog by analyzing the online channels through which customer receives the product. Customer behavior is evolving, and CPG brands and retailers need to accommodate them by choosing appropriate online channels. Over the past year, online channels contributed to nearly 70% of overall CPG growth. Moreover, online grocery sales are still on track to make up 20% of all grocery sales, becoming a $100 billion market by 2022 [1].
Let us take a look at the online channels customers currently use for purchasing a CPG product:
Traditional eCommerce: Customers buy products through E-retailers such as Amazon, Walmart Online, Target Online, or directly from the CPG DTC brand. The pandemic gave rise to a new buying option called 'Buy Online, Pick-up in Store' (BOPIS), through which customers purchase the products online through the website or mobile app. The store then fulfills the online order, and the customer picks up the order from the store. This is a perfect way to drive in-store foot traffic and allows customers to blend online and offline experiences.
Social Commerce: Social Commerce, a subset of eCommerce, involves social networking platforms such as Facebook, Instagram, Pinterest to sell products online. CPG brands selling personal care products resorted to this channel initially, but it is being used extensively in recent years. For example, L'Oréal uses aCommerce's Social Commerce to sell products through social media. Over 22% of internet users in the United States were predicted to make at least one purchase through Facebook in 2021 [2].
Voice Commerce: Voice Commerce can enable customers to purchase products online using voice commands and a compatible smart device, such as a mobile, tablet, or smart speaker. According to a survey conducted by PwC, three out of every four customers (74%) are using their mobile voice assistants at home mainly due to ease of access. Moreover, 50% of the survey respondents have made a purchase using their voice assistant, and an additional 25% would consider doing so in the future [3].
Q-Commerce: Urbanization has given rise to the number of small or single-person households. As a result, there's an increase in demand for the delivery of products in smaller quantities over bulk items at a wholesale price. Hence, quick Commerce (Q-Commerce) came into existence to serve these consumers. Customers can purchase the product(s) from nearby retailers (such as D-mart, Walmart) online, and Q-commerce delivers these small quantities of goods to customers almost instantly (within an hour). While Instacart is a major player in the Q-Commerce space, the competition has increased as food delivery service platforms such as DoorDash, GrubHub, and Uber Eats enter this space.
A recent research report shows that offering a two-hour delivery option would increase brand loyalty, and 73% of customers said a convenient time slot is more important than fast delivery [4].
There are certain factors of customer behavior that influence the need for online channels. Let us look at those factors in detail:
Order Quantity: The number of goods and quantity of products ordered by the customer from the retailer/manufacturer
Product Segment: Products sold by the brand are segmented based on the price and value (High-end/Low-end)
Delivery Speed: The amount of time it takes for the ordered product to reach the customer
Convenience: Whatever suits the customer best, including the time slot of delivery, place of ordering the product, payment option, easily accessible platform, mode of delivery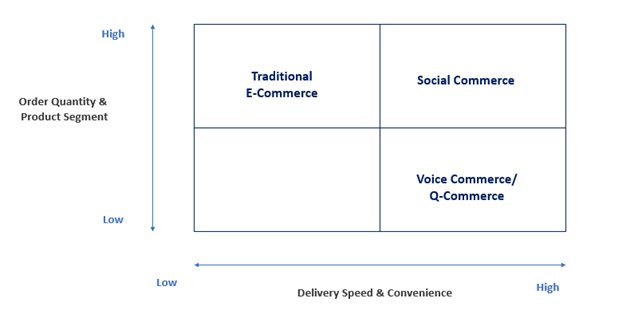 Customers opting for Traditional eCommerce:
Order quantity – bulk
Prefer the high-end product segment that is durable
Delivery – willing to wait
Initially, customers would be willing to wait for 2-3 days, but as the demand for one-day delivery and intraday delivery is increasing, retailers/manufacturers should optimize their supply chain to accommodate the customers' needs.
An example would be PepsiCo building automated micro fulfillment centers in Chicago that can process 7.5 times more units an hour than a traditional e-commerce warehouse operation at its new site.
Customers opting for Social Commerce:
Order quantity – high
Prefer high-end products such as apparel, personal care products
Delivery speed and convenience – high priority
Traditionally social media was used as a marketing tool to increase customer engagement, but things have changed. With social shopping, users don't have to switch their platforms. The entire process of exploring the brands' products in detail to checkout and payment can be completed without leaving the social platform.
With approximately 70% of the US population holding at least one social media account [5], Social Commerce is here to stay. Therefore, CPG brand manufacturers and retailers should sell more products through social commerce as traditional eCommerce is slowly moving towards social Commerce.
Customer opting for Voice Commerce/Q-Commerce:
Customers preferring low-end products
Order quantity – small
Heavy reliance on convenience and faster delivery
Customers in this space would pay a premium to get products faster.
Most items purchased through voice commerce are small in quantity and are things that someone could buy without necessarily seeing it physically (to determine quality, for example). However, that trend is about to change, and the adoption of voice assistants is increasing. Hence, companies need to revamp their SEO for voice search. For example, Unilever is putting voice control at the heart of its digital transformation [6].
Currently, Q-Commerce companies do not hold any inventory and pick up products from retail partners and deliver them to the customers. But with evolving trends such as BOPIS, online grocery adoption, they need to hold inventories on their own. Therefore, Q-commerce companies need to start renting out spaces such as unused basements in key locations of the city and stock up goods for delivery.
In summary, more and more customers will shift to eCommerce, and CPG manufacturers and retailers need to accommodate the changing customer behavior by adopting the right online channels.
Partner with Us
At LatentView Analytics, our data science experts seize the opportunity to make sense of big data and turn them into insights for our clients to make data-driven business decisions. Get in touch with us at marketing@latentview.com to know more.
References: