In the sweltering heat of summer, I scramble to buy an air conditioner for my house. Trouble is, with the offers from retail stores and e-commerce websites, I am spoilt for choice and more confused than when I started. There are several brands to choose from and within each brand, there are seemingly countless models! Doing research is probably my best bet to making the right choice for me. A crucial part of my research involves painstakingly reading consumer reviews about products that I am interested in. Product reviews by actual consumers are more likely to give me a better understanding of the product than the claims made by the manufacturer in their advertisements or on their websites.
But, do you think it's only us, the buyers, who deep dive into consumer reviews? You may be surprised to read that big brands spend millions of dollars to get actionable insights from customer reviews. Larger brands invest a lot of time and resources to analyze consumer feedback and generate insights into the customer decision making process to build better products. And this is done by teams across functions such as marketing, innovation, and R&D. A recent McKinsey survey found that businesses that used customer analytics generated 93% more profits than their competitors. The survey also noted that application of customer analytics to business resulted in 112% more sales growth and 115% more in return on investment.
So, how is the analysis of consumer reviews done? Obviously, brands cannot read every single review that is out there. This is where customer analytics comes in. It helps you understand what motivates customers and what drives them to take the next action in terms of how they interact with you. You can use this information to maximize the relationship you have with those customers. The digital age has dramatically changed the way customers behave.
Significant Metrics: Why the numbers matter
Consumer reviews have a lot of critical information such as ratings, keywords, images, significant features, comparison across brands, and sentiment from a user experience perspective. This data is collected via an advanced text analytics platform and multiple analyses is performed to generate useful observation and insights.
Use case: 360° view of customer feedback
For a leading American multinational home appliances manufacturer, purchase drivers were determined by post-facto analysis of POS data at stores and survey data resulting in delays of up to eight months to get consumer feedback on product features. Their major objective was to take inputs from customer feedback as close to real-time as possible.
In order to address this, LatentView Analytics built a real-time text analytics platform and text analytics tool to consolidate external and unstructured data to 'measure' customer feedback of client's brand with respect to competition on various parameters.
"A tool which converts the valuable Customer Review and Ratings data available online into actionable insights which will help multiple functions including marketing, product development, customer service. It gives a 360° view of customer feedback with detailed analysis related to innovation, customer sentiment, drivers of purchase, and triggers of purchase."
Over 50 websites were processed and about 500+ brands were integrated in this exercise. The data was collected from three major regions across the globe and we analyzed more than five million reviews. The process flow had the following key steps:
Consumer reviews: Data was collected from 50+ websites
Lexical text analytics tool module: Reviews were tagged to multiple levels and were categorized on product hierarchy
Visualization: Final output was provided as reports and dashboards for multiple functionalities.
Listed below are some of the key questions for which insights were generated using data obtained from a text analytics tool:
Product feature analysis: What is the feedback on a particular product feature for your brand and your competitor?
Brand association maps: Which brand is most associated with aesthetics?
Best seller analysis: Which SKU's consistently figure in the best seller rankings across trade partners?
Drivers/triggers of purchase: What attribute of your brand is driving purchase and what led the consumer to the store?
New SKU analysis: Track the performance of new launches by your competitor and you
Key emotional drivers: Track the emotions consumer undergo after purchasing a product
What are the key challenges?
When we deal with big data, the key challenges we face require advanced analytical techniques to overcome them. Millions of records need to be processed quickly to fetch results on-the-go. Hence, we used Elastic Search at the backend to ensure smooth and effective functioning of the data flow.
"Elastic Search is a search engine that provides a distributed, multitenant-capable full-text search platform. This is highly responsive and improves the overall performance of the tool."
As consumer reviews are collected across multiple regions, we may not have a common language for the whole data set. In such scenarios, translation plays a crucial role. Key words used for tagging are translated using linguistic experts and then fed as inputs for lexical analysis.
The front end also needs to be designed to accommodate the volume of data we deal with. Hence, we initially went for SAS VA and then moved to a web tool for quick responsiveness. We used MEAN stack to develop the web tool.
"MEAN is a free and open-source JavaScript software stack for building dynamic web sites and web applications. The MEAN stack is MongoDB, Express.js, AngularJS, and Node.js."
What was the impact on brands?
By utilizing the dashboards and reports, our clients were able to answer some key questions. regarding the customer decision making process. For example, below are some of the critical questions that we were able to answer for a laundry product:
How is customer feedback of laundry products overall compared to other brands?
How is customer feedback of top load washers compared to other brands?
How is customer feedback of top load washers within commercial segments compared to other brands?
Deep dive of an SKU's performance:

What is the overall customer rating for the product?
What are the opportunities for innovation?
How was each component of the product received and customer sentiment?

Comparison against competitor products under the same segment

How is the customer rating compared to competitor products in the same segment?
What are the key areas of innovation in comparison to competitor products?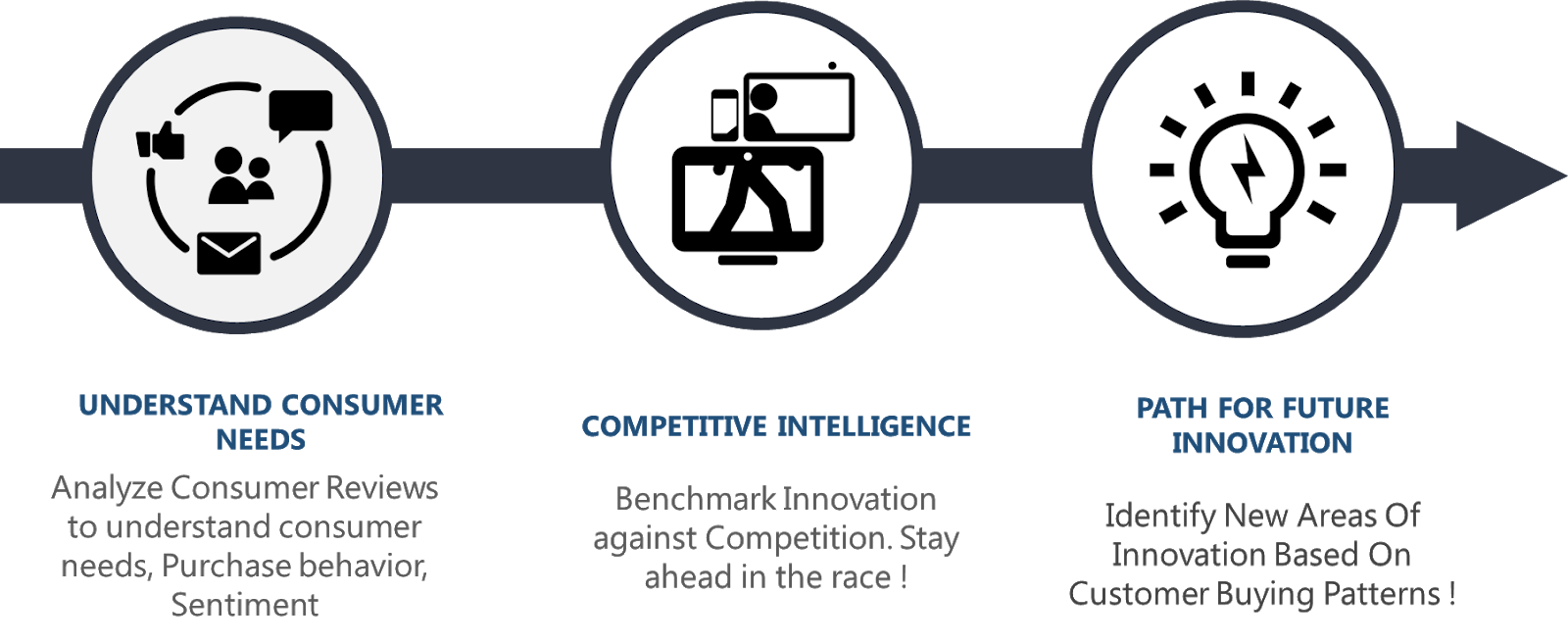 Precise, fine-tuned innovation on product features and messaging was possible on an ongoing basis as consumer feedback reached the teams directly within a couple of months from product launch.
What does the future hold?
By now, we have established that consumer reviews can be a rich source of insights if mined properly to make critical business decisions. In the coming days, with the rapid advent of artificial intelligence (AI) and machine learning (ML) techniques, brands might develop products for individuals rather than for a customer segment on a whole.
The 2018 Data & Analytics Global Executive Study and Research Report by MIT Sloan Management Review found that analytics drives consumer engagement with 59% of the respondents stating that they use analytics to gain a competitive advantage. An exciting future awaits us, and consumer analytics will reach newer heights to enable both consumer and the business stakeholders to consistently fulfill their expectations.
With the flood of data from the digital age, big data analytics is really the only way to properly understand behavior and map it to actions that will maximize LTV for each customer. Each customer-facing part of the organization should use customer analytics to generate specific next-best actions for each customer, making decisions based on the long-term value of that customer. Looking at the various metrics we outlined earlier that behavior analytics influences, the potential impact is enormous.
Get a 360-degree view of the consumer
Analytics can help deliver more deep-dive insights into the consumer decision making process and provide an understanding of the customer journey at a more granular level. Capturing such detailed information at this level has been possible due to the digital transformation in the past few years which was not possible before. LatentView Analytics helps you gain an advantage when it comes to the customer journey. To know more about LatentView's end-to-end custom analytics solutions, please write into: marketing@latentview.com