The pandemic has brought about a new normal and altered the life of every individual across the globe. 2020 marked the most challenging year in history, and like every other industry, the smartphone industry is also experiencing an economic drought.
This blog discusses how the pandemic has impacted the global smartphone market, how big giants like Apple, Samsung, Xiaomi are dealing with it, and where Google stands in the smartphone market.
Overview of the Smartphone Industry
The global smartphone market was valued at $714 billion in 2019 and is expected to grow at a CAGR of 11.2%. Apple, Samsung, and Huawei are the global leaders in this market. The international smartphone shipments grew by 1%, with 369 million units in Q4 2019, with Apple leading (with 78.4 million shipments) due to the strong demand for iPhone 11 in the market. Canalys Senior Analyst Ben Staton reported this as an industry-wide success as eight of the top 10 vendors green in Q4 2019.
The smartphone industry's focus is on 5G. As per Polaris Market Research Report, the global smartphone 5G market was valued at $13.4 billion in 2019 and is expected to grow by 122.7% by 2027. However, due to the pandemic, there is a steep reduction in 5G growth and smartphone sales worldwide during the first two quarters of 2020.
Let us understand how COVID-19 has impacted the smartphone industry's work and the market worldwide:
COVID-19 uncertainties continued to affect consumer buying confidence. Consumers are still being more cautious and have cut down their spending on essentials instead of luxury items.
Global supply line disruptions are happening. Well-known smartphone assembler Foxconn shut down its factories in China in February 2020.
Software development slowdowns are prominent as more employees either work from home or don't work at all due to social distancing and lockdown across the globe.
Component shortages, factory shutdowns, quarantine mandates, logistics, and travel restrictions were the bottlenecks in the production of handsets and roll out of new devices for smartphone vendors.
After the rising workforce costs and the trade war fallout, the coronavirus outbreak is another reason for electronics companies to reassess their reliance on the Chinese manufacturing sector. Google has commissioned factories in Vietnam to make the upcoming Pixel 4A and will do the same for the high-end Pixel 5.
Due to lockdown and social distancing, online channel sales are expected to reach 23% this year, a 3% increase from last year. The top two brands in the online market were Honor and Xiaomi.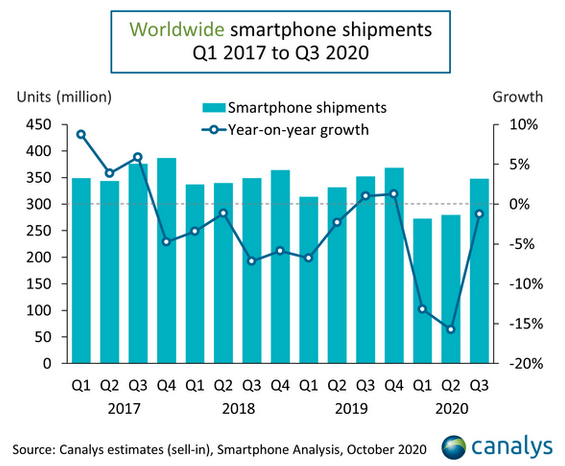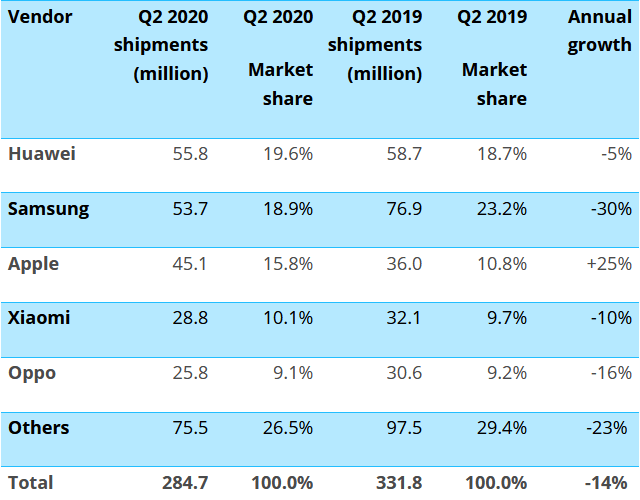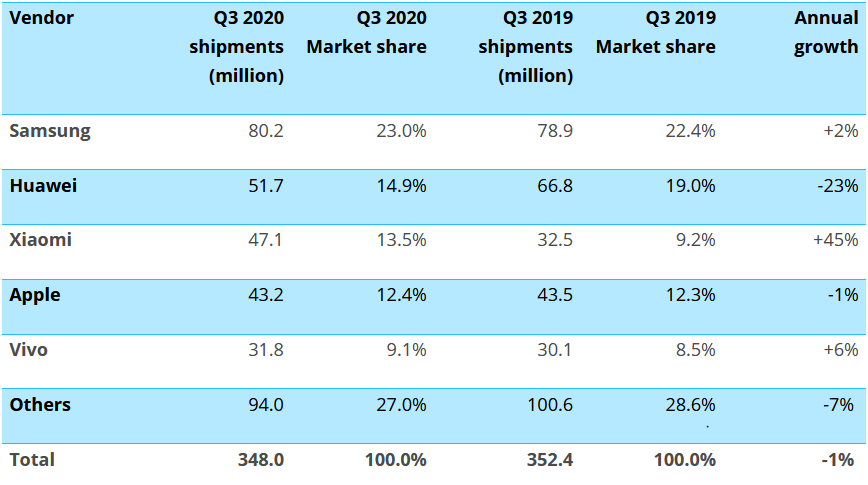 The above charts clearly show how smartphone shipments have been affected due to COVID-19. The global smartphone market plummeted by 14% in Q2 2020, with Apple being the only top vendor to grow. It shipped 45.1 million iPhones globally, a growth of 25% compared to the previous year. The smartphone market worldwide fell to 285 million units, a second consecutive quarter of freefall, as lockdown orders caused by the COVID-19 pandemic persisted through April and May. The world's largest smartphone market, China, declined 7% in Q2 2020, but its economy is gathering momentum amid successful virus suppression. India, the world's third-largest market, shrank 48% to 17.3 million units amid a strict lockdown.[1]
However, in Q3, as the market was opening gradually across the globe, things started falling in place. As per the latest report by Canalys, worldwide smartphone shipments reached 348.0 million units, at a 1% decline YOY in Q3 2020. It was up by 22% from the previous quarter.
Several vendors had minimized their production plans for 2020 to align with the market decline, though most of the cuts focused on their 4G portfolios.
Google Pixel and COVID-19
Now let us see where Pixel phones stand in the market and what Sundar Pichai's vision is for the smartphone sector.
Google Pixel is the tip of the iceberg.
Google entered the smartphone market by launching its first Pixel phone with the tag "Made by Google" in 2016. Google Pixel is a part of the Hardware unit of Google, which holds 2% of Google's total revenue. It has been struggling to keep a firm place in the market which already established players like Apple and Samsung.
Sunder Pichai spoke about how Google is working on its hardware segment and its future goals in a recent interview. He said, "The last couple of years have been a major integration phase for us because we've combined our Google hardware efforts with Nest. We absorbed the mobile division of HTC. So it's been a lot of stitching together. And we have a wide product portfolio, too. So it's been a building phase. Hardware is hard. And it has components, which take real-time to get it right, thinking about underlying silicon or display or camera or any of those tacks" [2]
Globally, Google Pixel is just the tip of the iceberg, having a negligible market share of less than 1%.
Google Pixel has its presence in the following markets:
North America – 2.2%
United Kingdom – 1.3%
US – 2.5%
Canada – 2.8%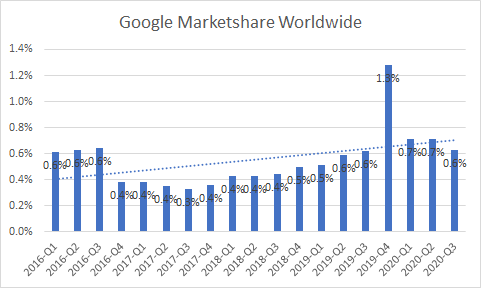 Google is leaving no stone unturned to establish itself in the market. Still, the Pixel 4 series launched in 2019 managed to sell ~2 million units, and 2019 became the best year for Google compared to previous years due to higher sales of Pixel 3A. It managed to hit a total of 7.2 million shipments in 2019.
The potential reasons for the success of Pixel 3A could be:
The price. Less expensive Pixel 3A, half the price of Pixel 3.
Extensive launch. The Pixel 3A was launched on three times more carriers than Pixel 2 or 3. The distribution network of Google has been expanded beyond its stores and Verizon to include Sprint, T Mobile, Spectrum Mobile, US Cellular, and others.
When it was launched, there was no competition from other major product launches.
Like other vendors, Google was also impacted by decreasing demand for smartphones due to COVID-19 and hence, opted to set a very low bar for Pixel phone sales in 2020. It has set Pixel 5 production at 800,000 units for 2020. It's also believed that the production of all new 2020 Pixels (Pixel 5, Pixel 4A 5G, and the Pixel 4A) is estimated at three million units in total for the year. Since Google Pixel lies in the premium segment, let us have a more in-depth look into the premium smartphone market.
Effect on the Premium Smartphones market
As per market standards, smartphones priced at more than $400 are categorized as premium smartphones. As per the latest Counterpoint report, Apple is the leading player in the premium smartphone segment and has almost half of the market shipment share in the first quarter of 2019 and 2020. The Korean phone maker Samsung followed with 25% and 19% of market share in Q1 2019 and 2020, respectively.
Google managed to be in the top 5 in Q1 2019 though the percentage was negligible compared to others. However, it was affected by the COVID-19 situation and couldn't maintain its position in the top 5 in Q1 2020.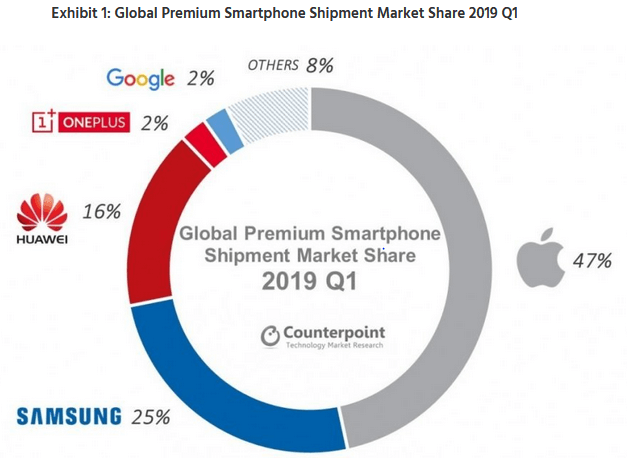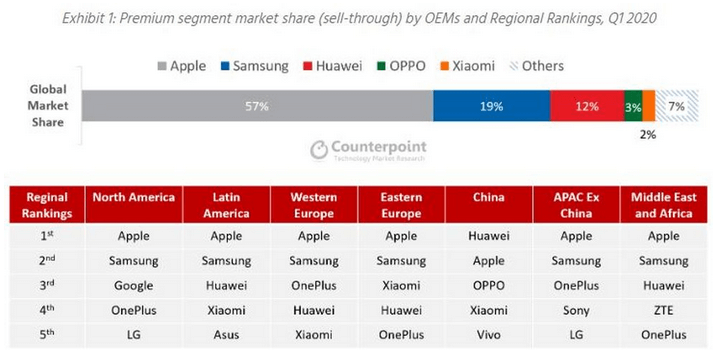 Pandemic has hit the smartphones sales hard, and the first quarter of 2020 saw the most significant dip ever where smartphone shipments fell by 272 million units, down 13% from Q4,2019. China faced the most extensive regional decline in Q1,2020 and saw a 20.3% YoY drop in shipments. The United States and Western Europe were the other regions where shipments declined drastically by 16.1% and 18.3%, respectively.
As it is a well-known fact, China is the foremost manufacturer of the smartphone industry. A quarter of worldwide shipments are driven by it, which significantly impacts the overall market. The global dependency on China for its smartphone supply chain was also a hindrance in early 2020 as China was in the lockdown phase.
Conclusion
The pandemic has not been kind to any industry. We saw how it has impacted the smartphone industry, which witnessed historic low sales in Q1 2020. However, everyone is learning to sustain in this new normal and are adopting new ways to minimize its impact, proof being the sales numbers improving in Q3 2020. Though demand for new smartphones has declined and production has declined due to the shutdown of factories, there has been an increase in the use of smartphones worldwide due to the new work from home culture. Amid pandemic, smartphones have become an indispensable part of our lives. Many small businesses now rely on instant messaging, and people in quarantine are spending most of their time on social media.
Before COVID-19, the smartphone industry was rushing towards 5G. However, due to a decline in revenue and a shrinking market, it has slowed down. Yet 5G has started to rebound by the end of 2020 and gain momentum as the demand for high-speed internet continues to accelerate both in business and work from home setups.
Like the virus, the future also remains uncertain. However, industries are learning to adapt to changes and modify their plans accordingly.
Source:
[1] https://www.canalys.com/newsroom/canalys-global-smartphone-market-declines-q2-2020
[2] https://www.news18.com/news/tech/sundar-pichai-discusses-google-pixels-future-covid-19-impact-on-maps-other-key-areas-2628323.html