Landing right in the middle of Erangel for some spicy action.
Capturing your friend's coin just before he reaches the final slot.
Raiding your enemy's base to get 3 stars for your clan in the war.
Wishing for a bigger dice number to kill friends and reach home first.
Did reading the statements above ring any bells for you? If yes, then you are a mobile gamer who keeps up with the trend. Even if you didn't, you definitely would have played mobile games on your phone at some point. Mobile games have been a simple way to pass time since 1997 when Nokia launched the popular game Snake. It brings back memories, doesn't it?

The COVID19 pandemic has forced everyone indoors, and people are looking for more means to keep themselves entertained. Lockdown or not, aren't we all over-reliant on smartphones and the internet in our daily lives? Without having to step out, people are looking for ways to engage themselves, which paves a propitious way for mobile apps and games.

Let's see why mobile gaming is blowing up the gaming industry and looking at other interesting stats.
Why MOBILE gaming?
Mobile games have become significantly more popular than PC and console games owing to the boom of smartphones and it's accessibility. Mobile gaming contributes to 54%, which is more than the PC and Console platforms combined. According to SensorTower, mobile gaming accounts for 33% of all app downloads, 74% of consumer spend and 10% of all time spent in-app. The success of Ludo and PUBG are the best examples to show how games have become a new source of engagement for people.

COVID19 – Villain or the Hero?
While the pandemic is dealing heavy blows to many industries, the gaming industry is thriving under the crisis. According to Forbes, mobile gaming activity has seen a jump of 24% in the first two weeks of lockdown. Mobile game ad revenues are up 59%, and 41% more apps are being installed than before. Even people who don't normally play games found themselves looking for new entertainment forms in mobile gaming. The newbies of the gaming world are converting to paying users 24% more than a pre-COVID baseline. With most of us working from home and having a lot of free time in hand, it comes as no surprise to see such a spike in gaming activity. The COVID19 virus, even though it's wreaking havoc all over the world, it seems to aid the mobile gaming industry quite well.

Game Map – Regional trend of the industry
Asia-Pacific has the greatest number of users accounting for 47% of the market, followed by North America at 26%. Country-wise, China holds the top spot with 586 million players, which is more than twice the number of users in the US. Even though China has the most users, it still falls behind the USA in terms of revenue, indicating that more users from Asian countries prefer free apps whilst gamers in the USA tend to spend more on premium apps and in-app purchases.


The Prominent Platforms in the mobile gaming industry

The two big names dominating the mobile gaming market – App Store and Google Play are basking in success with an alarming increase in users as well as revenue. In the first half of 2020, consumers spent an estimated $37 billion worldwide across the App Store and Google Play in-game apps— a figure that is up almost 21% from the first half of 2019. Though Google Play saw far more app installs, Apple's App Store outpaced Google Play in consumer spending. To put it another way: consumers who use Apple/iOS devices spend more on apps than their counterparts using Android phones. Another influence could be China, Apple App Store is accessible in China, whereas Google Play Store is not.
App Store reached an all-time high of nearly 3 billion downloads in the first quarter of 2020. For Google Play, the first quarter of 2020 saw the first time downloads surpassing 10 billion, but that was not all, the next quarter outshone the former with nearly a 20% increase quarter-over-quarter to set a new record.

Looking inside the stores, games are categorized into multiple genres based on how people interact with the game. From Arcade to Role Playing and Shooter to Simulation, there are games for everyone. New research reiterates that games transcend age, gender and the geography we live in impacting people's lives in meaningful ways beyond the intrinsic joy of play. Arcade games have more downloads compared to Casino but ranks at the bottom revenue-wise because Arcade games are generally free-to-play. Casino games on the other hand, which generally involves money, requires an initial investment to start playing.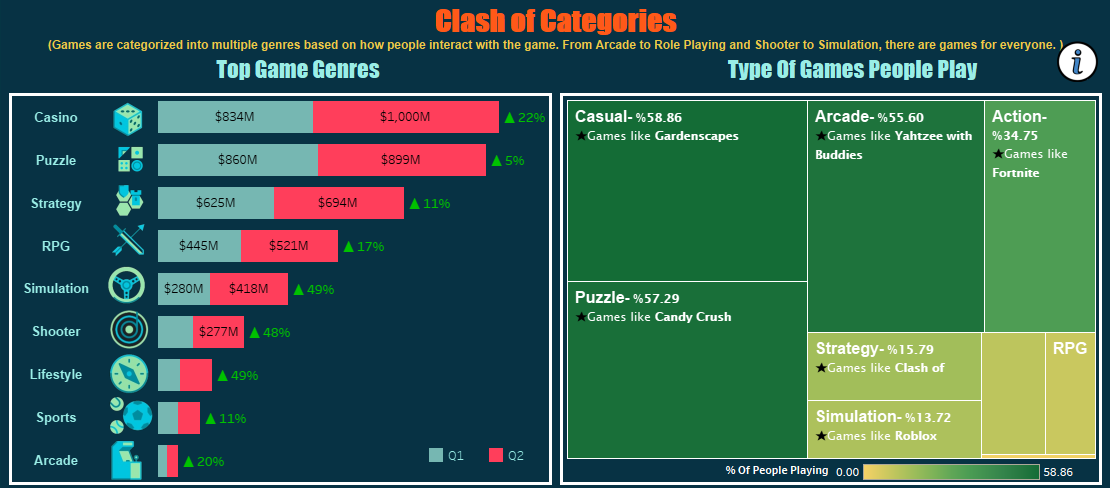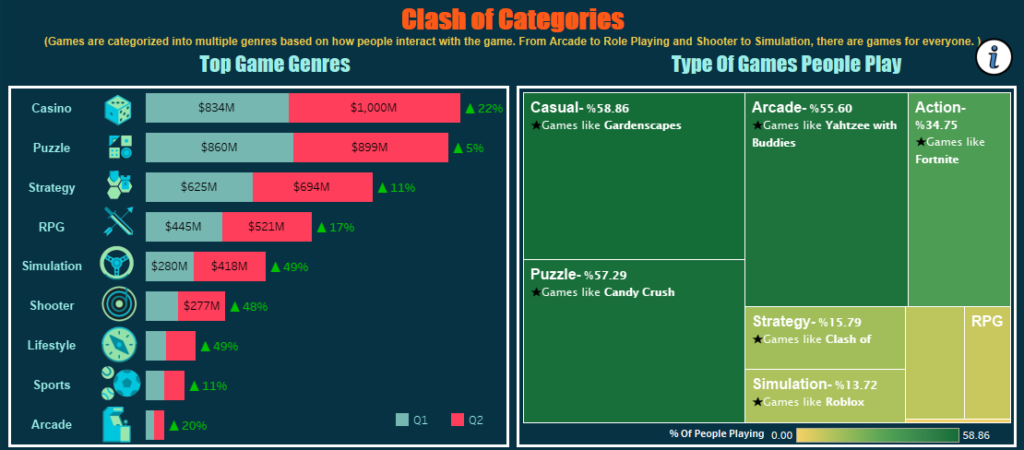 Casual gaming saw a sharp rise this year as lockdowns turned many smartphone non-gamers into gamers. Games like 'Save the girl' from Lion Studios and the classic Indian board game 'Ludo King' saw a sudden increase in interest during the lockdown, with the former emerging as the top game by worldwide downloads in Q2 2020. Shooter games like PUBG and Garena's Free fire have gained even more popularity than before due to the amazing graphics implanted on a handheld device that can be carried and played anywhere. PUBG has emerged as one of the top-grossing games for the first half of the year, with over 50 million daily active users. India holds the highest contribution in the number of downloads and user base, with over 175 million downloads.



The NEXT LEVEL in Mobile Gaming
With the growing increase in mobile gamers, there is a need for the players and the gaming industry to leverage the standards and give something thrilling and out of the common to keep the players excited. With AR and VR gaining more popularity in recent times, innovators are also more inclined to integrate this with mobile gaming for a better experience.
Up and Coming Trends:
1. AR/VR:
With both AR/VR gaining wide popularity, gamers and developers are keener in these wearable technologies that provide high-quality graphics and real-time experience without investing in a professional GPU.
2. Cloud Gaming:
In order to experience an uninterrupted gaming experience, this technology is highly sought after even for those who can't run to PC and Console. Without having to download a game and running it locally (some systems might be incapable as well), also without having the need for constant updates, they can right away begin to play as it's being run on remote servers.
3. Social Media Gaming:
Social Media Plays a vital role in shaping the Mobile Gaming market, through which players can let their friends know about what they play, become more interactable, and bring in more consumers. Social Media games have been prevalent since 2012 when Zynga's FarmVille was played. Over the years, social network gaming has been growing as well.
4. 5G Technology:
In order to experience a lag-free gaming experience. This technology is highly impactful in wider coverage, strong connections, better speed, & lower latency.
According to our predictions, the market will reach $94 billion by the end of 2020 and is expected to cross the $100 Billion revenue mark in 2021. It is estimated to generate around $121 billion in 2022 and grow to $146 billion in 2024.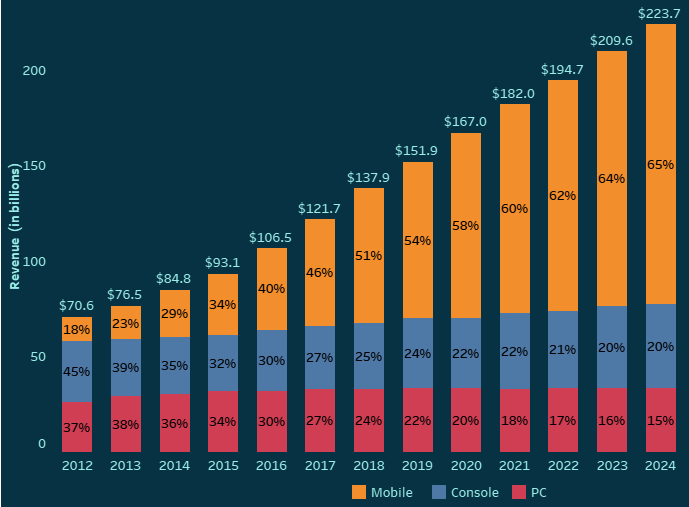 This comes as no surprise that the industry is doing so well, since it is flourishing in all aspects:
With more players playing than ever, Daily Active Users grew by 17% compared to the 2019 baseline.
With the increase in the number of users and the time spent by each user, the daily ad views increased by 15 %. Mobile game users generally watch 3-4 ads per day. This number increased from 3.3 to 3.8 ads per day daily ad watcher this year.
Microtransactions grew with In-App-Purchase revenue for mobile games increasing by 24%. Mobile games are growing even more in popularity and consumers are willing to pay more despite a troubled economy.
With the dawn of a new decade, we're excited to see where the industry is heading towards. Game On!