Artificial Intelligence (AI) is dramatically changing business, and chatbots, fueled by AI, are becoming a viable customer service channel. The best ones deliver a customer experience (CX) in which customers cannot tell if they are communicating with a human or a computer. AI has come a long way in recognizing the content – and context – of customers' requests and questions. They are ubiquitous on nearly every brand website today – making a significant mark in consumer-facing tasks through fast and consistent support.
The early 2010s saw the rise of social media and in the last few years, consumer have increasingly adopted messaging apps like Facebook Messenger, WhatsApp, and Apple iMessage. These apps have helped businesses to adopt and utilize a change in consumer behavior to their advantage. While there is increasing efforts by businesses to use chatbots to engage with consumers, very little efforts are being made to make the chatbot a proactive tool to help business leaders take data-driven decisions. Chatbots are increasingly able to act as tools that can intuitively understand and process data provided to it in English or any language to help business managers take business decisions.
Accelerating consumer communication through chatbots
Chat is one of the easiest and fastest mediums of communication that we currently have. People prefer chatting over calling in most of the scenarios in daily life as it is cheaper and more convenient. With the growth of instant messaging apps like WhatsApp and Facebook messenger, people usually consider it a waste of time when they have to go through more than one step to complete any given task. In a study by Facebook, 67 percent of the participants expressed that they would like to get in touch with sellers and service providers through chats.
Earlier, in case of an issue with any product, consumers read through the manual and tried to decode the content on their own. This led to them becoming frustrated and reaching out to customer service to find a solution. This could eat away into their time considerably. New age consumers are happy to interact with chatbots and resolve their problems in a more precise and efficient way. This is indicator of how much AI has evolved to benefit consumers. According to a 2017 study by Statista, 34 percent of respondents stated that they would prefer to receive answers to their queries from AI by means of a chatbot.
Currently, a large number of industries use chatbots to engage with customers and to act upon their interests. Businesses can also use chatbots for analyzing their data and to gain insights about the business. Instead of mining through the vast amount of data, they can get actionable insights from the data through a simple chat with the bot. From booking hotel rooms to predicting sales, the application of an artificial intelligence chatbot across various industries is diverse.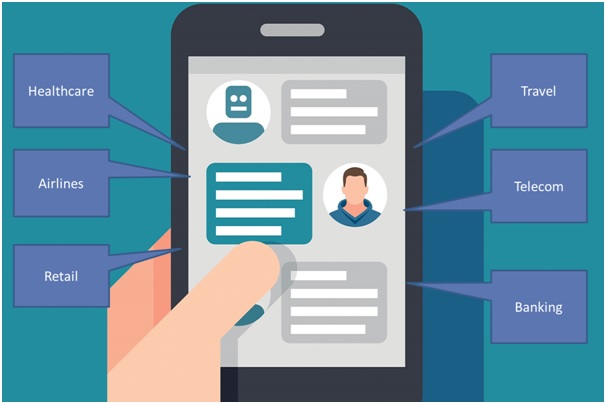 Banking – With the introduction of chatbots in the banking sector, the basic nature of the banking industry has changed. From the comfort of one's home, customers can now access all banking services at the click of a button, seamlessly and efficiently, with 24/7 query support. From the perspective of the consumer, it provides a faster and better banking experience, from the perspective of the bank, chatbots can help reduce operational costs and provide a rich set of reports and analysis.
Travel – Chatbots have been used by the travel industry for quite some time now. Most of us would have come across a window that pops up enquiring about our needs the moment we enter a travel website. Users can just chat with the bot about their travel needs and the Ai chatbot would be able to provide them with wide ranging information ranging from a detailed travel itinerary to hotel suggestions depending on the customer's need and preferences.
Healthcare – Off late, using a chatbot has become increasingly popular in the healthcare industry. The traditional methods of calling the doctor, enquiring about available slots and booking an appointment has become an experience of the past. An AI powered chatbot can provide you with details of doctors around you and the available slots of booking and can even book an appointment for you with a simple natural language question as input. Chatbots can even diagnose a patient based on the symptoms provided by the user.
Emergence of chatbots across businesses
Business intelligence is increasingly enabling businesses to take data-driven decisions. These data-driven decisions have a higher rate of ensuring success as it is based on objective data. Chatbots are one of the ways we can up the intelligence quotient in the way businesses operate. The goal of the chatbot is to provide immediate assistance to consumers, emulating the knowledge and charisma of a human agent. It should recognize at least 100 intentions and be able to identify the customer's state of mind, including emotional cues. If it is unable to fix the problem, the chatbot will redirect the customer to the best human agent available. The agent, in turn, will have access to the previous interactions and greet the customer by name, fully aware of the problem and quickly able to offer a solution. This will speed up the whole process.
The neat part about chatbots is that they are infused with machine learning capabilities, which means that they'll get better over time. Their knowledge base will grow and they'll "learn" how to better help the human agent, offering a seamless customer service approach. This balance between AI and human interaction is key to a well-oiled support machine.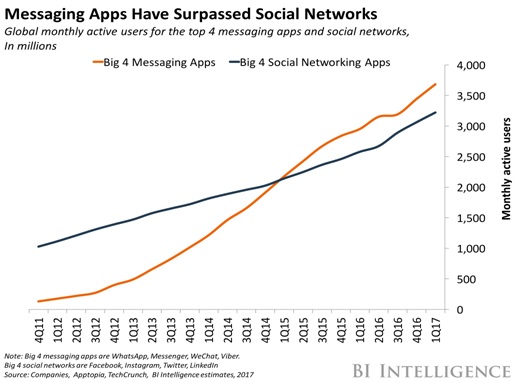 Some other key factors that has allowed the business to use chatbots are:
Chatbots are cheaper and can provide 24/7 support to consumers and are a highly scalable way to engage with the consumers
The rise of artificial intelligence technologies brings chatbots to the new level. Together with natural language processing AI brings up to 90% to an accuracy of machine parsing and understanding of requests. Another significant factor here is sophistication notifications that take into account context of the situation and are always on across devices
The accelerated development of all kinds of sensors and wearables in addition to analytics and data science boosted the personalization of the virtual communication and the capabilities of predictive assistance
Payment integration to third parties via APIs brings, even more, options to the chat bot functionality
Innovation bot for Business Intelligence
The Innovation chatbot built by LatentView is a one-of-its-kind chatbot that is capable of providing business intelligence. Innovation chatbot can be used to get a 360-degree view of consumer reviews and obtain detailed analysis on rating and different analysis. The response of the chatbot is worth contributing to data-driven business decisions. It uses AWS Lex to understand the language and custom designed query engine to fetch the data and visualize. This chatbot also has a smart reply option similar to Google that can automatically provide options in case of specific questions. This allows adding up on questions to drill into the details of response, which augments its intelligence.
How have chatbots revolutionized business intelligence?
Chatbots are intelligent systems that can process human language and understand the context and intention of the user. It is a matter of augmenting the intelligence feature of the chatbot to fetch the data based on the necessity of the user who would be the business leader to solve the drag of going through lots of reports, dashboards and setting filters to get a single number. Ease of use and data integrity remain the key factors for adoption of any tool by business leaders and chatbots that fits into these factors are very much capable of providing Business Intelligence. Already, there are lots of organization leveraging their technical capabilities and bringing in AI to solve most of their daily problems. Artificial Intelligence is expected to make a huge leap in coming years and chatbot could very well be the way moving forward for BI.