1. Integrated and smart everyday gadgets
The number of digital endpoints used by people is increasing at a tremendous pace. Digital end points now mean much more than PCs, laptops and mobile phones; it includes wearables, home electronics, transportation devices and various other IoT devices. But these at present devices often operate in isolation. In 2016 and the years coming, we can expect the situation to change and see more interaction among devices. The Internet of Things ecosystem will take shape and this will result in a plethora of data available about almost every aspect of our daily life. Businesses that harness insights from the available Information of Things and ensure richer consumer experience have the potential to stay ahead of their competitors.
2. Getting personal with mobile
Mobile is already dominating online consumption and it will only continue to grow in the coming years. In 2016, businesses would put an even greater focus on making the mobile experience personal. Marketers will give the consumers the ability to effectively customize their mobile experience meaning they will focus on the "three C's" of mobile success: convenience, customization and commerce. 'Make it easy, make it personal and make buying simple' would be the motto.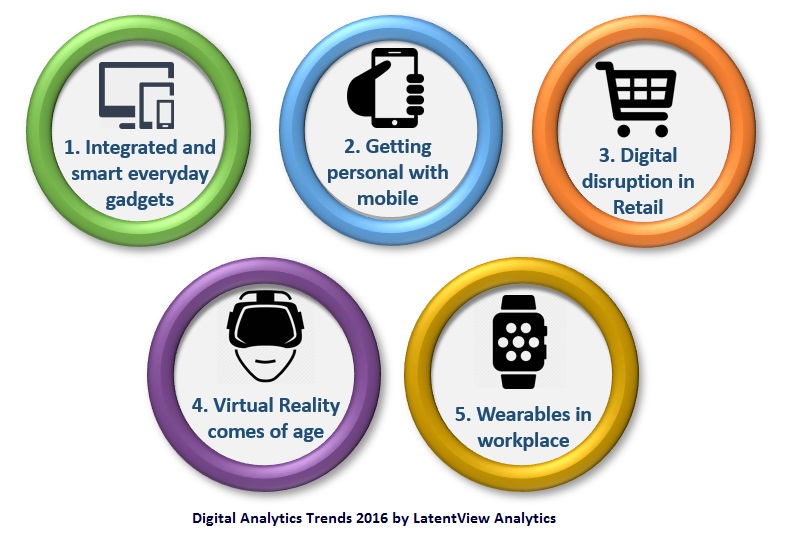 3. Digital disruption in retail
With the wide spread use of applications like iBeacons to track the in-store journey of consumers using mobile apps and devices like Amazon Dash Button to make ordering products easier and faster, the retail industry will see a major transformation. According to eMarketer, Beacon-triggered messages will fuel $44.4 billion in US in-store retail sales in 2016. Such devices in addition to providing superior consumer experience also tap into consumer preferences providing valuable insights.
4. Virtual Reality comes of age
With the expected launch of dozens of devices like Oculus Rift and Samsung Gear VR in 2016 and beyond, virtual reality will no longer remain confined to tech savvy early adopters. After years of wait, virtual reality is finally ready for businesses. These devices will introduce an entirely new platform for advertisements. In the coming years businesses which do not provide its prospective customers with virtual reality solutions could be at the losing end. Interactive Virtual reality gives room to better visual analytics and will enable businesses to get key insights on user preferences.
5. Wearables in workplace
2015 saw wearables collect data about our personal lives like the amount of water we consume or the number of steps we walk. 2016 could be the year wearable devices enter workplace and help in assessing productivity by recording what employees are doing. Wearable technology and Big Data in the workplace could bring insights that was previously impossible. A manager would be able to monitor who speaks up at meetings and who spends more time at the cafeteria than their desk. Gadgets like Google Glass analyse facial expressions and speaking patterns and could help a sales person could identify if his negotiation opponent sounds nervous. Such insights could profoundly impact workplace productivity and culture.