Data science is continuously evolving into a powerful field that enables businesses to provide meaning from large chunks of data they generate. Incorporating statistics, machine learning algorithms, and neural networks turn data into easily digestible information and prudent insights that help stakeholders to make better business decisions.
Industries across different verticals, healthcare, entertainment, mining, and gas extraction industries, to name a few, rely on data science to generate solid insights. From improving customer engagement to increasing revenue, data analytics has a great deal of business benefits when leveraged effectively. As a result, businesses are adopting data analytics rapidly, with the global data analytics market predicted to grow at 13.54% CAGR by 2026, says a research report by Technavio.
Here's a sneak peek at how data analytics contributes to the US Economy.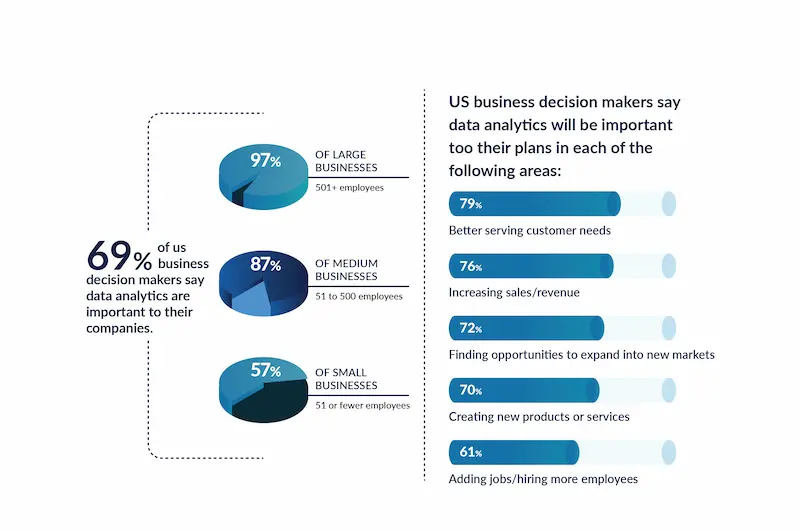 Whether you run a marketing agency or just run, you can capitalize on data analytics to understand the effectiveness of your marketing spending or your fitness routine. Here are some of the most relevant real-life cases where data analytics plays a prime role.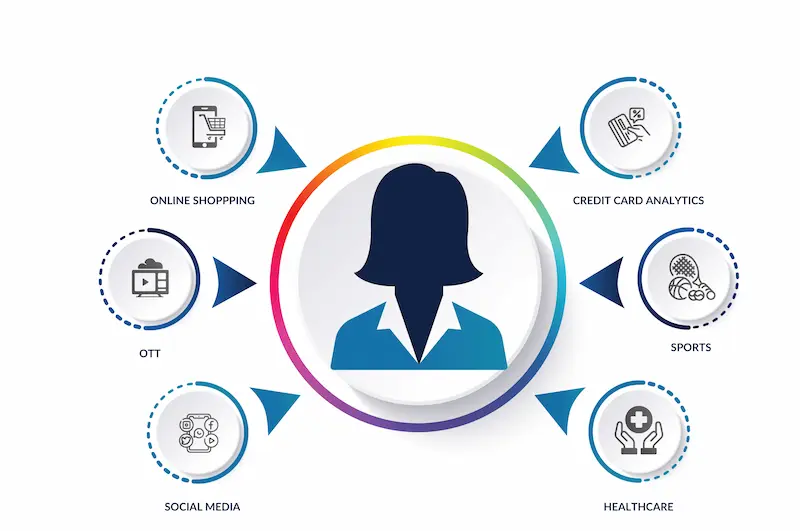 Social Media:
A staggering number of 95 million photos and videos were shared on Instagram per day in 2021. The audiences generate massive amounts of data on social media. Social media algorithms use data analytics to show posts that interest you. Geo-based data and engagement data help to get better-curated content.
So next time you go "Awwww" at a cat video, thank data analytics.
Over-the-top Media (OTT):
We get it. It can be super hard to choose a movie, scrolling through thousands of movies before your food turns cold. Netflix, the number one OTT platform since its launch in 2006, is using advanced analytics to improve customer experience. Netflix relies on AI-powered algorithms to create personalized recommendations for its users based on the content they consume, search history, and ratings. Are you a 'Quentin Tarantino' or a 'Woody Allen person'? Netflix can probably tell.
Online Shopping:
Around 26.3% of the world's population shop online as of 2020, says an Oberlo report. Moreover, from 2020 to 2021, online shoppers increased massively from 2.05 billion to 2.14 billion. With this being said, nearly 75% of people shop online at least once a month. The numbers exhibit the drastic adoption of online shopping.
Visiting an e-commerce website like Amazon just to buy an iPhone 13 but ended up ordering a Spigen shock-proof phone case, a Belkin UltraGlass screen protector, and an Apple 20W USB-C power adapter. Does this scenario ring a bell?
E-commerce platforms influence us to make purchasing decisions by leveraging data analytics. They also have a data pool of customers on their shopping preferences, when they are most likely to purchase, items they viewed, and their wishlist. This data helps them create personalized product recommendations and discounts. Eventually, customers can enjoy getting the best and most relevant offers.
Credit Card Analytics:
According to an Experian report, people have three different credit card accounts on average. Credit cards give customers more than just access to finance beyond your reach. Credit card companies collect users' data in pools, analyze the date of payments and purchase patterns, and use machine learning models to predict churn rates. Credit card providers rely on data analytics to create promotional discounts and offers. Credit card analytics can benefit users by helping companies understand transaction patterns and create personalized offers. For example, if you use a credit card to book flight tickets often, you might get complimentary airport lounge access.
Sports:
The ravishing Brad Pitt played the role of Billy Beane in one of the most celebrated sports films, Moneyball, which has a 94% rating on Rotten Tomatoes. Based on a true story, it depicts Oakland A's general manager Billy Beane played by Brad Pitt, utilizing a computer-generated analysis to build a winning team on a lean budget.
Sports analytics enables better decision-making by providing deep insights about the game. Around 2012-2013 Spanish football league set up cameras on the ground, which take ten photos per second. Data Analysts use these photos to identify individuals and rank them according to their speed and the distance covered, which makes it easier for the coach to decide on their players.
Analytics plays a crucial role across different sports, not only in formulating a game strategy but also in tracking individuals. It helps identify the strengths and weaknesses of particular players, helping them improve. Sports analytics clearly gives a competitive edge.
Healthcare:
When the world came to a halt during the pandemic, the development of the Covid-19 vaccine became imminent. Usually, it takes a tediously long time, but data analytics accelerated the development by enabling more efficient Design of Experiments (DOE). Researchers capitalized on data analytics to measure the effectiveness of the Pfizer/BioNTech vaccine against the COVID-19 Delta variant. In addition, data analytics also helped in improving the efficiency of vaccine administration. Analytics drastically shortened the catastrophic effects of the pandemic.
Data Science and Analytics help understand new drug trials, predict new diseases, automate hospital administration processes, and improve the patient experience with personalization.
Conclusion:
Peter Sondergaard – Sr. Vice President at Gartner Research, said, "Information is the oil of the 21st century and analytics is the combustion engine". Businesses must collect, analyze and understand data to better serve their customers in real life. A McKinsey report reveals that data-driven companies are 23 times more likely to acquire customers. At LatentView Analytics, we help businesses with actionable insights for making better business decisions. Our consultants are happy to help you see how data analytics can positively impact our business. Start a conversation by visiting Contact Us or simply talk to Elvis at the bottom right corner.
Sources: