There never goes a day without some news or the other about the Stock Market.
Be it a big or small investment, and companies always consider the stock market a go-to place. This happens to be one major component in most businesses in today's world.
The overall wealth of any country's economy increases or decreases concerning the investments made. A company's growth is also directly proportional to their stock market performance, and no company takes this path lightly.
From being the best indicator of a country's economy to being the primary factor in determining a CEO's salary, the stock market has its place rightly set.
The Covid-19 pandemic has impacted every single atom that constitutes the proper functioning of the world. The stock market too has its fair share in the whole situation and witnessed frequent crashes in all parts of the world. Despite the fall in these uncertain times, there is a strong belief in good recovery.
In Fact, not all companies are doing badly; some are doing predominantly well even during a pandemic. Major sectors such as Entertainment, Technology, and Pharmaceuticals see a swell they have not seen in all these years. For example, Entertainment Companies like Netflix, Inc. have easily exceeded their quarterly revenue estimate with no investment in marketing or sales strategies.
Pharmaceutical Industry
"Health as a human right." Health care industries are a few industries that are fully operational and significant in today's world.
Pharmaceutical companies worldwide are striving hard to find a cure, and all possible virus preventive drugs.
While every other company has significantly reduced its investments, pharmaceutical companies have started investing billions in all the required resources to fight the pandemic. The graph below shows how 6 major companies performed from January up to July. The values plotted to indicate the %Difference in stock price compared to the beginning of the year.
Impact of COVID-19 on Pharma Stocks
When we look at how some of the major pharma companies are doing, we clearly understand their growth in these challenging times.
Most of these companies are in full swing to find a vaccine for prevention of the disease that will help bring the world back to its normalcy. Their performance was compared to the Dow Jones Industrial Average, which basically acts as an overall measure of stocks covering wide-ranging businesses.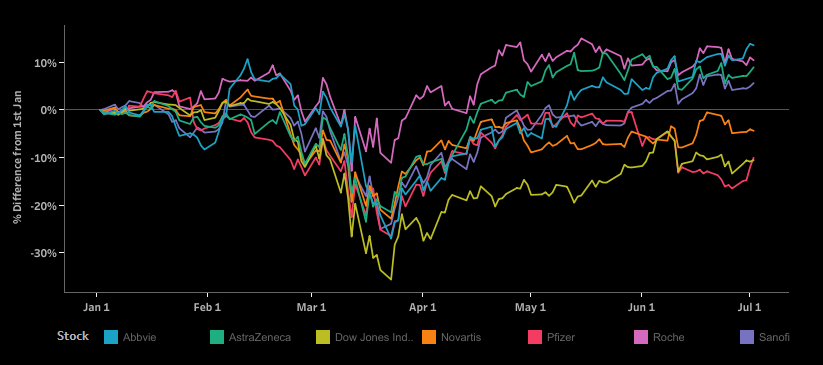 We see that these pharma companies are doing much better than the widely watched benchmark index.
It is evident that some of these companies did much better than the others. We can understand why when we study the trends concerning the critical happenings in the pharmaceutical arena. Even when Dow Jones indicated an apparent fall in March-end, exactly when the whole world saw a peak in the number of Covid-19 cases, companies like Roche were doing exceptionally well. Its trading volume rose from 4 million on March 17th to about 15M million in the next two days due to its shipment of the first 400,000 Covid-19 tests to laboratories across the US to begin testing patients.
And around the same time, Pfizer issued a 5-point plan to combat Covid-19 and entered into a global collaboration agreement with BioNTech SE to work on the vaccine within a few days. In July, the vaccine showed positive results, and thereby we can also see a hike in its stock price. Pfizer also announced that it's investing $500 million for collaboration with potential biotechnology partners. But Pfizer's stock price and trading volume increased not only because of its current efforts but also because of its partnerships with other companies like Corning for the manufacturing of Corning Valor glass that could be used in its packaging.
AstraZeneca showed promising results in a 2-Dose animal trial of the Covid-19 vaccine, and its adjusted closing price increased from $52.66 to $54.25. In June 2020, Cipla expanded its partnership with Roche Pharma India. Well, not all of them were doing completely fine the whole time like AbbVie's eye drug was rejected by FDA citing safety concerns. These key happenings help us in understanding the stock prices and the trading volume.
R&D
When we evaluate the R&D spend, we can clearly see that most companies are focusing on new drug developments, and when we look deeper, we understand that these companies are not just working on the Coronavirus drug but also continue to work on various other medicines that were in progress before the pandemic.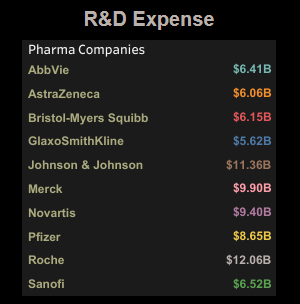 These numbers were taken from FierceBiotech, which created a special report listing the Top 10 Pharma R&D budgets for the year 2019. Most of these companies received multiple FDA approvals in the last few months. Investing in Stocks is not the easiest, and it takes a lot of proper assessment of the future market with current values presented to every shareholder. This gamble game is quite a surprise with its trends.
Several factors, such as Economic Growth, Interest Rates, Stability, Price Rates, so on, and so forth, have an impact on the profits that shareholders and the company itself can make. None of this can be considered an exact estimate because we see an increase in the market during recessions and fall during growth periods.
There has been a rise in the number of articles and news related to these Pharma companies as the world awaits a cure and preventive drugs to win this battle against Covid-19. These stories mostly determine the Stock prices and facts back up, not all of these stories. When it comes to investing in Pharma stocks, one can always rely on the information from newsletters that most of these companies post on their websites. These carry updates about their investments and collaboration activities from time to time.
We also observe that those pharma companies with constant and consistent R&D expenditure have done well despite all the uncertainties.