Despite the pandemic, the world has made great strides in the last two years. But the Healthcare Industry is still facing major challenges in several areas, including digital health repository, building health research capacity, genome sequencing, and epidemic forecasting.
With data and technology expertise and partnerships, the healthcare industry can analyze vast amounts of data to get the essential insights needed to be future-ready.
Medical Renaissance is happening worldwide
Healthcare organizations are now reinventing how they use data, make data-driven clinical and operational decisions, enable precision medicine and decrease the cost of healthcare.
Developing advanced medical devices using Artificial Intelligence (AI) and Deep Learning techniques
Companies like NeuraLink (a project to sync the human brain with AI) can treat a wide range of neurological disorders like restoring sensory and movement function and enable people with paralysis to operate computers and mobile devices with speed and ease
Detecting diabetic retinopathy using Deep Learning
Google AI is working with doctors and researchers to study the entire eye screening process to integrate deep learning models into clinical workflow and help solve Diabetic Retinopathy. This disease can cause permanent eye damage if left untreated.
Immunization and supply chain management
Supply Chain Analytics aims to strengthen vaccine programs, supply, and delivery and ensure universal access to all relevant vaccines for all populations across the life course. WHO has supply chain tools like Cold Chain Equipment Inventory and Gap Analysis Tool, Immunization Supply Chain Sizing Tool, and Vaccine Volume Calculator, which enable effective vaccine storage, transportation, and supply.
Fig 1: WHO Vaccine Supply Chain
Source: https://www.who.int/teams/immunization-vaccines-and-biologicals/essential-programme-on-immunization/supply-chain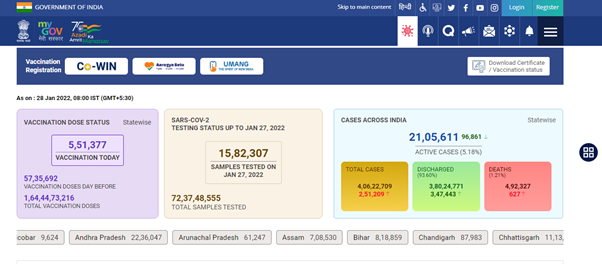 Fig 2: Govt of India Covid-19 Dashboard
Source: https://www.mygov.in/covid-19
Developing medicinal drugs using advanced analytics
The key in drug development is testing a potential new medicine in people. Efficient vaccine research and clinical trials help develop medicines and vaccines that are safe and effective for people. Through advanced analytics, the medical world can integrate and interpret big data from different elements of clinical trials-from genomic indicators to clinical signs, symptoms, and responses to treatment.
Paving the way for more effective and personalized medicines
Traditionally, most medical principles are based on observations from a few hundred to a thousand people. However, the advent of digitization, abundant computing power, and new-age machine learning models will enable the formulation of principles from observations from a much larger group of people, creating more effective and personalized medicines.
But Challenges still exist in the Healthcare Industry.
Despite advancements in the Healthcare Industry, critical challenges still need to be addressed.
Implementing Cybersecurity and Global Cybersecurity Laws
A massive amount of personal and sensitive information is often contained in patient health records. The US has HIPAA (Health Insurance Portability and Accountability Act of 1996) for health care. India has National Cyber Security Policy (2013) to ensure a secure cyberspace ecosystem. India ranks 10 in the Global Cybersecurity Index (GCI) 2020 launched by the United Nations (UN) agency-International Telecommunication Union (ITU), which is a trusted reference that measures the commitment of countries to cybersecurity at a global level. The challenge in the healthcare industry is that the tools used to build healthcare services should adhere to the global cybersecurity laws to provide data security and sovereignty by providing secure infrastructure, control over personal data, and encryption.
Data Localisation and Data Compliance
Countries are becoming more protective of their citizens' data and have restrictions on cross-border data transfer. Globally, data localization laws are enforced, which refer to regulations that dictate how data on a nation's citizens is collected, processed, and stored inside the country. Cloud Geo-partitioning and local hosting of data will help comply with data domiciling regulations. In addition, they will enhance data security by ensuring law applies to the data.
Natural language Understanding and Machine learning
According to the Central Intelligence Agency(CIA), English is the mother tongue or second language to about only 45% of the world's population; more than a million individuals are first-language speakers in more than 400 languages (2018). To make a healthcare product easily accessible, it must allow people to use it in their preferred language. Companies need to invest in machine learning and artificial intelligence to become better at language understanding and make models using Deep Learning Techniques to accommodate different languages, be accessible to everyone across the ecosystem, and advance health equity for diverse populations. Implementation of Online translation tools such as Google Translate and MediBabble in hospitals increased the satisfaction of both medical providers and patients (to 92%) and improved communication and the quality of healthcare delivery and patient safety, overcoming language barriers which make the delivery of high-quality healthcare very challenging.
How can the Healthcare Industry turn Data into Valuable Health Insights?
Use of Multi-Cloud Data Services
The healthcare industry must leverage a modern, multi-cloud data stack to provide actionable insights. A classic example is the Aarogya Setu Application, which uses Amazon Web Services (AWS) and Google's Firebase analytics to derive COVID-19 Insights. Vaccine manufacturer Moderna uses AWS and Looker for insights.
The global cloud database market size is projected to reach $68720 million by 2026, from $7054.4 million in 2019, at a CAGR of 38.2% during 2021-2026. (Source: Valuates reports).
The healthcare industry should enable a Digital Health Ecosystem, build a Unique Health Cloud Lake to provide an Integrated Health Information Portal, and create a Health Account Key with details of diseases, diagnoses, reports, and medication in a shared database.
Use Business Intelligence Dashboards
Nearly 90% of R&D departments worldwide have mentioned Cloud BI is critical for current and future initiatives in any industry. Currently, Cloud BI adoption is highest in Manufacturing (58%), Financial Services (40%), and Business Services (40%). (Source: Dresner Advisory Services' 2020 Cloud Computing and Business Intelligence Market Study-9th Annual Report)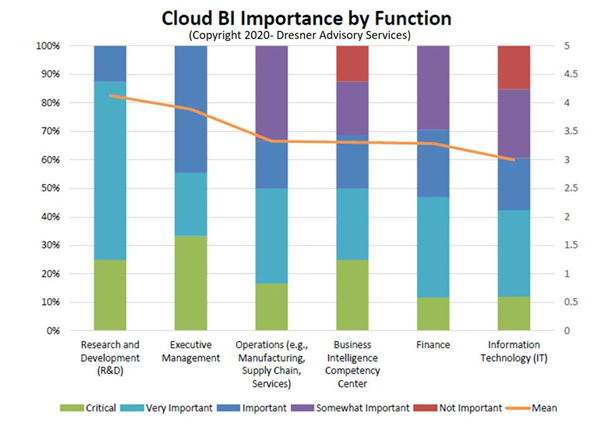 Fig 3: Cloud BI Importance by Function
Source: https://blogs-images.forbes.com/louiscolumbus/files/2019/04/Cloud-BI-Importance.jpg
Business Intelligence allows healthcare providers to access patient information, provide more precise care, identify future health risks, implement preventive treatment and improve future health outcomes for patients in real-time. However, complex regulations are a challenge when managing a wide range of data, from medical records to insurance delinquencies. Data Analytics makes it possible to unlock the potential connections between all that data with both on-premises and cloud options that can be analyzed in secure environments. In addition, opting for Cloud Intelligence helps retain massive amounts of data, which can be used for analytics over time.
Here are links to some Global Health Reports that use Open-Source Data
Conclusion
Developing Healthcare Products and Services should be an integrated approach. Over the next ten years, National Digital Health Blueprint can unlock the incremental economic value of over $200 billion for the health sector.
Advanced Analytics and AI can make up for the lack of human resources to diagnose and provide advice on treatment protocols. Machine Learning algorithms can be used to read CT scans or X-rays, which saves time for radiologists. It can also predict disease outbreaks and epidemics, enable better universal health coverage, strengthen healthcare delivery, and equip the healthcare industry with better insights and tools to tackle health emergencies and protect people worldwide by analyzing extensive data.