Supply chain personas on the frontline spend nearly 50% of their time getting visibility to the right data and insights that can inform them of the disruptions on the ground, based on discovery conversations conducted by LatentView Analytics consultants with around 30 on-the-ground supply chain operations executives.
Our analysis further revealed that lack of visibility to the right data and insights on the ground was a key concern for personas, along with:
The need to navigate through 6-7 different systems
Found most data & insights to be hindsight – too late to be actionable
Inability to access data & insights multiple times a day to inform them of exceptions
Had a siloed view of the disruptions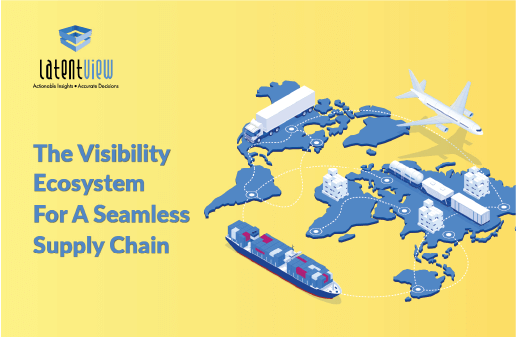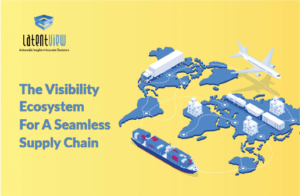 To empower them with faster decision-making, we have unpacked the visibility ecosystem at play:
The shipper – the company whose products are to be transported from Point A to B. This could be a low-value, low-margin FMCG product or a high-value, high-margin product like an ECG machine.
The shipping partner / Third-party logistics (3PL) – the company that would provide the logistics services. Each shipper would have multiple tiers of 3PL partners across modes of transport listed with them. Companies may also own their fleet, apart from working with a shipping partner.
Transportation Management System (TMS) – transport management software is either procured from a third-party software vendor or developed by the shipper/shipping partner. Typically, it has features to manage and maintain routes, nodes, traffic control towers for the shipper, the fleet size and capacity by modes, the modes that the company plays in/wants to play in, and all transactions of Point A to B shipping, and integrations to Order management systems to know how many inbound and outbound need to be completed. Transport planning and route optimization modules may be available in some of the evolved TMS. The challenge for many legacy TMS includes a lack of out-of-box connectors to other ERP systems or integrations to visibility data.
Visibility solutions – these companies have 3 key parts:

Asset tracking devices – GPS and IoT sensor-enabled geolocation tracking devices installed on fleets of the shipping partner/3PL or the company's fleet enable signals on ETA and dwell time.
Tracking software – software integrated with the devices with real-time streaming of device data to allow shippers to track. Data is usually available at an aggregated level, with granular data either not available or monetized.
Carrier partnership – The one area where visibility solutions have differentiated themselves from TMS is in the partnership network they have created with shipping partners/3PLs to allow installation of devices and enable access to the data. Visibility companies have a heavy focus on carrier integration, i.e., adding carriers to their network so that they can install devices to them or allow for EDI-based tracking.

Multiple other 3PL/4PL players – There are a host of 3rd party players who play smaller roles like freight forwarding, cargo loading, specialty management services, documentation management services (especially for sea and air), and import/export specialists, etc.
The missing link and the need for connecting this ecosystem:
Each of these players, their processes, and the systems they operate work in their own siloes. Logistics networks (warehouses and transportation), as well as tech ecosystems, have evolved through acquisitions and outsourcing to 3PLs. Data silos have become very obvious and accentuated. So while visibility solutions mentioned above provide data points that help a shipper track where their shipment is, the missing links are,
the connection between the tracking data
transport plan and capacity in the TMS
ETAs
impact on order management
inbound at the receiving point (Point B)
what all of this could mean to the shipper and their other connected processes like inventory management, warehousing, distribution et al.
That is precisely where a connected supply chain solution can sense exceptions, identify their causes, and provide targeted and curated recommendations to people on the ground on the next best course of action.