"Highly flexible loyalty technology architecture that is adaptive and provides AI/ML capabilities at the individual level is the future state." – David Slavick, Co-Founder and Partner at Ascendant Loyalty Marketing*
Loyalty programs have two primary intents – increase customer retention and improve Customer Lifetime Value (CLV). The financial services sector is no different – Citi surveyed 1,000 consumers and found that 89% are more loyal to businesses where they are a rewards member1. In addition, Citi customers who redeem their points spend twice as much as customers who do not redeem their points. Financial services have benefitted from the accelerated digital growth, but this also means that customer demography and expectations need a revisit.
Why is customer loyalty harder in the financial services sector?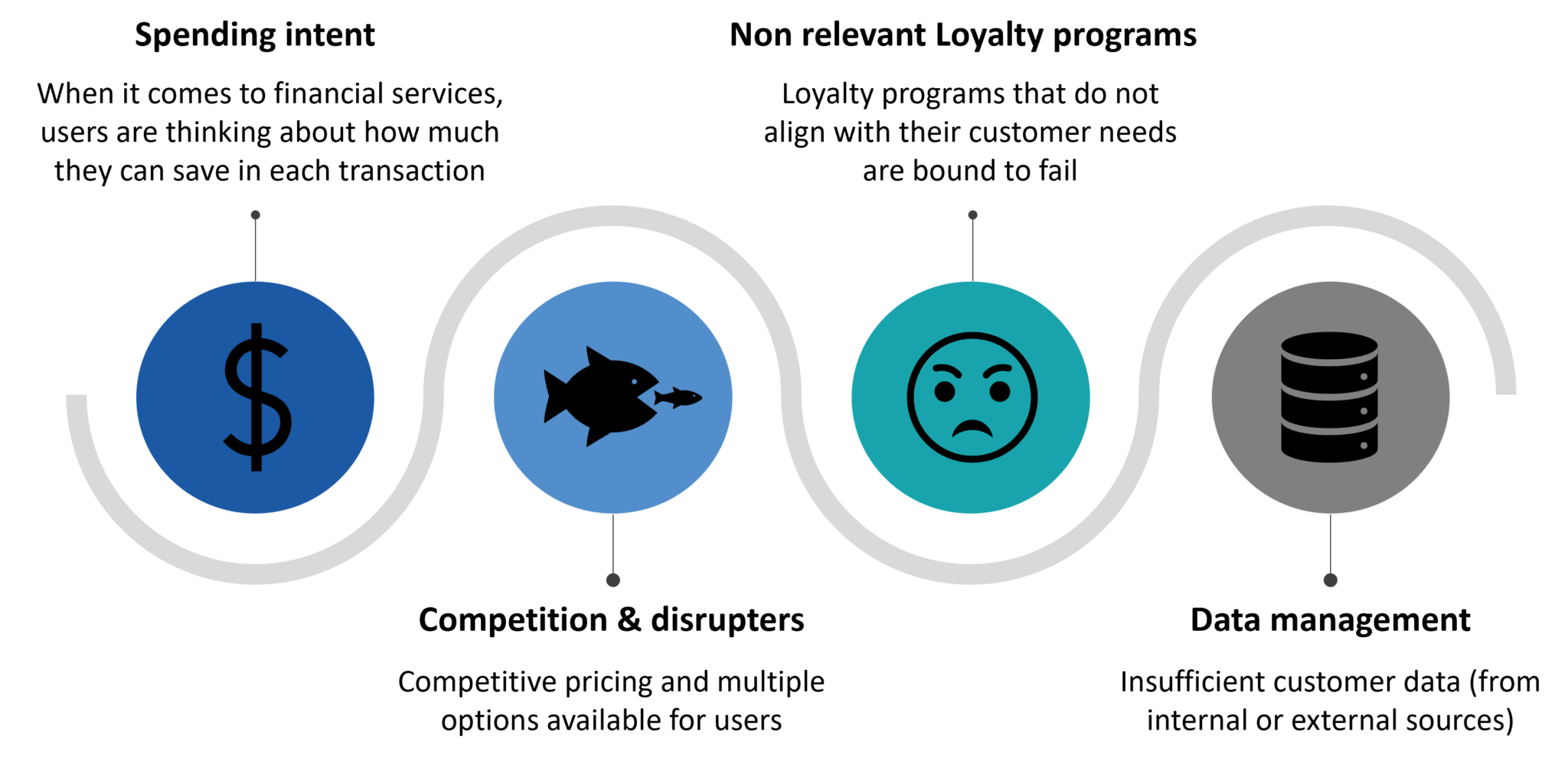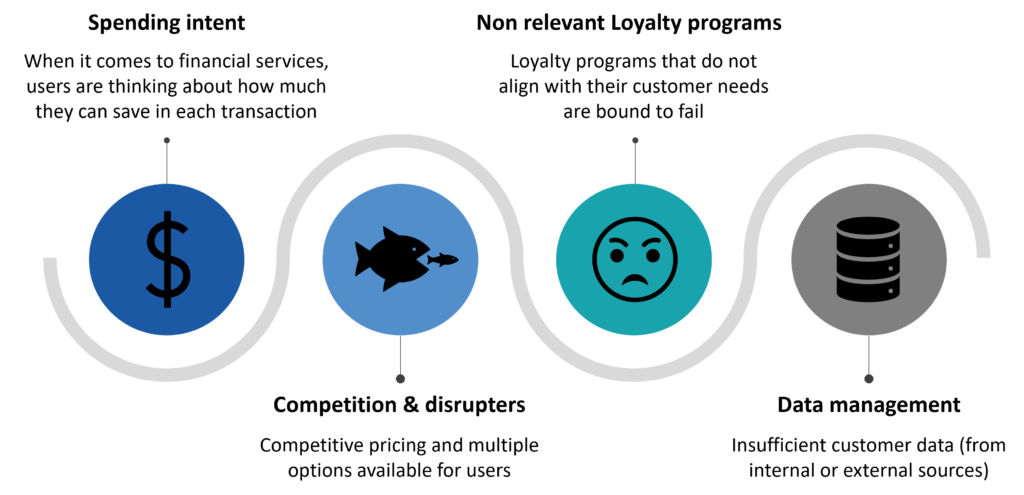 How can financial services strengthen their loyalty programs in the digital world?
1. Understand customer needs
Why:
Customer needs change with time, and organizations will have to re-invent loyalty programs from time to time to adapt to these changes.
70% of consumers believe converting loyalty points to cash/digital assets is a 'must have'2
85% of consumers found alternative loyalty currencies such as time, ease, and convenience to be highly valuable3
How:
Understand customer needs by analyzing customer demography, their spend data, and their interaction with the brand on various platforms
Design the loyalty program to solve a customer pain-point or help them with their goals, such as:
'Pay using loyalty rewards' concept to help cover emergency expenses, utility bills, student loans, and philanthropy.
Providing an option to redeem points as digital currencies to help customers with investments
2. Monetary benefits + Exclusive experience + Shared values = GREAT Loyalty program
Why:
The loyalty program needs to create an experience and sense of belonging to increase engagement. There is a 2.9X lift in the agreement that "The Brand is Loyal to Me" when a member is part of an enhanced tier in a tier-based loyalty program4.
How:
Analyze customer base composition in terms of CLV to target the right audience with the right benefits.
Consider tier-based loyalty programs and gamification since they provide the exclusivity, competition, and recognition that every customer would want. Before and After analysis can help measure the success of such programs.
3. Create brand value and forge communities
Why:
Loyalty memberships are on the rise, but less than 50% of loyalty members are active5. So while it is easier to switch brands, it isn't easy to switch communities.
How:
Find a purpose that aligns with the values of both the customer and the brand. Here are a few ideas:
A student community to engage the younger customer base with financial advice.
A community where customers get incentivized every time they buy local or make an eco-friendly purchase
4.Design a multi-channel loyalty program
Why:
Customers interact with various competing brands every day. Multi-channel loyalty programs can connect with customers on several platforms, including websites, social media, and email, and create new touchpoints for engagement and personalization. As a result, multi-channel shoppers spend three times more than single-channel shoppers6.
How:
Design a multi-channel loyalty program and engage with customers
Leverage that data to create personalized rewards and engage with customers will be the actual propeller to new opportunities, touchpoints, and more transactions.
5. Focus on personalization, with due respect to privacy
Why:
Today's customers want a personalized experience during their transaction journey but at the same time are wary of data privacy. 83% of consumers are willing to share their data to enable a personalized experience if businesses are transparent about how they will use it and that customers have control over it7.
How:
Offer experiences where customers can drive their journey
Creating a dialogue to let customers choose their preferences before suggesting relevant reward options can balance predictive analytics and customer experience.
Final thoughts
Customer experience is no longer a nice-to-have in all sectors but a must. Financial services need to focus on ease of use, customer engagement, branding, and personalization while designing their loyalty program. Their huge advantage is access to customer spending habits. If used right, this can create win-win situations for both the brand and the customer.
At LatentView Analytics, we provide expertise in loyalty program impact analysis, CLV segmentation, customer profiling, and predictive analytics. So do write to us at marketing@latentview.com or fill in this form if you would like to discuss how data analysis can add value to your loyalty programs.
References:
* Loyalty Trends 2021/2022 report
1Citi
2Bakkt's July 2021 Loyalty Consumer Survey
32019 loyalty report by Bond Brand Loyalty
42021 Bond Brand Loyalty report
6 Invesp