The International Tourism Economy is looking at a 60-80% decline this year (Source: UNWTO), and global tourism revenues are expected to fall by up to $3 trillion – turning the industry into one of the largest casualties of the COVID outbreak.
Europe is the most significant contributor to the industry, with every 2nd tourist in the world preferring to travel to Europe for their big break. Europe's Tourism contributed almost 2 trillion dollars to the region's GDP in 2019. To put that in perspective – this amount is close to 6 times the GDP of Singapore, one of the world's most developed economies.
Furthermore, on average, for any country in Europe, 1 in 6 people earn their livelihood from the Tourism sector, which shows how much Europe is dependent on Tourism. Because of this dependency, the pandemic has resulted in a whopping $1 trillion loss in their GDP, a 55% reduction in International Tourist Arrivals, and 18.4 million job losses. (Source: WTTC)
Aviation and Hospitality fights for survival
The aviation and Hospitality industry, which are both interdependent on tourism, are also suffering from huge losses. The travel restrictions imposed by the European Union to curb the spread of the virus on March 17 further heightened the already crippling situation for the industry. Moreover, as of May 7th, according to BWHotelier, revenue is expected to drop by 50% for hotels, 70% for travel agencies, and 90% for airlines.
The IATA estimates airlines in Europe are set to lose $21.5 billion in 2020, with passenger demand declining by over half. This puts at risk between 6-7 million jobs supported by aviation in Europe alone.
The hospitality industry also shows a similar downhill trend for 2020 – with Statista estimating the YoY change in RevPAR or revenue per available room to be down by 95.4% in April
Road to Recovery: Can Europe save its summer?
Using the ARIMA model to predict the impact of COVID on the EU's International Tourism Arrivals (Source: Eurostat) and comparing it with previous pandemics: SARS and Swine Flu gives us the below results:
Our analysis has shown a gradual recovery in the coming months. The situation gets significantly better by the 11th month; however, demand is not expected to return to pre-crisis levels anytime soon.
Evidence of this gradual recovery can be seen below – with average daily flights of aircrafts operators already picking up from April to June. (Source: IATA)

Shifting the focus to hotels, notice that the situation was normal in January, and there is a huge drop in GOPAR and RevPAR in March. GOPAR was down by -182% and RevPAR by -98%, but we see a slow rise in those metrics in April and May (Source: Hotstats)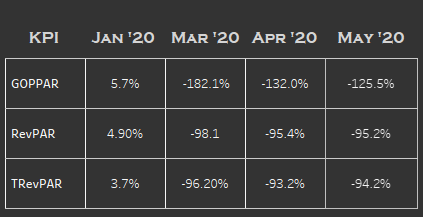 Conclusion: "Plan for a marathon and not a sprint."
All our research and analysis suggest that recovery will be a long stretch, even with government and industry interventions.
Firstly, COVID has heavily impacted this industry because its transmissibility is 40% and incubation period being 70% more than previous pandemics like SARS and Swine Flu. It is the hardest to contain because it has no interval between symptom onset and maximum infectivity, unlike the others.
Furthermore, the return to normal travel is not a government decision. It is a personal one. People need to feel safe before they are willing to leave their homes and go somewhere. This can only happen once the number of active cases declines and/or a vaccine is put in place. That being said, the industry needs to prepare for the long road ahead in terms of establishing new standards and practices for cleanliness and contactless services for instilling confidence in travelers' minds. And finally, once people are convinced, it can give rise to what is today termed as 'Revenge Travel' – people going on extra trips or splurging after the Crisis because they were deprived of that opportunity for so long. So, wait, because the summer is not over yet.