Dave Sheluga of Ardent Mills (Director- Consumer Insights), Jen Randle of Whirlpool (Global Director-Innovation), Krishnan Saranathan of United Airlines (Managing Director- Customer Data and Optimization) and Vicky Robertson-Mack of Sears Home Services (Director- Marketing) came together to share how their organizations use data to gain a competitive advantage and how they are preparing for the future. While the speakers were all from different industries, they were unified by a strong focus on the end consumer.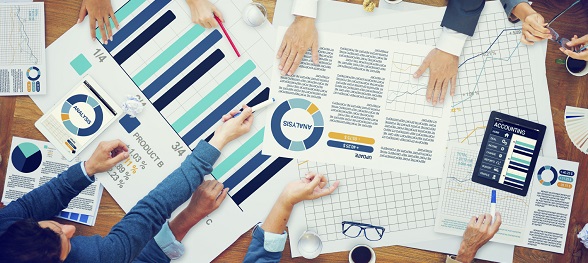 Social media analysis is today an integral part of market research. It provides deep and granular insights into consumer preferences by 'listening in' to natural conversations. Advanced analytics organizations are using it not just to understand their customers but to use that understanding to drive innovation.
At Whirlpool, social media data is used to identify need gaps- consumer needs that are not being met- and opportunity spaces- areas where competition is not playing. Traditionally, the company used product reviews, expert opinions, quality ratings of their products to look for insights that could drive innovation. "With social media, we are now able to tap into the actual voice of the consumer- the voice consumers are using to describe our products, describe innovations – and understand these conversations at a more human and realistic level," says Jen Randle. "By analysing social media data, we are able to understand need states in a very different way than we have in the past. This allows us to build solutions that deliver the needs of an entire ecosystem as opposed to just discrete product or appliance features."
Social media analysis is transforming innovation in the CPG industry as well. Talking about innovation at Ardent Mills, Dave Sheluga says, "In the CPG food manufacturing industry, the consumer is put in the middle of the universe and data is used to understand what that consumers wants and to build a product that fits that need. For an ingredient supplier like Ardent Mills, we need to use data to understand future trends. We are looking for patterns in social media data and internet data that will help us understand tomorrow's consumer."
For insights from social media data to be truly transformational, there needs to be a shift in the mindset with which the data is analyzed. Dave gives a great example from his own industry. "When you look at social media for conversations about food, you will find everything from biblical to zombie references. When you look at it deeper, you see associations you didn't understand before. 'Sprouted flour' you realize is not just about health and nutrition. It's about sun, life; it's about purity." Realizing this, helps marketers build campaigns with deep engagement for what might otherwise have been just a non-glamorous ingredient.
Data analytics can lead to the biggest business advantage when things go wrong. United Airlines understands this. Innovation for them is really about how to help a customer when they need you the most. This has led to them focusing a lot of their efforts on the mobile platform which is the preferred device at these times. For them, innovation is all about giving the control back to the customer. To do this efficiently, Krishnan Saranathan believes companies need to start using AI/ machine learning to automate decision making. He gives a great example.
"Traditionally, companies segment customers and put them in specific buckets, based on which they are served various marketing messages, offers etc. The customer needs to sit in that bucket even if his or her needs have changed, till the next time that segmentation exercise is done. Using machine learning algorithms to pair customers with specific offers can be a lot more efficient. "
Sears Home Services' entire business is built around dealing with customers when things go wrong. By using analytics, they are able to provide better service by optimizing investments and improving efficiency. Vicky Robertson-Mack explains. "There is a lot of regional fluctuation in demand for our services depending on time of the year. It varies due to a number of factors including weather, types of products that were sold in that region, as well as marketing effectiveness. Understanding and planning for these fluctuations helps us make efficient decisions as a business."
For the entire transcript, please email: marketing@latentview.com.