Princeton, N.J. and Chennai, India – February 1, 2018 – LatentView Analytics, one of the fastest growing data analytics firms globally, today announced that their Chennai office was awarded the Green Interiors certification by the Indian Green Building Council (IGBC). The office received a platinum rating (highest in category) in recognition of the outstanding effort taken by LatentView Analytics to ensure that their office is environmentally sustainable. This rating was awarded after a detailed green audit conducted by the Consulting team of Green Evolution – a sustainable architecture firm in Chennai. The team of eco-friendly SMEs worked along with the management of Latent view to make this rating possible.
LatentView Analytics' Chennai office is located in Ramanujan IT City – a LEED Core & Shell certified facility. It is the first office in Chennai to receive the prestigious IGBC Green Interiors certification.
"We are pleased to be the only office in Chennai to receive this prestigious award by IGBC. As an environmentally conscious company, we are committed towards fostering not just a healthy atmosphere for our employees, but are also extremely mindful of creating an ecologically sustainable environment. This award is a validation of our commitment towards environmental sustainability," said Gopi Koteeswaran, CEO, LatentView Analytics.
By creating a work environment that places priority on the well-being of employees and the environment, LatentView Analytics ensures a healthy workplace that minimizes fatigue and other work-related health issues. Further, as a data analytics partner who has the highest commitment to the environment, LatentView ensures enhanced productivity and concentration levels of its employees, which, in turn, yield faster turnarounds with fewer quality issues for its clients.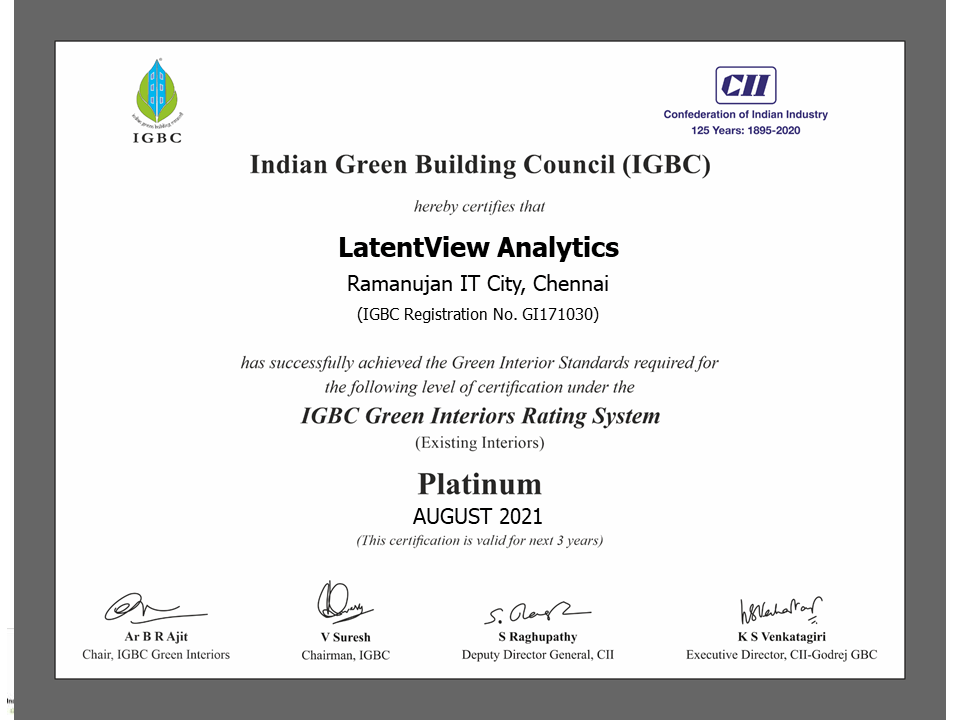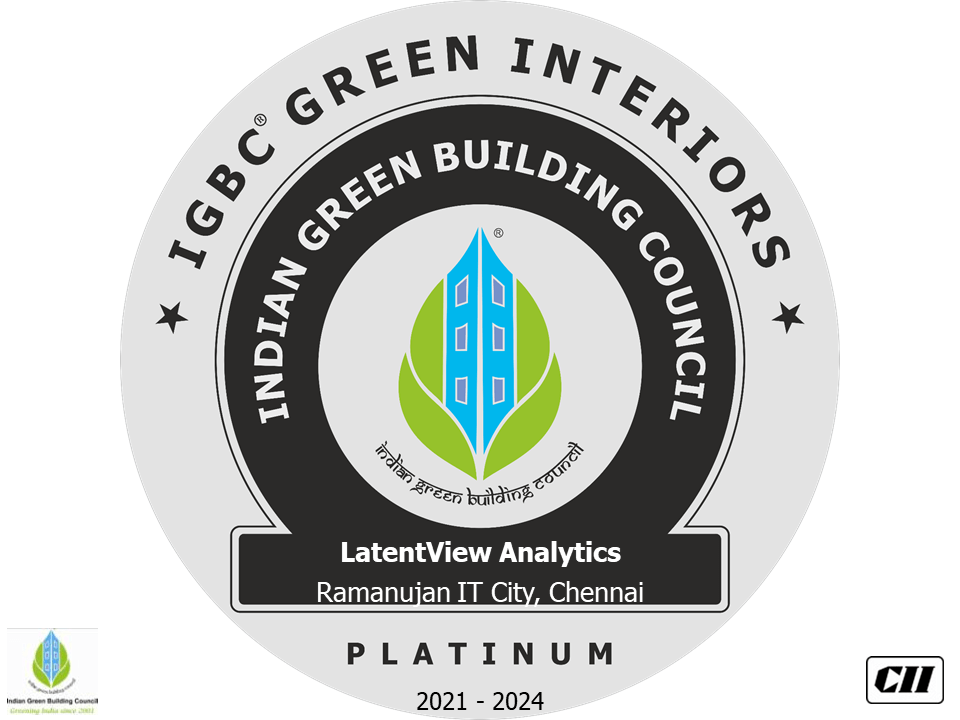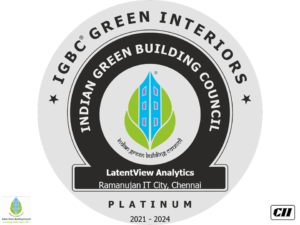 About LatentView Analytics
LatentView Analytics is one of the fastest growing data analytics firms globally, delivering solutions that help companies drive digital transformation and use data to gain a competitive advantage. With analytics solutions that provide 360-degree view of the digital consumer, fuel machine learning capabilities and support artificial intelligence initiatives, LatentView Analytics enables leading global brands to predict new revenue streams, anticipate product trends and popularity, improve customer retention rates, optimize investment decisions and turn unstructured data into a valuable business asset. LatentView Analytics is a trusted partner to enterprises worldwide, including more than two dozen Fortune 500 companies in the retail, CPG, financial, technology and healthcare sectors. LatentView Analytics has more than 500 employees in offices in Princeton, N.J., San Jose, Calif., London, Singapore and Chennai, India. For more information, please visit www.latentview.com or follow us on LinkedIn.
Media Contact:
Tarunya Suresh
LatentView Analytics
+91 44 43441737
tarunya.suresh@latentview.com