In a survey conducted by LatentView Analytics on setting up an optimal analytics practice, we found that analytics culture, or the top management's inclination to base decisions on data instead of gut feel, is one of the most critical factors. When the analytics culture is high, companies go beyond the limitations of data availability to find unconventional sources of data to aid decision making. CPG companies with high analytics cultures use app data and social media data to overcome the absence of transaction and consumer data. This allows data analytics to be applied to a business' biggest challenges.
What does it take to get analytics into the board room and transform the analytics culture of an organization? Stacy Gordon, CMO of LatentView speaks to Graham Atkinson, Former CMO of Walgreens to find out.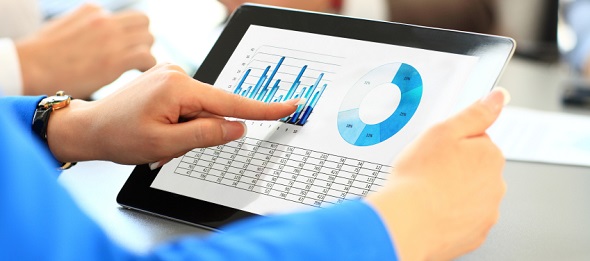 Stacy: We're going to spend the next few minutes talking about two main topic areas. One is taking analytics into the board room – what does that mean, how do we do that most effectively; what can we learn about what those folks are thinking and how do we do what we do very effectively and also what it takes to really build an analytics culture in an organization.
When I started marketing, probably in the stone age of marketing, there was a lot of art and a little bit of data, a lot of gut feel was the way it was talked about and now there are a lot of these new roles like Chief Digital Officer, Chief Analytics Officer, things that really didn't exist when I first started.
So I guess the first question I'll start with is that if you start on the premise that analytics and data now play a more central role and a more critical role than it used to, what do you think is the biggest change on the whole or how has analytics influenced the board conversations?
Graham: I think the answer to your question in one word is actually – Internet. Digital data has changed the whole way in which both marketing departments hire people and it has changed the way in which companies think about access to data.
In a more detailed way of answering the question – I think over the last 5 or 10 years there has been a tipping point, and certainly in my younger career, marketing was specifically thought as an adjunct to sales or always thought as the advertising department. Thankfully, those days have passed. Now there are different ways in which companies think about the customer. There have been many full storms in the C-suite and now we are really customer focused.
More and more now, the data analytics and understanding of customer intelligence is truly not just respectable, but it is becoming respected. That is a huge step forward and it has a huge implication on various aspects of every business.
Stacy: One of the stats we saw from a KPMG report was 92% of CMOs claim they use data analytics to make decisions. What do you think about that?
Graham: Since I left Walgreens, I'm on a couple of boards and now I'm on the board of Central Insurance which is a long way from Walgreens and United Airlines, but all three use data as intensely as you heard from United Airlines earlier on.
We could certainly have the same discussion about the journey that Walgreens has and will take. Central Insurance will anchor around actuarial understanding and underwriting risk and also spend a whole lot of time on that. Since I have left Walgreens, I've spent quite a lot of time interacting with executive recruiters and people who are in the space of understanding what companies are looking for in active and attractive candidates.
Also, more and more of the companies now want to talk about specific skill sets when it comes to CMOs; and those fundamentally come down to not just understanding a communication strategy and the basics of segmentation, but a real understanding around the digital aspects and about how IT actually works to engineer a business. When you look into a couple of the CMO research reports, more and more of them are choosing a very different profile than before.
Stacy: That leads me to the next thought. Within the scope/spectrum of analytics that probably a lot of people talk about, is there one particular area you would say would requires much more need for analytics?
Customer experience, operations are few areas that have traditionally been using analytics. What is that area that you think is yet to come into analytics?
Graham: It would vary greatly from company to company. Most companies, by their very dynamics, run either day-to-day or week-to-week or crisis-to-crisis depending on the segment or maybe not; and it's not an intentional exclusion that the customer gets pushed out from that.
It's simply that the complexity financially, operationally, organizationally tends to be the more pressing urgent issues. Both in United and Walgreens, it is extremely important to ensure that the whole data analytics capability of the company is connected to the C-suite.
As we all know, the personal characteristics of people who love combing through data and working in a cubical is not always aligned with the attributes that get you into the C-suite – the extrovert and the introvert. Often as we know, the two don't always speak the same language in the same way. I believe that the weight falls on marketing and data analytics groups to demonstrate and sort of force their way into the relevance of the organization.
The way it used to be in Walgreens – until they get taken into the board room or at least the executive suite, it's going to be very difficult to get the customer in the front-end center in terms of all the investments we need which is people, money, etc. The necessity and responsibility falls on marketing and data analytics to force a customer score card into the executive environment. It's very easy to sit here and say that, but quite difficult to do it.
The conversation around the customer is typically – many people would be shocked to hear the confusion about simple metrics of net promoter score and what it means and how we measure customers and how those numbers relate to the ones we get for our competitive numbers – things we all take it for granted. Why doesn't our competitive score compare with our net promoter score? There are actually different surveys conducted by different groups with different sample sizes. It's not a function of anyone being stupid, it's a function of no attention and focus and time.
The changing role of marketing and big data is beholden on evangelists to force it onto the agenda. First thing we did for Walgreens was to start building a customer score card. Why confuse the executive? You have to think about it in a financial context – monthly financial results.
We need to build some sort of ownership and accountability to the customers as well. We spent a lot of time understanding how our goals related to the divisions goals, to the company's goals and we ultimately tied it back to the customer score card.
There is no quick solution and it's obviously dependent on the personalities and the open-mindedness and the characters that you have there – being used by the right people in the right way for the right things – else makes your job more difficult to invest in people and budget.
Stacy: No one in this room believes that data and analytics is the bullet to solve every company's problems at every level. We had Krishnan talk about the need for data democratization and, we had Vicky talk about idea of getting better and better in customer service. How have you seen data being used or some of the issues in using data optimally?
Graham: I need to draw a distinction between the board of directors and the executive team. In many companies, there is a belief that at higher levels, people are more data savvy than they actually appear to be and that they are at the forefront of data understanding and use of data.
Walgreens has many hundreds and thousands of customers and the merchants have learnt what to do over time. The journey that went on there was to start with the basics. We started with obviously understanding what our customers thought of us and making sure that the C-suite really did understand what the net promoter score was telling us and what we could do with that rather than just how we don't feel good about that. We also ensured that it was tied to executive compensation which is a wonderful way to get attention into the C-suite and get time on their agenda.
Getting the basics right about goal alignment and customer score card, bonus compensation for C-suite, what customers think and how they behave, is incredibly important. At early stages, it doesn't need to be terribly sophisticated. But in addition to that, one then needs to begin to take the executive team on a journey and start educating the people in the C-suite. You have to build a relationship and an understanding of the connection of customer data to the CFO.
Sometimes, the seemingly close minded ones with actual real understanding of data and numbers – forcing time into their agenda is tough. But they can be a fantastic alias in terms of understanding how customer data, customer metrics, customer analytics can actually drive the results.
So it's all about starting to get the basics right – what do we measure, build meaningful relationships with the C-suite and force time into their agenda, beginning to get the C-suite excited about data. E-Commerce and digital analytics have a got a new directory to play in this space. World is genuinely changing and it impacts not just marketing, but also business.
Stacy: What advice will you give the practitioners in the room about how to communicate what they need to?
Graham: What is your core competence and unique value proposition? How you communicate depends on who the audience is. The psychology of the data and analytics business is inherently scary to some people and fascinating to others and little confusing to many others.
What's the first step in the ladders towards becoming a data-driven organization? It all comes down to recruitment and team building within the organization and understanding personality and dynamics of what team work means. There's a sales team, an analytics team, a marketing team and so on and so forth.
If you have to bridge the gap, then you need people who have the intellectual capacity to analyze the data and not just be seduced by the fun of being amidst abundant data for its own value and people who really enjoy turning data to insights.
Most importantly, what the merchants, what the real management, the product developers, really see is that the business priorities and what real value it can add, and what insights can be added to the conversation. If you can position them correctly, it would be intriguing to the audience. If you are not intriguing the audience, then you are not talking relevant content or not talking about it in the right way.
We work in the most interesting aspect of any business – Why do we have customers? What do they buy? What persuades them to buy more? What are the dynamics going around that? It's not about counting the money at the end of the month or putting the IT systems together, it's actually about how did we end up in the business – there is probably something that somebody else wanted. Start with a great advantage and if you get lost in the soup of complexity of it, you will pretty much leave everyone behind.
Stacy: What does it mean to have an analytics culture in an organization? We talked about the relationships that we build with the C-suite, about getting the fundamentals right, about forcing folks to look outside of the organization to get an understanding of what's going on, about what can we do as analytics people and how to communicate. What are we missing when we talk about building an analytics culture within the organization?
Graham: We launched a huge loyalty program with a hundred million members for nothing and we sort of built an understanding with our customer. It's a long journey.
vOnce we started building analytics capability within the organization and then came up with the first version of the customer scorecard, which was presented to the C-suite during weekly and monthly meetings. The issue of banning cigarettes came up which is an uncomfortable subject of discussion in the pharmacy chain.
Something that bounced around the C-suite was, "Are we sure we are sending out the right message?" We had recently launched a new emphasis around our brand about being healthy and happy as one of the core pillars of our brand and so should we stop selling cigarettes which was sending out a wrong story to our employees and customers. The response around the room was, we could build a great PR campaign on this and we could get the health groups involved in this, and that the employees would love this. But this has got many implications.
What does the data say we should do? This was the moment that changed things. We went away and came back with unsurprising data that cigarettes and other tobacco products generates over a billion dollars – huge revenue, low margin, incredible store drive – one in five customers coming into Walgreens buy cigarettes.
If there is something we have to do rather than pull a switch next Monday and suffer consequences to the business and explaining it to our shareholders in three months' time, how can we much more intellectually think about that? This led to a conversation around how we can move in the direction – from smoking cessations to e-cigarettes, and others ways of involving community in terms of managing smoking and reducing smoking, betting the shop on just banning it overnight.
This was a singular moment in Walgreens where data got a hold in psyche of the CEO. We were also deluged with store managers all over the country asking if we could run a report on who their top hundred customers are, what people are buying, when people buy one brand of soap, will they go to another store to buy another brand. We were also being bombarded with people recklessly asking for information about their customers. We had to deal with this tsunami of requests for data.
I would agree with Krishnan. When we launched a loyalty program to understand our customers better and to get the data better, we realized that the need to upgrade our data group became evident. It was a learning process for us both in terms of organizing and building the data organization and to deal with the skills and capabilities that we need.
In our business, pharmacy customers are so valuable and we tended to focus more on them – their value and retention. The other space that we found very rich for insights is digital. The huge amount of work we were doing in the digital space were supporting us in showing us online revenue.
Also, stop sending out hundred page reports. Sadly, institutional isolation is the one that leads the way, though not in the right direction. You need to be humble in acknowledging that you very unlikely don't know what's going on everywhere.
Secondly, there are very likely people out there who can provide all sorts of assistance, perspectives or case studies that you don't have. We just needed benchmarking and getting ideas from outside. At the same time, we are very active participants of events. There is no substitute for having intellectual leadership and team internally. But finding the high quality partner outside who can complement and challenge you and inspire you on is a huge advantage as well.
It is beholden on us to build relationships, look for champions elsewhere in the organization, draw them in, and get them excited. If their real interest is in marketing, or merchandising, or pricing, use them as your Trojan horse to spread it across the organization.