Advanced Analytics and ML to drive Digital Transformation

Excerpts from LatentView's Tenth Analytics Roundtable
Using data as a competitive asset
Gopi Koteeswaran, CEO, LatentView Analytics

Gopi Koteeswaran, CEO, LatentView Analytics, kicked off LatentView's Tenth Analytics Roundtable with a warm welcome and introductory remarks. Setting the scene, Gopi said that Analytics and AI are at the heart of digital transformation.
Gopi offered an overview on today's state of analytics, noting that many C-Suite executives are still transitioning from making decisions based on experience to taking a more data-driven approach. He contended that in order to be successful in their digital transformation journey, companies need to understand the larger business context of any challenge before implementing analytics. Embedding analytics into business processes improves the ability of the organization to implement new insights he added.
He expressed great optimism for innovation in the space and for how enterprises are using analytics today across applications and verticals – from powering the next wave of customer experience in retail, to pushing traditional manufacturing into the age of industry 4.0, to predicting consumer trends for agile product innovation.
Large quantities of good quality data are the lifeblood of good machine learning algorithms, and it's these algorithms that are necessary to ultimately power the innovation of tomorrow through data analytics. Gopi closed with the following thought: "The more enterprises invest today in high quality data, the better."
---
Changing the world through digital experiences
John Copeland, Leader – Marketing & Customer Insights, Adobe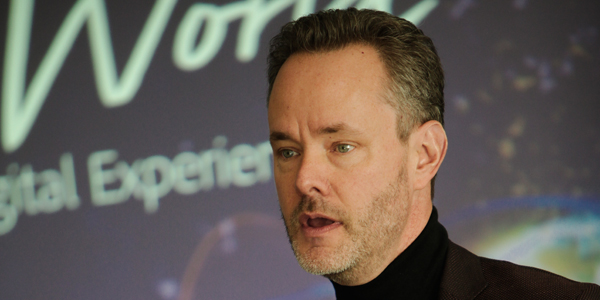 In his thought-provoking keynote address, John Copeland shared how Adobe uses AI and ML in its digital transformation journey and leverages data to transform customer experiences through a deep understanding of behavior and intent across every touchpoint. John commented that Adobe's evolution from physical software to cloud-based tools has provided the company with massive amounts of insight-rich customer data.
The challenge they face is how to leverage that granular, user-level data to segment customers and cater to each individual's unique needs – from offering product tutorials and recommendations to personalized marketing messages in an effort to reduce churn, increase loyalty and customer lifetime value, and boost marketing ROI.
The answer for Adobe was to adopt a data-driven operating model (DDOM) that leverages AI/ML-powered solutions like marketing mix and predictive models to help them understand and set up KPIs across the entire customer journey mapped to specific business units (marketing, ecommerce, product) bringing metrics, weekly governance, and the ability to course correct to the forefront of the operating model. John's parting advice was: "Don't be afraid to be a maverick and push the boundaries. But, implementing analytics models is only half the journey, convincing people in your organization to go forward with them is other half."
---
Fireside Chat: Driving innovation through data
Glenn Fodor, SVP – Competitive Intelligence, First Data Corporation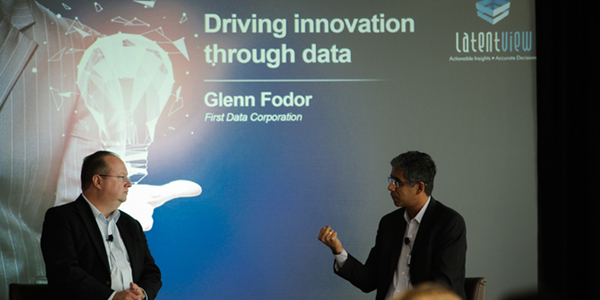 In an engaging fireside chat, Glenn Fodor of First Data Corporation discussed the transformative power of data, giving an inside look at how First Data Corporation is using advanced analytics at a strategic business level to drive innovation and provide value to its bank and merchant customers. Glenn shared his vision for instilling a data-driven culture – one he believes must start from the top down.
First Data Corporation's customer landscape continues to change rapidly, and today, their banking and merchant customers are becoming more sophisticated when it comes to AI/ML. Their focus on data as a driver of innovation started to crystalize when they got into the security business selling AI/ML powered products to banks. Today, the majority of the data efforts are customer driven and come from the inquiries of customers with varied needs.
One future example of data-driven innovation Glenn highlighted is the use of AI to identify merchant risk of bankruptcy taking into account customer loyalty, repeat business and churn. Glenn shared some parting words of wisdom: "Any project comes down to ROI. You can be the most brilliant data scientist, but if you can also appreciate the numbers, at the end of the day, you'll be much better served."
---
Panel discussion: AI for improved customer experience
Panelists: Ganesh Rao, General Manager, Product Marketing, Microsoft; Vijay Ganti, Head of AI/ML Research, VMware; Dr. A.K. Pradeep, CEO, machineVantage; Michael Lee, Senior Director – Product Management, Care.com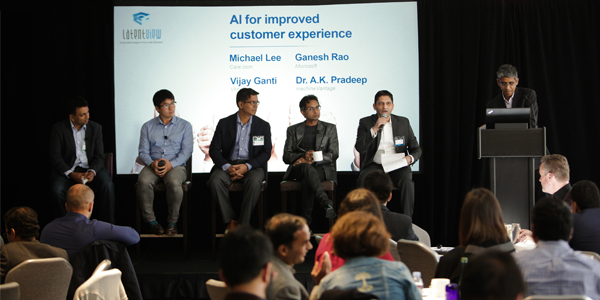 In this panel, senior executives from Care.com, VMware, Microsoft and machineVantage discussed the challenges and opportunities for AI to improve customer experience. The panel highlighted challenges including AI's inability to always answer specific questions correctly, understand empathy, and extrapolate generalizations from small numbers of customer experiences.
Panelists also shared their view on how AI will transform customer experiences over the next five years. Michael Lee from Care.com, believes computer vision will increasingly transform daily tasks to make life easier (e.g. facial recognition to speed store checkout). Echoing this sentiment, Ganesh Rao from Microsoft, believes AI will continue to massively disrupt the way consumers buy and exchange merchandise in physical stores. He also believes virtual assistants like Alexa will facilitate more useful scenarios that save money and time. Dr. A.K. Pradeep from machineVantage believes AI will power 'intense personalization' that makes decisioning easier and more effective. Vijay Ganti from VMware commented that while today's AI depends on large amounts of datasets, future AI scenarios will be able to leverage and be powered by small amounts of data which will open new and significant use cases.
---
Panel discussion: Turning data into competitive advantage for business

Panelists: Ravi Poruri, Head of BI & Data, Dropbox; Sunita Venkataraman, Head of Global Insights and Analytics and Director, Brand and Marketing Impact, Intel Corporation; Jatin Chawla, Associate Director, Sales Analytics & Operations, Gilead Sciences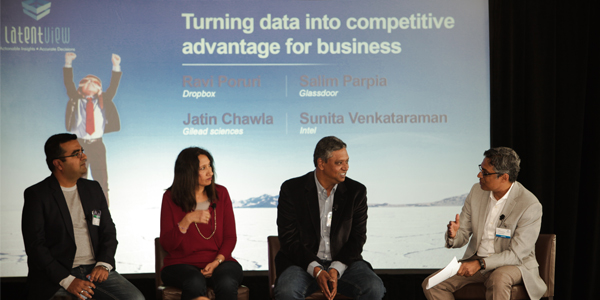 The volume of data continues to grow exponentially, but with the right approach, enterprises can maximize data's value and turn it into a competitive advantage. This panel's diverse participants addressed those competitive advantages including gaining a better understanding of the end user, internal decisioning and ROI as well as highlighted several challenges routinely faced when implementing data strategies. One of this panel's most intriguing discussion topics was the democratization of data.
Ravi Poruri from Dropbox commented that since Dropbox was born in the cloud, the system for data was democratized from the start. This is good, but also poses challenges around keeping different groups aligned and staying disciplined to look at the right questions. Sunita Venkataraman from Intel revealed the way they're enabling data democratization is by providing detailed proof points for specific use cases to different teams. Jatin Chawla from Gilead Sciences explained they are very tactical and specific about what they want to accomplish with data democratization and how they would accomplish it. Once they decided that everything must be aligned with multiple versions of proof (MVOPs), management opened things up to different parts of the organization allowing the team to use data to accomplish new and innovative things.