LatentView Analytics Roundtable
Achieving Next Level CX in a Post-Pandemic World
Roundup: LatentView Analytics Roundtable
Rajan Sethuraman, CEO, LatentView Analytics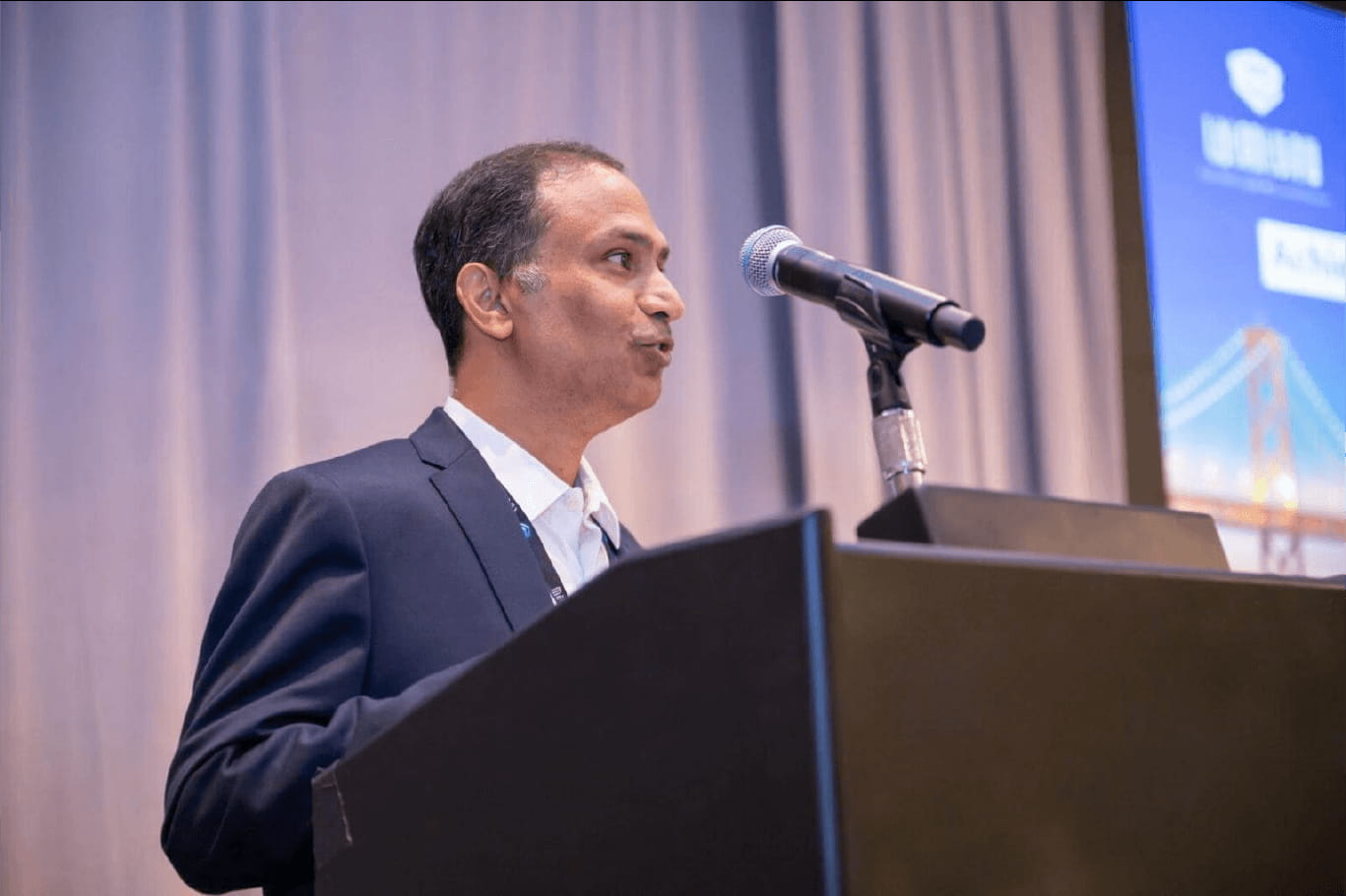 Rajan kicked off LatentView's 2022 Analytics Roundtable in San Francisco – the company's first in-person event in over two years. He set the scene by reiterating the importance of customer experience in our post-pandemic world. Good CX is not just about doing the right thing; it's about doing the right thing at the right time. Even good actions, if they are taken late, fall short.
Rajan shared an insightful example about his flight from India to the U.S., which was delayed. The airline didn't swing into action fast enough and 7 hours later, passengers were still waiting for an update. Good CX requires speed, but it also requires knowing when an interaction is warranted and when it isn't. Sometimes customers want an interaction, sometimes they want a self-service experience.
Most importantly, good CX is about providing unique and personal experiences. Customers crave to be understood as individuals – not just part of a general target demographic. In many ways, brands are in the business of understanding human behavior all the way down to the individual person. This requires uncovering insights with the power of data and analytics.
Speaker: Ashfaq Mohiuddin, VP – Data & Analytics at Procore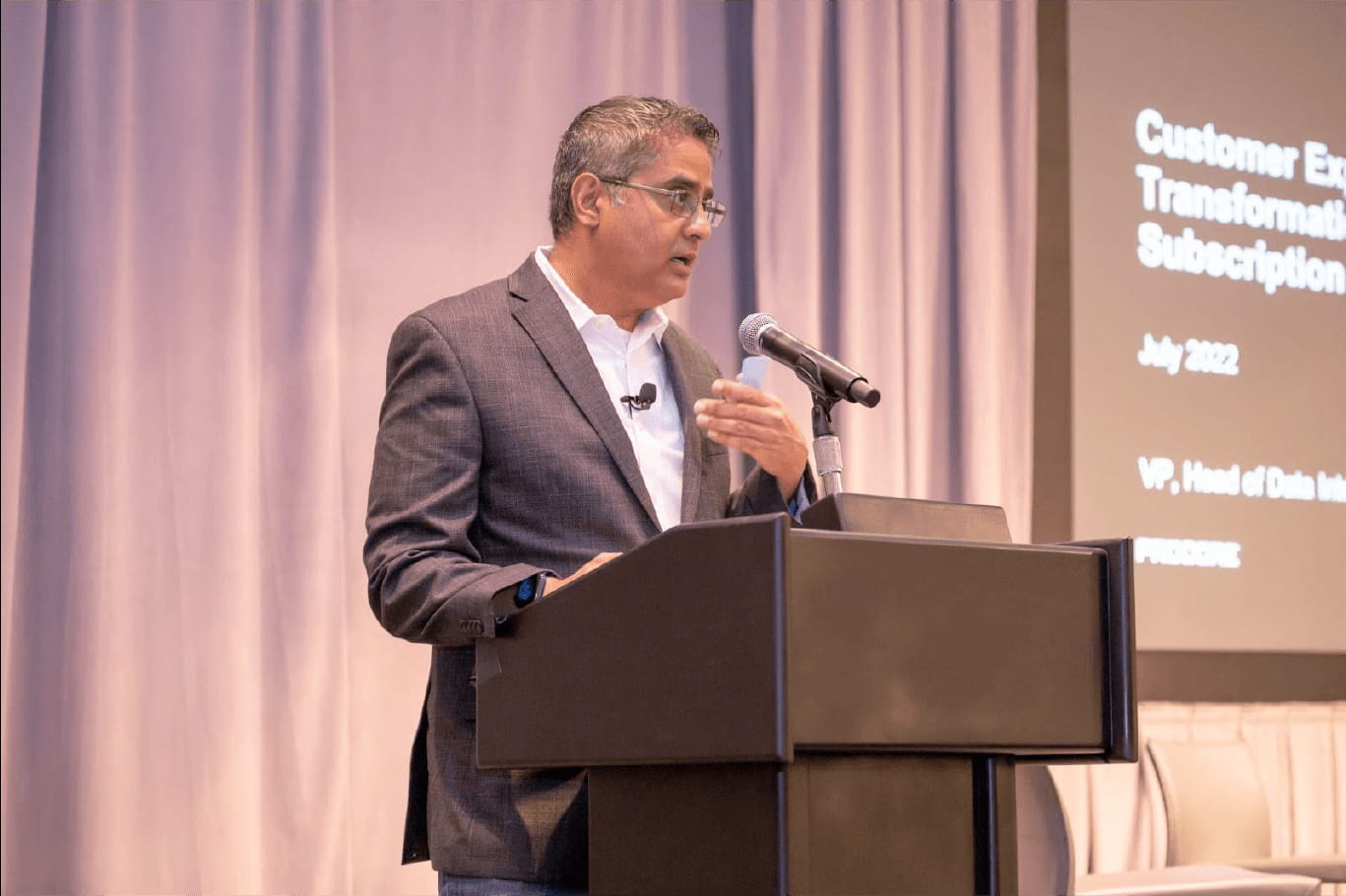 Ashfaq started with the powerful belief that data is what powers business. He highlighted how Procore, a SaaS solution for construction management, was navigating the challenges around fueling growth in a crowded market – especially in an industry that has often been slow to innovate in terms of digital transformation. Ash believes that the answer boils down to experiences, for customers and employees. Both of these are important and require a data-first mentality and company culture. Companies know they need to provide good customer experiences, but the challenge is how to build those experiences.
Ensuring a data-first culture requires leaders to ask several key questions. Ash highlighted the questions he believes are important for any business to answer. These include:
Is data fueling your core business?
Businesses need to understand how data is or isn't connecting their sales funnel with their marketing efforts. They also need to understand and measure KPIs for their existing revenue channels and business models.
Is data igniting new business and retaining current customers?
Businesses need to leverage both quantitative and qualitative data to acquire new customers and open up new lines of business. Companies need to understand if data is allowing them to do that. Where are new revenue streams coming from and more importantly, why?
Is data enriching & scaling our company?
Companies need to know how to build the right processes and tech foundations to ingest, store, and apply data intelligently by individual personas – at scale. Is data scaling your company, or is it just creating more silos and a need for even more point solutions?
Is trust, security & validation a core tenet of our company?
Companies must have a handle on how data is stored, who can access it (and when) – all in a consistent, reliable, secure, and compliant manner. If your customers trust you but they don't trust you with their data, everything else doesn't matter.
Are we using data to operate as one team?
Companies need to ask how they are using internal data to operate as a unified unit. Shifting to a customer-first / data-first culture requires defining roles and responsibilities, providing opportunities to upskill, and declaring an operating model to execute against the vision.
Ash also addressed why experience even matters. He made the important point that there are two paradigms that exist in business: the inside-out approach and the outside-in approach. For a long time, the latter was not prioritized. Customer-first and data-first can't be disconnected. Without trust, no company can be either customer or data first. Opinions are important, but decisions should always be informed by data when possible. Success for using data as the basis for building experiences requires keeping things simple (data visualization in dashboards) and democratizing data (putting data where it's needed and accessible by those who need it.)
To wrap things up, Ash touched upon the topic of the first panel – subscriptions. The question that many subscription-based businesses (both B2B and B2C) are trying to figure out is how to fuel growth in a highly saturated market. This requires creating a multi-year vision for data and experiences, which includes not only a high-level strategy, but also an operating model that positions data as the underlying unifier that enables both a customer and data-first company. This is what fuels both customer experience and employee experience to drive cross-functional ownership and results. In short – it is company culture that drives experience.
Panel discussion 1: How Subscription Models are Evolving in a Post-Pandemic World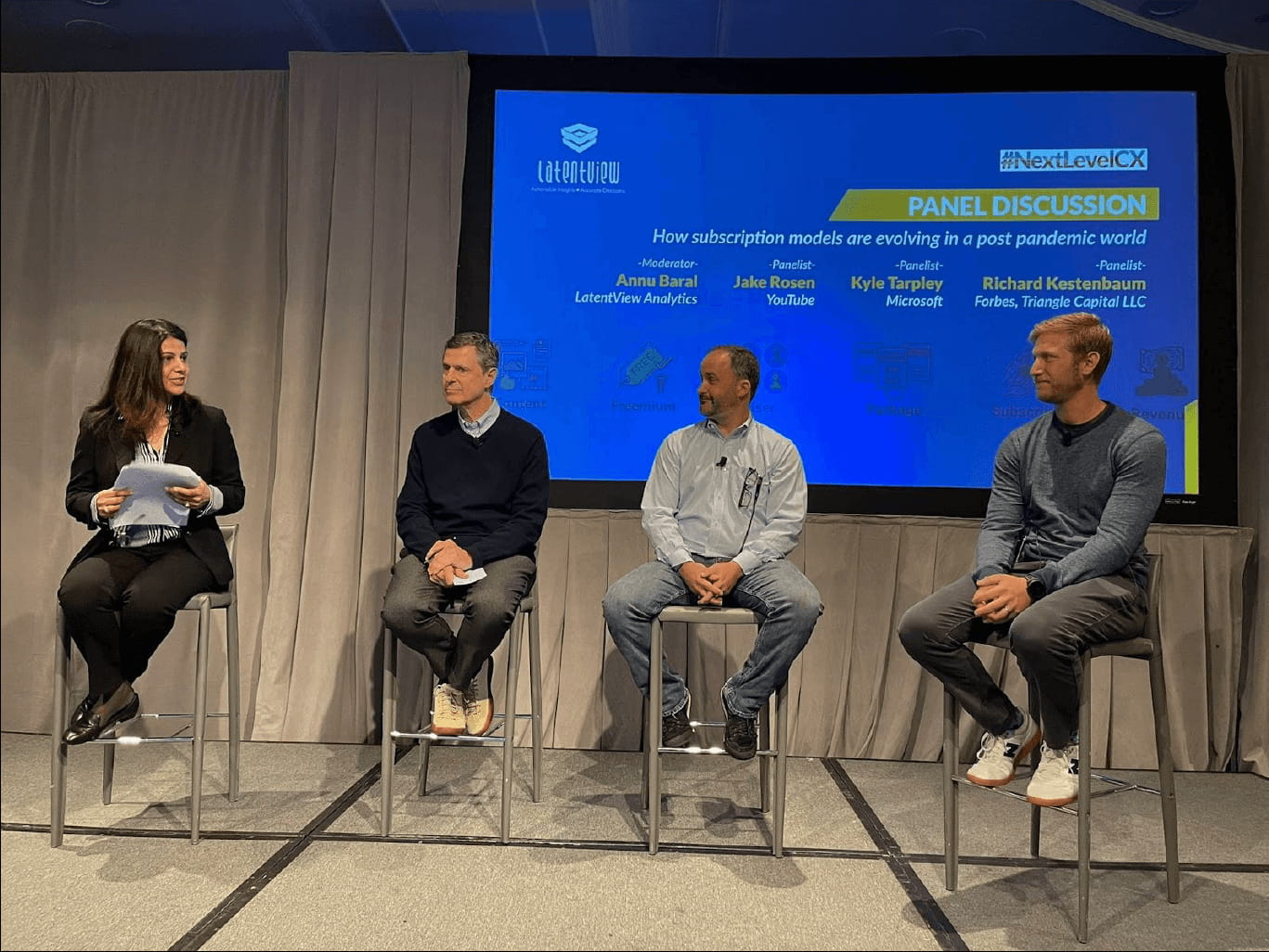 Richard Kestenbaum – Partner, Triangle Capital LLC and Forbes Contributor covering Retail Trends
Jake Rosen – Global Head of Integrated Insights & Measurement, YouTube
Kyle Tarpley – Director, Market Research, Microsoft
Moderator: Annu Baral – Vice President Consulting Services, LatentView Analytics
Many subscription-based businesses that saw significant traction during the pandemic have recently experienced staggering losses in subscribers and market cap. With high inflation and consumers tightening their belts, subscription businesses must evolve. In this panel, executives from Triangle Capital, YouTube, and Microsoft shared thoughts and strategies about what "Subscription 2.0" will look like and what companies can do to future-proof their businesses with a focus on next level customer experiences. The panel discussed the biggest changes they are seeing in the subscription economy and in consumer behavior.
Richard Kestenbaum from Triangle Capital said that the pandemic changed things dramatically and accelerated existing trends with people now buying things online that they never before thought they'd buy online. However, there are many challenges for the subscription industry with current economic conditions. Subscription fatigue is real, and subscription models that are successful are the exception. Ones that are successful create a product that customers value because they identify with it. This is why customer experience is so important. Experience and loyalty are closely tied together and a good customer experience may even include making it easier for customers to get out of their subscriptions in a way that also makes it easy for them to come back. Businesses need to be thinking about long-term financial performance. Profits are back in fashion. Personalization is more important than ever, and companies need to understand how to best balance personalization, privacy and profitability.
Jake Rosen from YouTube talked about the changes in both subscribers and data over the past 2.5 years during the pandemic. They have garnered more subscribers than at any other time in history. Generally in subscriptions, there's an increased need to break down and carefully evaluate pricing models and how to bundle offerings. The challenge is that in terms of data processing, there is no one data set that can do everything. Subscription-based businesses need to look at things like Net Promoter Score (NPS), have a finger on the pulse of social data, look to focus groups, etc. to paint as complete of a picture as possible. Jake made the interesting point that companies need to understand value beyond financial. Value isn't just about immediate monetary value, it's about long term user experience.
Kyle Tarpley from Microsoft said that Xbox is a great example of how subscriptions have evolved. Things have moved from traditional consoles to address customers' changing behavior and wanting to do things on the go. They want things that are more device agnostic. They want a more democratized gaming experience and to share experiences with friends. For Xbox, this meant creating an app and subscription option that gave customers the freedom for gaming in the cloud across different mobile devices. Microsoft has thousands of data assets that allow them to connect dots. While there is a lot you can do with data to drive new experiences, Kyle however made an excellent point: "Don't ever lose sight of the core value you provide, or your subscribers will go astray."
Richard had some great additional thoughts during the Q&A. He said that subscriptions can basically be divided into two types. Product Replenishment (soap, toothpaste) and Product Discovery (discovering new products on Instagram, TikTok, etc.). The latter depends heavily on data and is much harder to get right but has much more profit potential. This is because "If you give customers what they want, they will pay even if they didn't know they wanted it."
Fireside Chat: Leveraging founder's mentality across a connected ecosystem
David Moran – Co-founder, Eversight and Parijat Banerjee – Global Head of Business Services, LatentView Analytics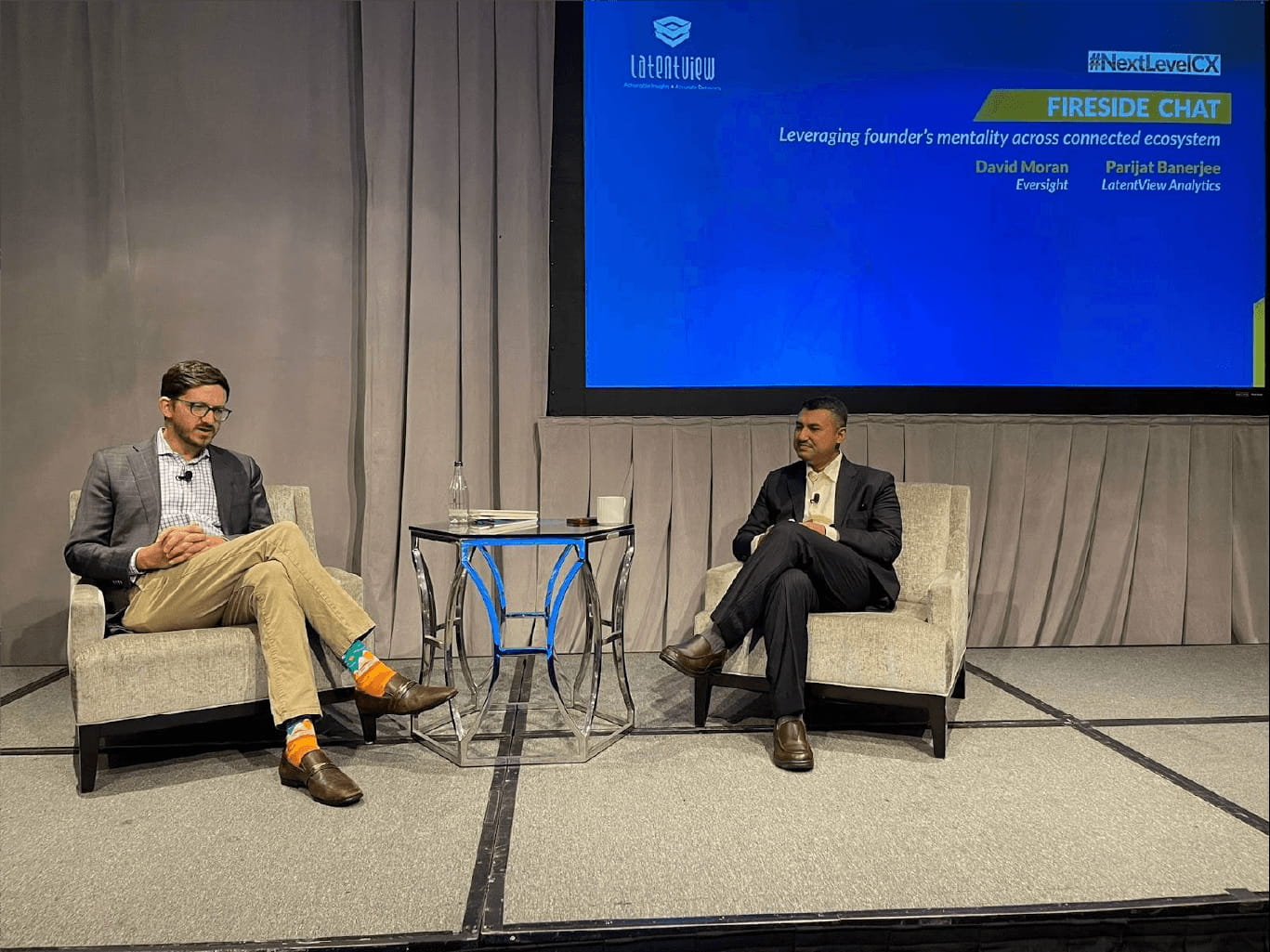 Parijat started the fireside chat with a powerful thought: "Data is the spark that detonates the dry powder of digital." In his mind, there are three core tenets for data today. First with the huge explosion of data, how much do we trust our data? Second, how much of the data are we able to leverage and drive insights into action? And finally, how are companies using a "founder's mentality" to achieve a better society and better business results with data in our constantly changing experience economy?
David Moran from Eversight shared a brief overview of his background and career spanning McKinsey, AB InBev to leaving corporate life 10 years ago to become a startup founder. His company Eversight leverages AI to optimize brand and retail revenue performance. His view on the founder's mentality is that everyone should embrace it. Being a founder is tough, but the founder's mentality is something available to anyone. An entrepreneur is someone who starts a company – but a founder's mentality is universal.
Parijat and David then dove into an interesting 1:1 discussion around the exponential explosion in global technology and all of the new ways that companies are leveraging tech and data to reach individual consumers at scale, in real time. Companies now have the ability to harness data to do extremely disruptive things in areas from digital payments, to A/B testing for selling physical products. The reality is that much of the data used today technically existed 20 years ago but it's just taken a long time, new tech, and a lot of smart people to figure out how to leverage it.
The term "big data" is somewhat meaningless. Data has always been "big". Today, however, we have the computing power and ability to pick out patterns in data that were previously impossible. This compute power has largely been made possible by the shift to the cloud. Eversight does price optimization for CPG and this is made possible by AI. This is allowing companies to accelerate innovation, test/iterate, and reduce costs in a fraction of the time it used to take based on long research cycles and studies that cost a lot of money.
Within that context, David believes that there's a massively untapped potential for so many companies using data today, and that goes back to the founder's mentality. In his view, large organizations tend to over index toward safety. Founders act the way they do because startups are essentially an organization designed to search for a business model. Founders take results personally whereas results are easier to hide in larger corporations. David contends that risk is ever present in any company, but keeping to the status quo is probably the biggest risk of all.
David noted that in many ways, we were all forced to become "founders" during the pandemic. This mentality needs to be infused more into every business. Most companies fail from a lack of ability to adapt and not thinking like an owner/founder. He said that the key to success is to work on your strengths, not your weaknesses. The founder's mentality is one where you must embrace your authentic self and push for big things out of your comfort zone. Parijat summed this sentiment up nicely: "Impossible things give depth to your life."
Panel discussion 2: Setting up an Enterprise-Wide Modern Data Platform to Enhance CX
Rina Sharma – Director, Marketing Engineering and Operations, Adobe
Churni Bhattacharya – Chief Application Officer, AssetMark
Mo Dastagir – Chief Technology Officer, Inotiv
Moderator: Boobesh Ramadurai – Director of Data and Analytics, LatentView Analytics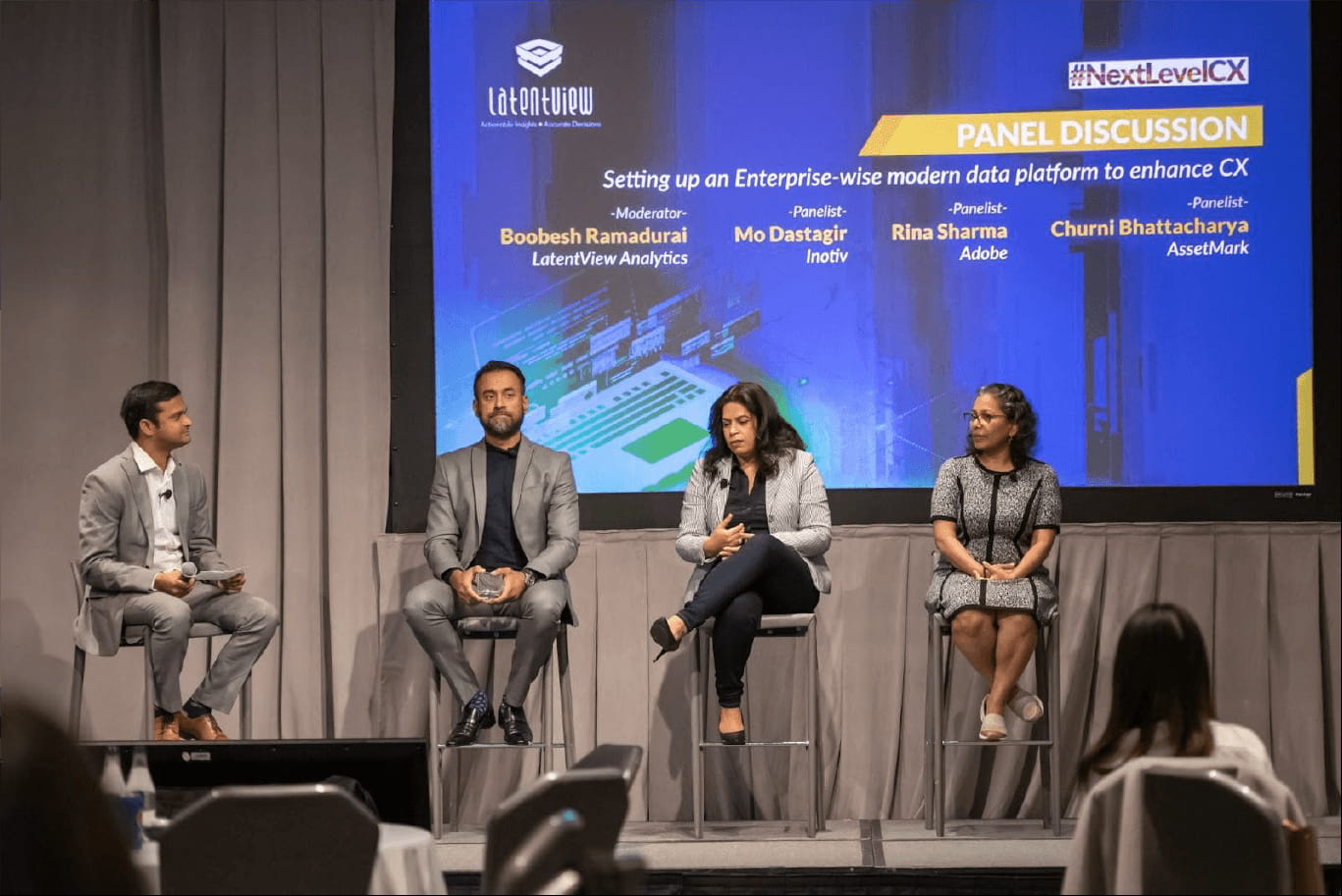 The second panel focused on the importance of setting up an enterprise-wide data platform as the basis for accelerating digital transformation and powering compelling customer experiences across multiple industries. The panel discussed how data management has evolved over the years and worked to demystify the essential elements of modern data management. Getting access to the right data at the right time is important. The panelists shared lessons from their successes and failures from throughout their careers.
Rina Sharma from Adobe said that their CEO really understands the value of data, and that they've been very lucky in that regard. One of the challenges she's seen in her career is that in many companies, there's often way too many meetings required with leaders to get access to the data or information needed. When it comes to centralized data management vs. federated management, she said it depends on the size of the company and the skill sets. Based on her experience, she believes a combination of both approaches is best.
Churni Bhattacharya from AssetMark said that the most important lesson she has learned over the years is that you must tie your data strategy to an actual business objective. Often during tougher economic times, it's tempting for businesses to cut their data strategy when budgeting. This is because it's hard to get leadership excited about data management. They miss the fact that a good data management strategy is key to long-term ROI. Companies need to continue their data journey to be successful. In the data world, a lack of communication can quickly lead to project failure. There is often a disconnect between what people say and what they need. In her experience the best outcomes in data management come from collaborative environments with shared accountability.
Mo Dastagir from Inotiv said that everyone is looking for a monolithic answer with data, but you really need to start by taking stock of what data you have. You need to start from the top down. From his experience, tech leaders and data leaders must first define the WHY and understand what data is valuable and then define a strategy around it. A big mistake he's seen over his career is that people lose patience quickly on long data projects. When it comes to data governance, data leaders need to break things down into easily digestible chunks (e.g. here are the 8 metrics the CMO needs). Many of the C-Suite don't care about data lakes and how the sausage is made – they just want the metrics. Most business leaders talk about visualization, but that is the end state. Most stakeholders underestimate the process to get there.
Overall, he sees the role of the Chief Data Officer as the Chief Problem Solver.
The panel concluded with some thoughts around data and HR. Human resources have never needed the amount of data they need today. In the mission to attract and retain employees, data is extremely important. Generations of employees today are looking for value-driven employment choices. Mo said he believes that data is going to play an important role in talent acquisition and is going to be a lot more multifaceted than ever before.