Innovation is what fuels the future of an enterprise-scale digital brand. However, with a business to run, protect and grow, as an enterprise CXO of a digital brand, you are always doing a tightrope walk between prioritizing feature requests and figuring out how you fare against the competition. In such a scenario, listening to your online consumers is of paramount importance.
You may already be allocating huge sums of money to do competitor benchmarking through traditional methods like focus group interviews and surveys, to collate what matters to the end user. These traditional techniques require significant manual intervention and are difficult to scale up to thousands of users, not to forget the errors that are inevitable due to manual data collection. Though marketing research is a crucial exercise to find truths about consumer behavior, traditional survey methods do not make the cut anymore.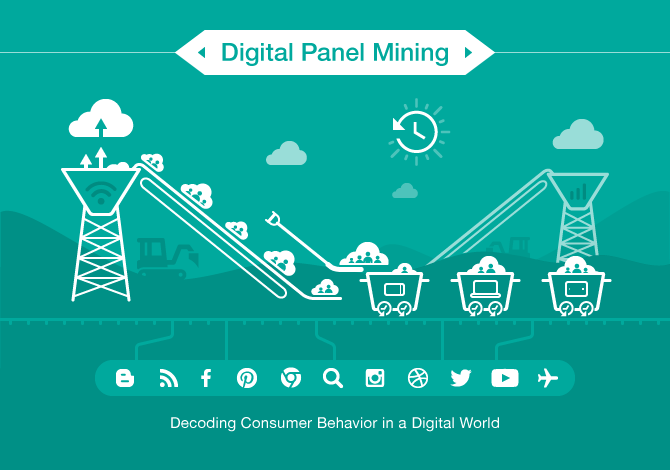 In order to provide accurate digital insights that are representative of the browsing population across devices, companies are increasingly looking to collect consumer behavior data from multiple sources. They then look to blend those sources into a single digital panel, and use algorithms and advanced analytics techniques to normalize the data to the population as a whole.
Digital panel mining: Understanding the pulse of your online consumers
Similar to television channels signing up viewers to know the popularity of shows, online businesses need a panel of genuine users signed up (with permission), to learn their online behaviour, in order to improve engagement.
Digital panels are groups of consumers in specific sectors, recruited by research companies and agencies, whose browsing activity across PC, smartphone and tablet are passively captured. Browsing behavior of digital panels can be used to:
Influence the product development roadmap
Improve consumer engagement and retention
Garner competitive intelligence
Digital panels track every click of the panel member, search key words and can help understand path to purchase better (either in their digital property or at competitors property). Once the raw digital behavioral data in the panel is collected, it is sent to analytics firms like LatentView. We break the semi-structured data like search results pages, log files, social messages, and email messages into structured data that is queryable. Once the data is migrated into structured data, the data can be analyzed for past user behavior (hindsight), current user behavior (insight) and future user behavior (foresight). This will help in building new digital processes, improving existing processes and increasing traffic to sales conversion ratio.
Digital panel mining allows you to define the data you capture from these digital panels and slice and dice it to generate relevant insights. From data capture to data analysis and interpretation, all processes are driven by technology, thereby removing manual errors and minimizing data quality issues to almost zero. Key attributes of digital panel mining are flexibility, freshness, quality and relevance.
While offline panel mining is an established practice, digital panels and mining terabytes of digital data are still in their nascent stage. Market leaders with digital revenues in excess of $ 100 million are leveraging the opportunity in improving the consumer experience.
Brands with significant digital footprint, where online consumer engagement impact business success, will find investment in digital panels worth their money. LatentView is amongst the frontrunners in the industry, creating new avenues for market research with direct positive impact.
Panel Miner: Harnessing the power of digital panel mining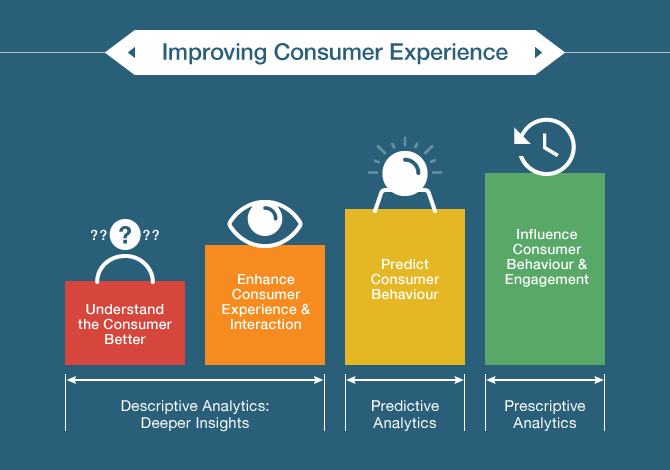 LatentView's Panel Miner provides a 360-degree view of the digital consumer and enables global digital brands to predict new revenue streams. This is a novel cloud-based solution that can help predict product trends and popularity, improve customer retention rates, optimize investment decisions and a lot more.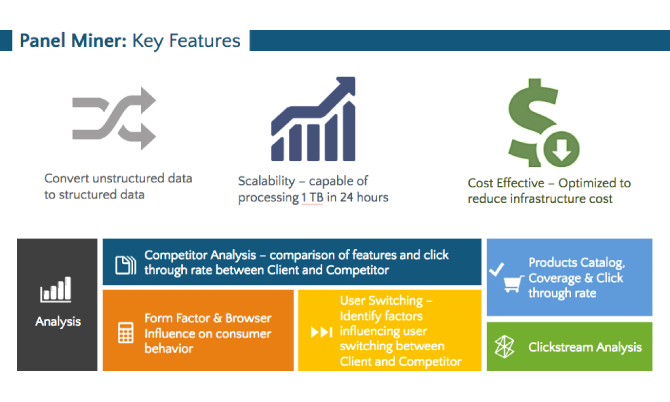 By using a massively parallel processing framework, Panel Miner mines into the user's online activity to download, extract and clean the data for processing. This data is then used to gather business intelligence and generate actionable insights.

With Panel Miner, you can get actionable insights on your digital products in near real time and find answers to business-critical questions.
Use case: High volume clickstream analytics to monetize search page ads
The client, an American multinational technology giant, found that when customers logged into their search engine, the average revenue per click per user for financial stock related search terms was 30% lower for our client's search engine as compared to the competitor. They wanted our help to identify signals that influenced the whole user search experience, identify new monetization opportunities and also increase the user engagement on their search engine.
Through the setup of a digital panel, the search engine giant got access to tons of data on their web property as well as their competitor's. Some of the data captured included:
Complete clickstream data of visitors
Viewership and click-through rates of their web catalog/web content and that of competition
User switching data – factors influencing why their users jump midway to competitor sites and back.
Demographics and metadata about the geography, form factor, consumer profile and time dimensions captured in the data store
This was a powerful gold mine which usually spanned terabytes of information on a week-on-week basis. Next came the challenge of harnessing and extracting insights and this is where the LatentView's Panel Miner came in.
What insights did Panel Miner help gather?
The key questions which the search engine giant had were:
How many product ads do they show when the user does a search on laptops versus mobile?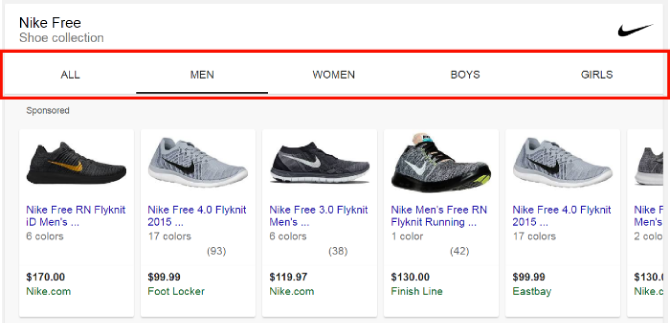 Panel Miner's analysis suggested, that on a laptop, not more than six ads should be shown on the screen at a time (they can have an arrow button to show more.) However, when it came to a mobile set-up, more ads could be allowed as user engagement was higher on this platform.
How do they engage users who are searching for stocks?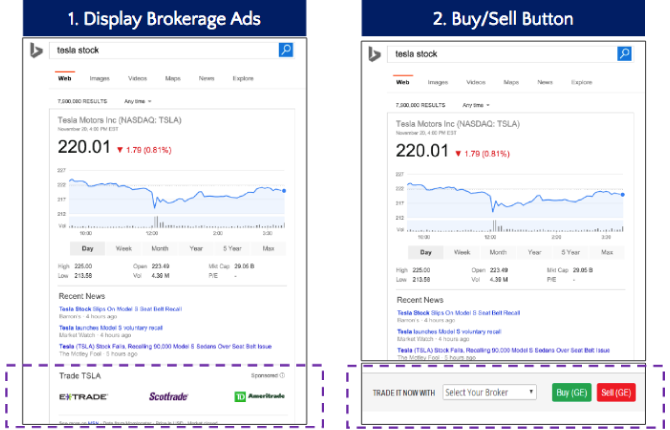 Panel Miner's analysis revealed that 12% these visitors visited a brokerage site post searching for stocks. Placing of relevant ads would not only increase user engagement, but also give them monetization opportunities.
By suggesting the relevant ads to improve customer experience, the ad impressions on financial stock searches increased by 33% which combined with a 5% increase in click through rate resulted in an additional monetization opportunity of $15 million annually.
Digital Panel Mining: a strategic tool for the Enterprise CXO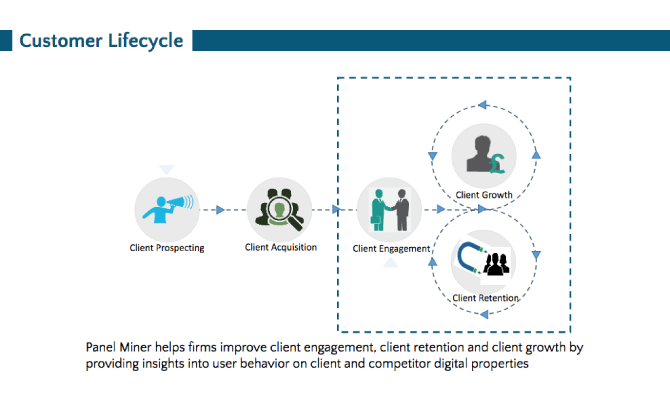 Helping global digital brands understand the consumers preferences, likes and dislikes about a company's website, digital panel brings the closest simulation of the consumers at scale. This helps the CXO make decisions driven by data and stay one step ahead of the competition. Setting up the panel is a commodity, but a significant investment that becomes meaningful for brands who are in excess of $100 million in online revenues. In summary, here is why your company should look closely at investing in digital panel mining:
The panel is neither forced nor small, giving you statistically relevant data
Technology-driven data capture removes possibility of human error
Flexibility of running digital experiments at scale with high data fidelity
Beta testing and competitive benchmarking made easy and accurate
In a dynamically competitive marketplace, how the competitor is doing, how are we doing and what features matter to the end user – these are critical questions that need to be asked. And these are emphatically answered by digital panel mining.